FINA has announced the draws for the 2016 men's Olympic Water Polo Tournament, and the groups have ridden out fairly evenly-matched.
Unlike the World Championships, where 16 teams are divided into 4 groups, the Olympics have just 12 teams divided into two six-team groups. Each country will play every other country in their group once, with wins earning 3 points, draws earning 1 point, and losses earning 0 points. At the end of the round-robin portion, the 4 highest-scoring teams in each Group advance to a single-elimination knockout stage.
Full Group seeding
MEN
GROUP A
A1 – Serbia (1st)
A2 – Greece (3rd)
A3 – Brazil (10th)
A4 – Australia (8th)
A5 – Japan (13th)
A6 – Hungary (6th)
GROUP B
B1 – United States (7th)
B2 – Spain (NR)
B3 – France (NR)
B4 – Montenegro (5th)
B5 – Italy (4th)
B6 – Croatia (2nd)
The 12 teams were divided into 6 "pots" which very closely follow the results of last year's World Championships. With only two pools, the spread between teams in different groups is very small, which makes it very likely that the pools will be drawn with an even challenge.
On a balance, however, Group A is probably the more challenging of the two groups.
Group B did draw both of the teams, Spain and France, that didn't compete at last year's World Championships, replacing South Africa, Argentina, China, Russia, Kazakhstan, and Canada who did. France has not competed at an Olympics in men's water polo since 1992 and a World Championships since 1991, and were just 10th at the 2014 European Championships.
Group A, meanwhile, has Serbia, Hungary, and Greece: three of the top four teams from the most recent European Championships. Europe is by far the most powerful continent for men's water polo, having housed the top 6 teams from last year's FINA World Aquatics Championships.
On balance, however, each group has at least two "soft" teams, and any country that has a legitimate shot at a medal should expect to finish in the top 4 of their group without a problem.
From a fan's perspective, Serbia and Montenegro were drawn into different groups, which leaves open the possibility of a gold medal match that repeats the drama and pandemonium of the recent European Championship gold medal match that saw Serbia top Montenegro in front of 16,000 spectators.
Once the knockout stage is reached, the bracket breaks down as below, with every winner of a first round game guaranteed of at least a chance to play for a medal. Below that is the complete order of games for the tournament.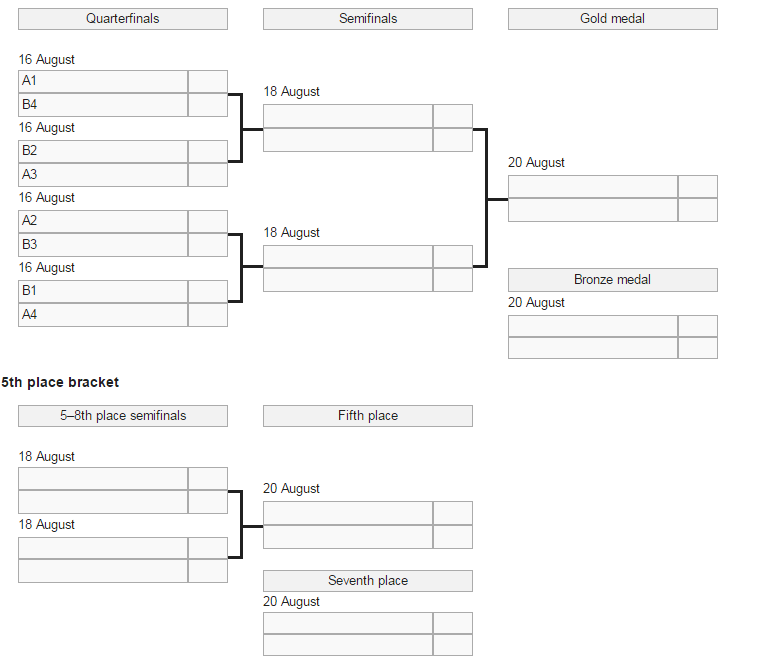 Tournament Men after FINA BL 9.4.1.2
There will be two (2) groups of six (6) teams, which form groups A and B. Each group will play a round robin. The four (4) highest ranked teams in each group will qualify for the Quarter Final Round. The fifth and sixth ranked teams in each group will be eliminated and will not play anymore.
Preliminary Round – 6 August 2016 – Day 1
1. A1 – A6     3. A2 – A5    5. B3 – B4
2. A3 – A4     4. B1 – B6     6. B2 – B5
Preliminary Round – 8 August 2016 – Day 2
7. B6 – B4    9.   B1 – B2     11. A5 – A3
8. B5 – B3    10. A6 – A4    12. A1 – A2
Preliminary Round – 10 August 2016 – Day 3
13. A4 – A5    15. A3 – A1    17. B2 – B6
14. A2 – A6    16. B4 – B5     18. B3 – B1
Preliminary Round – 12 August 2016 – Day 4
19. B6 – B5    21. B2 – B3     23. A1 – A4
20. B1 – B4    22. A6 – A5    24. A2 – A3
Preliminary Round – 14 August 2016 – Day 5
25. A3 – A6    27. A1 – A5    29. B4 – B2
26. A4 – A2    28. B3 – B6     30. B1 – B5
The first, second, third and fourth placed teams in Group and and Group B form a Group D or eight (8) teams. Group D plays a modified single elimination format.
Games played in the Preliminary Round may be repeated in the Quarter Final, Semi Final or Final Round. All games played in group D must be played so that a definite winner is declared. Accordingly it may be necessary to apply the Water Polo Rules relating to penalty shoot-out.
Quarter Final Round – 16 August 2016 – Day 6
31. 1A – 4B    32. 2A – 3B    33. 3A – 2B    34. 4A – 1B
Semi Final Round – 18 August 2016 – Day 7
35. L31 – L33    36. L32 – L34    37. W31 – W33    38. W32 – W34
Final Round – 20 August 2016 – Day 8
39. L35 – L26 (Winner 7th, Loser 8th)
40. W35 – W36 (Winner 5th, Loser 6th)
41. L37 – L38 (Winner 3rd, Loser 4th)
42. W37 – W38 (Winner 1st, Loser 2nd)
Games 31 through 42 must be played to a conclusion, accordingly it may be necessary to apply the Water Polo Rules relating to penalty shoot-out.
Please note that the Management Committee of FINA Competitions may change the order and schedule of games to meet with the requirements of the Host Federation and/or television provided that at least twenty four (24) hours' notice is given.