2015 WOMEN'S NCAA DI CHAMPIONSHIPS: SEC ROUNDUP AND GEORGIA'S FUTURE CHAMPION
---
WHAT YOU NEED TO KNOW:
Thursday, March 19 – Saturday, March 21
Greensboro Aquatic Center – Greensboro, NC
Prelims 11AM/Finals 7PM (Eastern Time)
Defending Champion: Georgia (2x) – results
Live stream: All prelims & Thursday finals (Other sessions will be on ESPN3)
---
Emily Cameron Takes Big Strides Towards a Gold
Emily Cameron – a sophomore from Central Pennsylvania who swims for Georgia – ducked just under 2:00 in the 200 IM at the end of her freshman year at NCAAs (finishing 48th). Cameron, though is back this year and quicker than ever – dropping nearly three seconds off her freshman year time to land her in 13th place – a 35 place drop from last year.
That being said, in high school, Cameron was a 1:01 breaststroker, setting one of three state records (in the 50 free and the 2-IM as well).
Cameron started this year swimming a :23.82 in the 50 and then got it down to :23.22 post-SEC champs. Cameron's fastest 50 was in 2012, though, and came in at :22.75, yet that's not quite where Georgia has been putting her.
Her last 400 IM in February clocked in at a 4:07 compared to the 4:15's she was swimming at high school sectionals.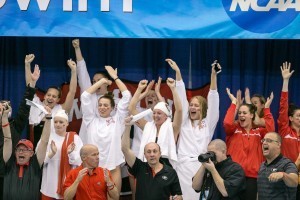 Georgia has been training Cameron as more of an endurance swimmer – putting her in the 400 IM over the 50 free. Cameron currently sits in the 11th seed for the 400 IM tomorrow and it'll be interesting to see (now that she has settled in Georgia) how much time she can really drop.
---
Quick hits:
 
Tennessee won 200 Free relay B Final
Texas A&M senior Sarah Henry placed third in the 500
Mizzou took fourth in the 400 Medley
---
Final Team SEC Rankings: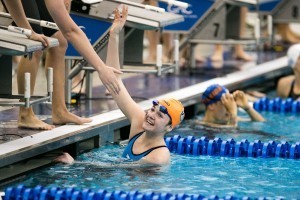 1. Georgia
4. Texas A&M
8. Tennessee
13. Auburn
14. Mizzou
15. Florida