About Prepping for Omaha
The "Prepping for Omaha" series looks at Fike Swim ambassadors in the run up to Trials and the preparations they are making to earn the most coveted spot in sports- a place on the U.S. Olympic Team. In the first edition we looked at the technical and tempo changes Ali DeLoof is making to her backstroke. In our second edition, we look at elite breaststroker and National Teamer Emily Escobedo and the changes she is making in the wake of her first international meet, the 2019 World University Games.
Emily Escobedo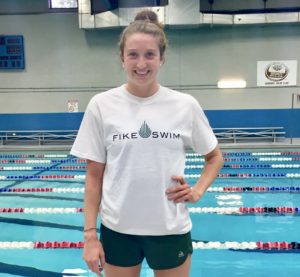 Emily Escobedo is a rising star within USA Swimming and the new International Swim League (ISL). The NY Breakers breaststroke specialist earned her first ISL win in Budapest in the 200 breast, beating a stout field that included Annie Lazor, U.S. Olympian Breeja Larson, and Aussie Olympian Taylor McKeown. This year also marks her third year on the U.S. National Team, representing the stars and stripes at World University Games (WUGs) where she won silver and a new personal best in the 200 LCM breast (2:22.87). Earlier this year in a 33 Meters story, we detailed Emily's use of unconventional training to fuel her rise to the top of the breaststroke ranks. But her performance at WUGs, though good, made her rethink her training and make some changes in the run up to Trials.
Here's what the National Teamer has tweaked:
1. Strategy
WUGs was Emily's first international meet and the excitement of representing her country got to her. In prelims of the 200 the swimmers next to her took their races out fast. Emily, who normally likes to ride each stroke, pushed the first 50 and upped her tempo higher than normal. "I try to ride the glide for as long as I can, feeling the moment before deceleration as the queue to take another stroke, but if someone goes out fast, my instinct is to keep up with them." She finished her prelims race in a new personal best of 2:22.87 and was the top seed by over three seconds. But for the first time in her career she had two more swims ahead of her (semis and finals) and hadn't managed the first one properly. She was gassed by finals and just missed gold.
"When I race I race without thinking about conserving energy for future races, but going forward I have to think about how I'm going to save up enough to do the 2breast three times for Trials. Last year we worked a lot on speed because my hundred was slow relative to my 200, so now I need to go back to focusing on stroke count, aerobic base, and power."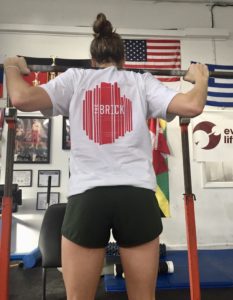 2. Weights
At the same time as she was working on speed for her 100 (2018 and early 2019), Emily also expanded her weight workouts and shifted towards Olympic lifts like pulls and cleans. She focused on legs and de-emphasized presses "because breaststrokers need less pec development and more lat." Emily accomplished her goal of getting stronger, adding about 9lbs of muscle, and is now shifting her weight program back a bit.
"I feel stronger now, so I've replaced a day of heavy lifting with more body weight exercises. Mondays and Fridays are heavier lift days, and Wednesdays will be some lifting but include high-energy, high-intensity exercises to augment my aerobic conditioning, like jumps, hill sprints, and biking."
3. Kicking
As we noted in the 33 Meters article, Emily's training was a bit unusual in her low amount of kicking relative to other breaststrokers. It sometimes only amounted to 300 or 400 yards. However, "going forward I will try to incorporate more fast, high-intensity kicking after main sets." Here's a set that shows how she is focusing more on kick:
2 Rounds:
Broken 200 breast with :10 rest after each 50
:30 to :45 rest
100 fast kick
200 easy
4. Long Course Prep
Unfortunately Emily doesn't get to train long course on a regular basis the way most, if not all, of her competition does. But whereas some swimmers might need weeks or months of long course training to acclimate, Emily settles in quickly. "New York doesn't have many long course pools and the ones we have are generally tied up with other activities like high school swimming. Luckily for me I find it easier to do long course, because it takes me awhile to get going, so it's nice to have a long pool to get going before I have to turn. But in practice to help simulate the longer distance, instead of 50s we might do a bunch of 75s, or 125s instead of 100s. Plus, we'll use parachutes and wear mesh bags on our ankles or arms, which also improves my technique and my power."
Making adjustments to your stroke and your training is filled with ups and downs, but Emily tries to stay focused on the big picture. "Once a practice is over I learn from it and move on. It might have been terrible but what I learn from it helps me do better the next practice." And judging by her improvement over the last two years, Emily seems to be doing a good job of learning to SWIM DIFFERENT!
You can support Emily on her journey to Tokyo by following her Instagram and Facebook pages, and you can get the latest Fike Swim news, product updates, and videos by subscribing to our newsletter and YouTube channel and liking us on Facebook. And you can get a candid look at Fike Swim's journey to help swimmers SWIM DIFFERENT by following them on Instagram.

About Fike Swim
"We design products exclusively for the toughest sport in the world.  We unapologetically place swimmers on a pedestal.  The rigors they embrace on a daily basis can only be understood by another swimmer and they deserve a company focused 100% on helping them succeed.  Whether you're just starting out or training for Tokyo, we stand behind you."
– James Fike, Founder
Fike Swim Products was born when founder James Fike put a brick on top of a kickboard and transformed just another legs-only kick set into a total body workout felt into the next day. Since then it's been our mission to create unique swim equipment with the single-minded goal of making you faster. We don't sell toys. We create tools to help you reach your potential.
Swimming news is courtesy of Fike Swim, a SwimSwam partner.