The first WISCA (Wisconsin Interscholastic Swim Coaches Association) Poll of the 2018-19 season for the girls is out, with Middleton ranked first in Division 1 and Madison Edgewood ranked first in Division 2.
Division 1 Top 5
Middleton
Sun Prairie
Verona Area-Mount Horeb
Brookfield East
Waukesha West-Catholic Memor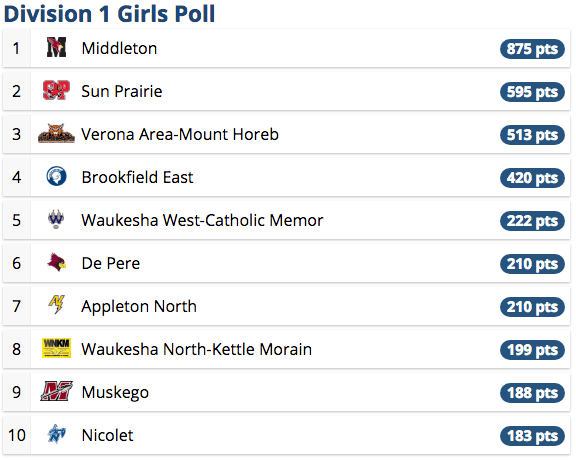 Division 2 Top 5
Madison Edgewood
Seymour
New Berlin Eisenhower
Whitnall
Monona Grova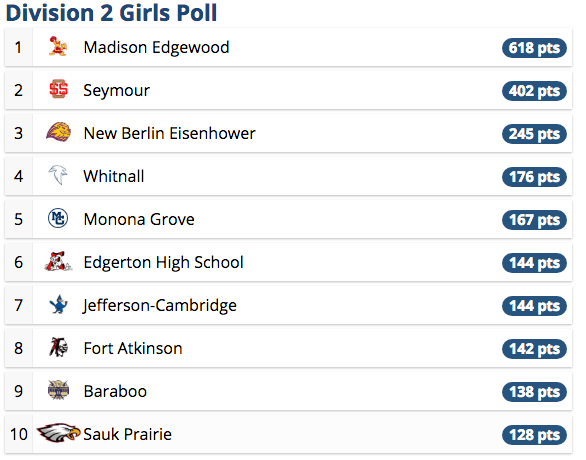 Middleton, the defending Division 1 champions, start the new season in that same position, with a significant margin over the rest of the state.
In Division 2 the same is true for Madison Edgewood, who holds the top spot in the new-year poll by more than 200 points and are the defending Division 2 champions.
These rankings are typically volatile early in the season, and then stabilize as teams get more races (and data points for the rankings) on their schedules.
To see last year's State Championship Meet results, click here.
RANKINGS METHODOLOGY
The weekly WISCA polls are computer generated and based on the WISCA Top Times database.
The polls are generated at midnight each Sunday. Individuals are scored in their top two scoring events only.
Points are awarded as follows:
Individuals: 1st Place – 30 points – 30th Place – 1 point (1 point increments)
Relays: 1st Place – 60 points – 30th Place – 2 points (2 point increments)