The Court of Arbitration of Sport (CAS) has announced that it has registered 42 appeals by Russian athletes against the IOC Disciplinary Committee, following the Committee's decision to ban each athlete from competing in the 2018 Winter Olympic Games, and all Olympic Games thereafter.
The IOC Disciplinary Committee found that all 42 athletes had committed anti-doping violations during the 2014 Winter Olympic Games in Sochi, and retroactively disqualified them from their events, also stripping them of any medals won.
This appeal, like many others involving Russian athletes, follows the IOC's extensive investigations into a state-sponsored doping scheme that took place in Russia during the 2014 Winter Olympic Games and after, per the groundbreaking McLaren Report.
The athletes are: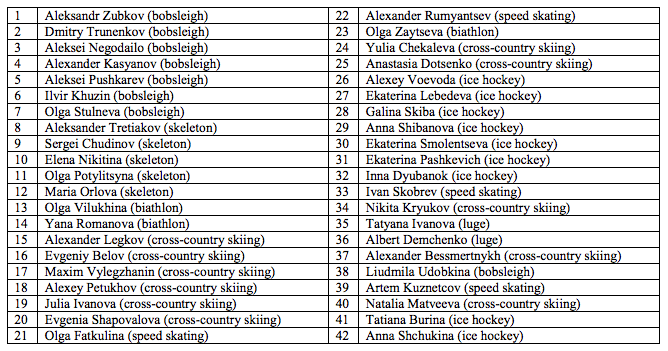 In December of 2017 the IOC decided to ban Russia from competing at the 2018 Winter Olympic Games in PyeongChang, South Korea, which will open on February 9th. While the Russian flag will not be raised in PyeongChang, Russian athletes still have the opportunity to compete under the Olympic banner, as some did at the 2017 IAAF World Championships as Russia was banned from that competition also.
A combined hearing for the 42 athletes is likely to take place the week of January 22nd, with a final ruling expected on or before January 31st.
The full media release from CAS can be found here.