2021 CANA Grand Prix Swimming Stellenbosch
May 6 – 8, 2021
Stellenbosch, South Africa
Long Course Meters (LCM)
Olympic Qualifying Meet
Results Available on Meet Mobile Under "2021 Cana Grand Prix Swimming Stellenbosch"
South African swimmers have begun racing at the 2021 CANA Grand Prix in Stellenbosch, South Africa with many looking to secure Olympic qualification.
Officially organized by the African organization CANA, South Africans are the headliners of a meet that includes athletes from the countries of Benin, Botswana, Burundi, Cameroon, Cape Verde, Djibouti, eSwatini, Guinea, Malawi, Niger, Rwanda, Senegal, Seychelles, Sierra Leone, Tanzania, Tunisia, Uganda, and Zambia. The continent's other best swimming nation, Egypt, didn't send any athletes to the meet.
The event is an official Olympic qualifying meet, meaning that many of those nations that are still trying to decide which athletes they'll send to Tokyo, mostly under the Universality program, have the opportunity to hit qualifying times.
For the hosts from South Africa, the meet is serving as a secondary qualification opportunity for those swimmers who didn't quite hit the FINA A standard at the 2021 South African National Championships which took place in April.
Matt Sates opened up the meet with a 1:59.02 in the 200 IM prelims which gets him just under the FINA A standard in the event of 1:59.67. That's an improvement for Sates upon the 1:59.69 he swam at South African Nationals a few weeks ago which got him with 0.02 seconds of the cut. At nationals in April, Sates was within of Olympic qualification in 5 separate events but didn't quite hit any of the required standards;
| | | |
| --- | --- | --- |
| EVENT | FINA A | SATES' SWIM AT 2021 SA NATIONALS |
| 100 freestyle | 48.57 | 49.29 |
| 200 freestyle | 1:47.02 | 1:48.08 |
| 1oo butterfly | 51.96 | 52.15 |
| 200 IM | 1:59.67 | 1:59.69 |
| 400 IM | 4:15.84 | 4:19.38 |
Sates also swam the 50 butterfly during prelims on day 1, hitting a 24.02 to shave 0.04 seconds off his entry time and claiming the top spot heading into the final. Following him, Ryan Coetzee was a 24.39 for second seed while Chad le Clos added 1.21 second to his 23.72 entry time to hit a 24.93 for third.
With that swim, and once confirmed, Sates will join a roster of 6 swimmers who swam under the FINA A cut to secure an Olympic spot at the country's first qualifying opportunity.
South African 2020 Olympic Roster As Of April 12, 2021
Pieter Coetze (100 backstroke)
Ethan du Preez (200 butterfly)
Chad le Clos (200 butterfly)
Emma Chelius (50 freestyle)
Kaylene Corbett (200 breaststroke)
Tatjana Schoenmaker (100 breaststroke / 200 breaststroke)
Olympic slots in any event in which 2 athletes did not swim under the FINA A standard at Nationals are still up for grabs, meaning that every event save the women's 200 breaststroke and men's 200 butterfly will serve as an opportunity for qualification. As a reminder, the Olympic selection cuts are as follows: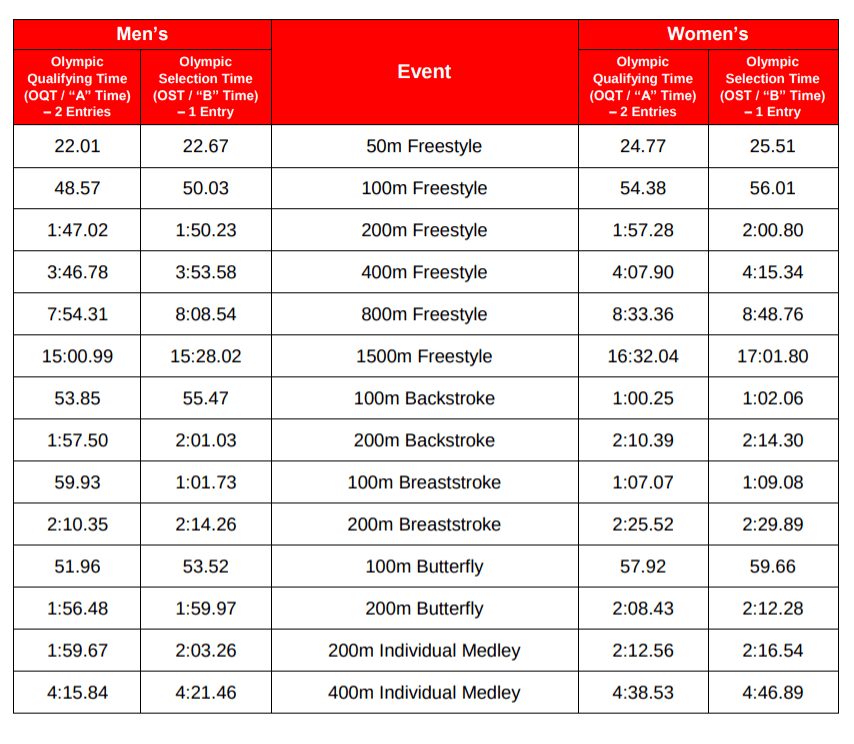 In the women's 100 breaststroke prelim, Lara Van Niekerk made an attempt to join Tatjana Schoenmaker on the Olympic roster but was just short of the required 1:07.07, posting a 1:07.39 to earn top seed. The swim actually exactly matches her prelim swim last month at nationals where she posted a 1:07.39 in the prelims and then was 0.01 seconds slower in the finals with a 1:07.40.
Co-Olympic qualifiers Chad le Clos and Ethan du Preez swam in the men's 200 butterfly prelims and earned the top two seeds with a 1:59.27 and 1:59.90, respectively. While it doesn't matter quite as much considering that they've both qualified to swim the event in Tokyo, both were slower than what they recently swam at Nationals when le Clos posted a 1:55.88 and du Preez a 1:56.44, both dipping under the 1:56.48 qualifying cut.
Hannah Robertson lead the women's 200 freestyle field during the prelims with a 2:07.05 which was 3.90 seconds above her entry time of 2:03.15, as well as over the FINA A cut of 1:57.28. Behind her, Hannah Pearse was a 2:09.62 for second seed while Holly Cleworth was a 2:09.64 for third. Pearse was back later in the session to swim the fastest 200 backstroke prelim, hitting a 2:20.93 to out-swim Emma De Wet's 2:28.76 for second and Holly Cleworth's 2:30.60 for third. Like Robertson, Pearse was a little but off her best time of 2:16.23, as well as the FINA A of 2:10.39.
Additional Top Seeds – Day 1 Prelims
Olivia Nel was the quickest woman in both the 50 freestyle and backstroke prelims with a 26.28 in the free and a 29.47 in the back. She will need to get down to a 24.77 in the 50 free final to join Emma Chelius on the Olympic roster in the event.
Chad le Clos swam the 100 freestyle, hitting a 50.15 to nearly get within a second and a half of the FINA A standard of 48.57.
Dune Coetzee was a 1:00.67 in the women's 100 butterfly, adding 1.70 second to her entry time while trailing the FINA A cut of 57.92.
Martin Binedell swam a 58.50 100 backstroke, 3 seconds over his entry time of 55.24.
Ahmed Jaouadi posted a 4:07.13 400 freestyle which is just over 20 seconds off the Olympic selection cut of 4:07.13.
The finals corresponding to day 1 prelims will occur on Friday morning beginning at 10 am local time (4 am EST).