Despite a controversial last day for the Chinese swimmer, Sun Yang was given the swimmer of the meet award at the 2015 World Championships.
The award is handed out to one male and one female swimmer proposed by the FINA Awards Commission who were deemed to have the best performances at the meet by FINA.
After an eventful day involving a physical altercation during warm ups and heart problems that forced Sun to withdraw from the 1500m freestyle, many athletes are voicing their opinions that other viable candidates should have won.
Sun was in violation of section five of the FINA code of ethics today which states, "all forms of harassment, be they physical, psychological, professional or sexual, are strictly prohibited."
Adam Peaty, one of the swimmers who arguably was in the running to be named swimmer of the met, held nothing back when responding to this tweet: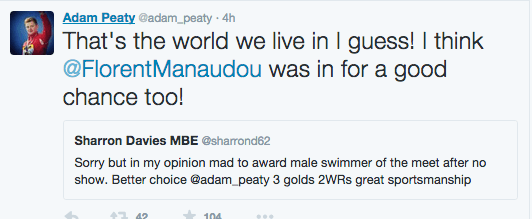 Many other athletes took to Twitter to express their discontent for the decision, especially British athletes who backed Peaty's performances.
Sun did win the most individual golds out of any male swimmer at worlds, which without a doubt puts him in contention for the award. When handed out objectively, Sun makes a good case as the winner.
As determined in the FINA by laws however, the winner is determined based upon the following points system:
*Not indicated but assumed only individual events count, or both Peaty and Manaudou would have beaten Sun
1st = 5 points
2nd =3 points
3rd = 2 points
4th = 1 point
Individual world record  = 2 points
We've provided the details of each swimmer's week below in order to determine who rightfully should have won the award. Sun's performances were very good, but by looking at data below it appears that there are others who might have been just as deserving of the award.
Sun earned himself three medals at this competition. He took home two golds and a silver medal.
In the 400 and 800m freestyle Sun defended his world championship titles, and became the third man in history to ever win consecutive golds in the 400. With his 800 win he became the only man to ever win three straight 800m freestyles at worlds surpassing distance legend Grant Hackett.
When he touched for silver in the 200m freestyle, Sun became just the second swimmer in the history of the sport to win any color medal across the 200m-400m-800m-1500m events over multiple championships. Hackett of Australia is the only other swimmer to have ever done this.
2 x GOLD
1 x SILVER
Points: 13
World records: ZERO
Adam Peaty of Great Britain was absolutely electric at these championships, winning two gold medals and becoming the first swimmer to ever win both the 50 and 100m breaststrokes at a single championships.
Peaty swam a 58.18 championship record in the 100m breaststroke in order to advance to finals. In finals he claimed gold becoming just the fourth British swimmer to ever win a world title in swimming.
Following that performance Peaty swam to a new world record in the 50m breaststroke semifinals with a time of 26.42. He went on to win the event later on adding a second gold.
In the mixed 4x100m medley relay, Peaty was incredible and helped the British team win gold and set a world record. Peaty was the only male swimmer at these championships to set an individual world record other than Cameron Van Der Burgh, and one of four guys (two British, two American) to set a world record as part of a relay.
3 x GOLD (ONE RELAY)
Points: 12
World records: TWO (ONE RELAY)
Florent Manaudou of France is another viable candidate for the title of swimmer of the meet. Manaudou showed his pure raw speed in both the 50m freestyle and 50m fly, taking gold in both events.
Manaudou also helped the French team recapture gold in the men's 4x100m freestyle relay, splitting a 47.93 on the second leg.
Manaudou is one of just two male swimmers (himself and Peaty) to be leaving Kazan with three gold medals. No other male swimmer managed to achieve that feat.
3 x GOLD (ONE RELAY)
Points: 10
World records: ZERO
Mitchell Larkin
Mitchell Larkin became the first swimmer in 10-years to win both the 100 and 200m backstrokes at the same world championships. The last swimmer to do so was famed American backstroker Aaron Peirsol.
Larkin won gold in both the 100 and 200m backstrokes this week, and helped the Australian 4x100m medley relay finish second to the Americans.
Larkin did put up the fastest backstroke leg out of all relay swimmers however, sporting  52.41 at the touch to put his team in first.
2 x GOLD
1 x SILVER
Points = 10
Word records: ZERO
Laszlo Cseh 
Laszlo Cseh had what can arguably be described as his best world championships ever. The Hungarian superstar won his first world title in 10-years as he beat out South African Chad Le Clos for gold in the 200m butterfly.
There, Cseh posted the worlds number one time until it was beaten shortly after by Michael Phelps at US Nationals. Despite that, Cseh still had plenty more success of his own.
In the prelims of the 100m butterfly, Cseh became the first swimmer since the 2012 London Olympics to break 51-seconds in the 100m butterfly. He swam a 50.91 in prelims and then even faster in finals to take home the silver medal.
With a bronze in the 50m fly, Cseh became the first male swimmer to ever win medals in all three same stroke events at one edition of the world championships
1 x GOLD
1 x SILVER
1 x BRONZE
Points = 10
World records: ZERIO