XLV TROFEO NICO SAPIO – GENOVA
9/11 Novembre 2018
vasca corta 25 metri
Da domani a Genova si celebrerà la memoria del giornalista RAI morto insieme alla Nazionale Italiana nello schianto dell'aereo Lufthansa a Brema il 28 Gennaio 1966, con il trofeo "Nico Sapio".
Le gare saranno tutte valide per la qualificazione per i Mondiali in Vasca corta di Hangzhou, che si disputeranno dal 11 al 16 Dicembre.
E' il caso di dire: "parata di stelle" a Genova.
Oltre la folta compagine azzurra ai blocchi di partenza, come riportato da Loretta Race di Swimswam, ci saranno le stelle del nuoto americano pronte a dare battaglia.
Kelsi Dahlia, Kathleen Baker, Michael Chadwick, Lia Neal, Madison Kennedy, Kendyl Stewart sono già a Genova.
Special thanks to https://t.co/VDABjFCSyg for the great coffee and desserts @kelsiwhirl @afooled @mchad95 @kendylstewart17 @madisonjkennedy @barlenzo @KathleenBaker2 @LiaNeal @kajo1985 @FINOfficial_ #Genoa #NicoSapio @MatheusSantana9 #MurenaSuiteGenova pic.twitter.com/W9zLsMjaBY

— Domeyko Photography (@RafaelDomeyko) November 8, 2018
Eccoli immortalati mentre si concedono una pausa caffè nelle vie del centro di Genova.
Gli atleti italiani non si faranno intimorire dai colleghi USA. La caccia al tempo di qualificazione per i Mondiali in vasca corta è ancora aperta.
Tra coloro che saranno più affamati di tempi ci sono i ritrovati Nicolo Martinenghi, Gabriele Detti e Silvia Di Pietro. 
Impaziente di esordire come eleggibile in Nazionale, Santo Condorelli.
Le finali avranno inizio alle ore 16.30 e saranno trasmesse in diretta televisiva.
Appuntamento dunque alle piscine Sciorba di Genova, per un altro week end di grande nuoto.
CRITERI DI SELEZIONE MONDIALI VASCA CORTA
Saranno qualificati gli atleti che al 18 novembre risulteranno essere in possesso dei seguenti requisiti:
atleti classificati entro le prime tre posizioni nelle gare individuali ai campionati europei di Glasgow;
nelle gare con posti ancora disponibili, fino al numero massimo di due e in base all'ordine di tempi, gli atleti che avranno ottenuto nel periodo tra l'1 ottobre e il 18 novembre, in manifestazioni nazionali o internazionali con cronometraggio elettronico, una prestazione uguale o migliore del tempo limite indicato nella successiva tabella di riferimento.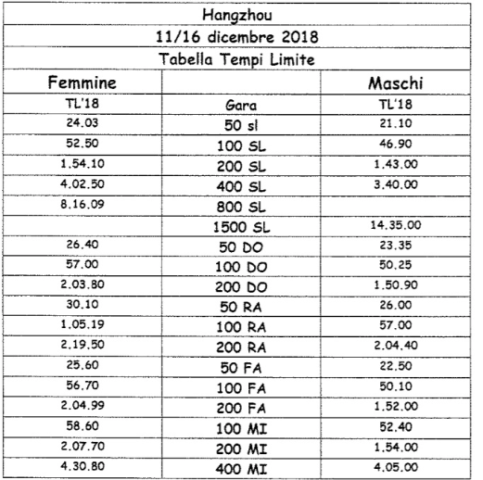 STAFFETTE
Per la qualificazione delle staffette inserite in progetti federali mirati alla partecipazione ai Giochi Olimpici di Tokyo 2020 verranno valutate, a completamento dei nuotatori già qualificati, le prestazioni degli atleti nel periodo di gara sopraindicato.
L'ulteriore completamento della squadra, nonchè l'eventuale convocazione, in base alla loro qualità tecnica, delle staffette 4×50 e mixed, sarà definito dal Consiglio Federale, su proposta discrezionale del Direttore Tecnico.