2023 NCAA DIVISION I MEN'S SWIMMING & DIVING CHAMPIONSHIPS
March 22-25, 2023
Jean K. Freeman Aquatic Center | Minneapolis, MN
SCY (25 yards)
The psych sheet for the men's 200 freestyle looks very different than it did a year ago. There's been major turnover in the event, as four of last year's 'A' finalists have departed the NCAA, including 2022 champion Drew Kibler. The other names are just as heavy-hitting as they include two Olympians: Kieran Smith and Matt Sates, along with Trenton Julian.
The departures leave ASU's Grant House as the top returner; he finished second behind Kibler last year. A major piece of the Sun Devils' rise to up the ranks of the PAC-12 and the NCAA, House now sets his sights on his first individual NCAA title.
House is the fastest in the NCAA this season with his 1:30.67 from winning PAC-12s. It was his second straight time winning that title; he won last year with his lifetime best of 1:30.23. The Sun Devils went all out at conference last year, and House was one of a few of their swimmers that didn't replicate his times three weeks later–he took second at NCAAs in 1:30.68.
This year, despite winning their first-ever conference title, it was clear the top Sun Devil swimmers did not fully rest for the meet. Given that House currently sits a half-second ahead of anyone not named Leon Marchand, has already passed his 2022 NCAA time, and has the fastest PB in the field, he's the clear favorite for the NCAA title. Not only that, but given how close he was to breaking 1:30 last year, you've got to expect that's a box he's hoping to check in his last collegiate meet.
Returning 'A' Finalists
The top of the psych sheet is dominated largely by last year's 'B' finalists and breakouts. But along with House, three other 2022 'A' finalists return to the field this year. Luke Miller finished fourth last year with a personal best of 1:31.16. The Wolfpack junior sits comfortably in seventh on the psych sheet with a season-best of 1:31.87 from NC State's dual with Texas when he ran down Luke Hobson and Carson Foster for the win.
After swimming the 100 and 200 free at NCAAs individually last year, Miller heads to Minneapolis with a full schedule. He's entered in the 50 free on day 2, the 200 free on day 3, and the 200 fly on day 4. NC State should be in the midst of a battle for top 5 in the team standings, so it will be important for Miller to hold his seed and make the 'A' final. The Wolfpack also has Bartosz Piszczorowicz as part of a three-way tie for #17 (1:32.47) and it would be a bonus for him to get a second swim.
Brooks Curry is much better known for his prowess in the 50 and 100 free, but he's also proven himself capable of a solid 200 freestyle. He finished sixth in the event last year and holds a personal best of 1:31.39, which he swam to finish second at 2022 NCAAs. He's another example of how much the landscape of this event has changed in a year–Curry's seeded way back at 31st as the first invited swimmer in the event. He's had a pretty quiet season so far, which is reflected in his season best 1:33.15. He'll need a big drop to make it back into the 'A' final, which could be on the cards if he hits his taper right. It's a big ask given how crowded this race is, but swimming in an early heat could afford him some welcome clean water.
The last returning 'A' finalist is Louisville's Murilo Sartori. A sophomore for the Cardinals, Sartori is 11th on the psych sheet in 1:32.23 which he hit at Louisville's last chance meet. He finished fifth at ACCs in 1:33.00. He's likely going to need to shed some more time to make it back to the 'A' final, but the drops from ACCs to the last chance meet show he's trending in the right direction.
Fresh Faces
Behind House, the field is incredibly tight. The next nine swimmers are separated on the psych sheet by less than a second, and the #2 seed through the #5 seed by less than a half second. Additionally, seven of those nine swimmers swam their lifetime best this season. Will any of them be able to keep the momentum rolling and pull off an upset?
One of the surprises of the season has been Charlie Hawke's rise to the top in this event. Last year, the Alabama sophomore didn't even make the meet individually. He went as a relay swimmer for Alabama, leading off their 16th-place relay in 1:33.82. He's taken a huge leap this season, leading the NCAA for much of the season. Now, he finds himself as the third seed having dropped all the way down to a 1:31.20. After taking almost two second off his personal best, he's one of the prime candidates to pull of an upset–he's still a bit of an unknown and still could have more time left to drop this season.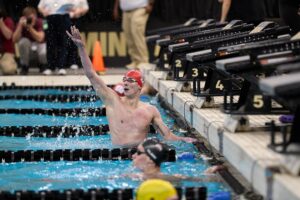 After finishing 17th last year and missing a second swim by seven-hundredths, Wen Zhang has had an excellent season. The Air Force senior A 3x WAC champion in this event, Zhang's cut eight-tenths from his personal best this season, hitting 1:31.42 at his conference championships. Zhang added about four-tenths from conference to NCAAs last year. Doing the same this year keeps him under the 1:32.00 it took to make 'A' final last year, but obviously, matching or improving on his time in the morning will go a long way towards getting a second swim, especially with the crowd behind him looking to move up.
Though both qualified for the event in 2022, neither Jake Newmark nor Patrick Sammon swam the 200 free at the last NCAAs. After a huge 2022 Big Tens, Newmark was dealing with a non-COVID illness at NCAAs last year. This year, both he and Sammon are in a position to make some noise; they're seeded fifth and sixth, respectively. Newmark has used excellent underwaters to power himself to a lifetime best of 1:31.61 and the win at Big Tens over Ruslan Gaziev and Rafael Miroslaw. Fully healthy, he'll be aiming for the 1:31 barrier and a high finish on the podium.
Sammon has made big improvements of his own, going from 1:33.08 to 1:31.82, which earned him second at PAC-12s behind House. We don't know how much he was tapered for PAC-12s, but getting two up in the 200 free would be a big boost for an ASU team that's looking to challenge for a top-three finish. Sammon's drops, and the fact that ASU has three swimmers in the top 12, is why we've also picked the Sun Devils to upset Texas in the 800 free relay. In addition to House and Sammon, Julian Hill holds down #12 on the psych sheet at 1:32.26.
'B' Finalists Looking to Move Up
House is not the only fifth-year hoping to make a statement in his final NCAA 200 freestyle. At SECs, Missouri's Jack Dahlgren led off the Tigers' 800 free relay with a huge lifetime best of 1:31.17, setting a new program record. That was his first time sub-1:32, and it launched him up to #2 on the psych sheet–a big jump from his 13th-place finish in 2022. For Dahlgren (and any other swimmer that swam their best leading-off a relay) the key will be to replicate that relay hype for their individual swim.
Texas' duo of Luke Hobson and Coby Carrozza will have their sights set on 'A' final berths after making the 'B' final last year. Carrozza finished 12th, with Hobson behind in 16th. Hobson especially has made big strides this season, posting a lifetime best 1:31.89–part of his quest to transition from a distance swimmer. He's seeded eighth and Carrozza is sitting back in 24th. Of the two, we'd take the sophomore Hobson to be the one more likely to get involved in an 'A' final battle.
Then, there's also Gaziev, Miroslaw, and Luke Maurer. Maurer's sitting 20th, but Gaziev and Miroslaw are right in the middle of the action as the ninth and tenth seeds. Gaziev's 1:31.94 at Big Tens marked his first time sub-1:32, while Miroslaw went 1:32.10, about two-tenths from his personal best 1:31.89. Both are capable of making things interesting in the morning–everyone's going to have to be at their best to make the championship heat and they'll be ready to take advantage if anyone ahead of them on the psych sheet falters.
SwimSwam Picks
Dark Horse: Gabriel Jett (Cal) — It's entirely possible that the biggest threat to House is sitting way down the psych sheet at 14th. Jett has been dropping time left and right since this meet last year and has had a great sophomore season at Cal. He's the top seed in both the 500 free and 200 fly, and though he finished 18th last year, it would be a mistake to overlook him as a title threat. Adding to Jett's "dark horse" nature in this event is that his splits in this race are some of the wildest we've seen. When he swam his PB 1:32.41 at the Minnesota Invite, he came home in 22.94. He had an 'off' swim at PAC-12s but a good race could get him involved in the title conversation in a hurry, especially with his closing speed.