With the U.S. Olympic Trials approaching, veteran Elizabeth Beisel will be looking to make her 3rd straight Olympic Team in her signature event, the women's 400 IM. Beisel, who made her first Olympic team at 15, is now the reigning Olympic silver medalist in this event. Beisel has been a staple of consistency for Team USA, with times in the 4:31-range every year since winning the event at the Worlds in 2011. The exception to that came last summer at the 2015 World Championships, where she placed 12th in 4:35.17 after battling a groin injury.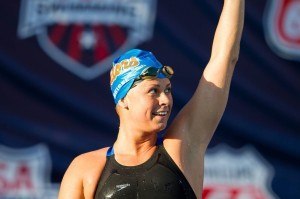 If there was any doubt about Beisel's recovery headed into trials, she obliterated it at the Atlanta Classic. Beisel charged to a dominant win with her 4:33.55. That time is within 3 hundredths of the fastest she's ever been in-season. That bodes well for Beisel, who has historically hit her tapers well and dropped chunks of time at her focus meets.
Also looking to return to the Olympics in this event will be Cal's Caitlin Leverenz, who finished 6th in the 400 IM in London. Leverenz's lifetime best is a 4:34.48 from 2012 trials. Following London, her times started to drop off in this event, but she had a statement swim last summer at the 2015 Pan American Games, where she won the event in 4:35.46.
While the veterans are strong candidates for this summer's Olympic team, the field in this event could be much more challenging at trials than it was in 2012. The biggest top 2 threat heading into the meet is Stanford's Maya Dirado. In 2012, DiRado was 4th at trials with a 4:38.87. Since then, she's dropped almost 8 seconds, picking up her first World Championships medal last summer with a blistering 4:31.71 for silver. DiRado's forward momentum tells us she's capable of earning her first Olympic bid. She's had some close races with Beisel since earning a spot in this event at 2013 worlds, and will be up to challenge for the win at trials.
Also based out of Stanford, Ella Eastin just finished her freshman year with the Cardinal, having a stellar season that included an American Record in the 200 IM and a win in the 400 IM at NCAAs. Her best in this event is a 4:38.97 from 2013 junior nationals. She hit a plateau in this event following that summer, with her fastest time over the next 2 years at 4:42.52. Since beginning at Stanford, Eastin has bettered that, with a 4:40.77 from the Atlanta Classic as her current season best. If she has a breakthrough swim at trials and gets back to her best, she has a shot at the top 8.
Georgia Bulldogs Hali Flickinger and Melanie Margalis broke 4:40 for the first time in 2014, and both swam the event for Team USA at Pan Pacs that summer. In the final at 2014 Nationals, Flickinger swam her personal best 4:39.26, going on to represent the U.S. in this race at 2015 WUGs. Margalis' best time came in that same race, where she swam a 4:37.84 to take 3rd.
After making the top 8 in this event at 2012 trials, Sarah Henry and Becca Mann will return to the pool in Omaha for this event. Mann placed 5th in this event at 2012 at just 14 years old. Since then, she's lowered her best time by nearly 4 seconds to post a 4:37.04 this season at Minneapolis Pro Swim. Henry was 7th in the 2012 final, where she swam a 4:42.45. Since then, Henry became the 2014 NCAA champion in this event in yards, and broke the 4:40 barrier in long course. She swam under that mark at last summer's World University Games, lowering her time to a 4:38.88.
Although she's best known for her freestyle, Katie Ledecky could make an appearance in this event at trials. She has no other events on day 1, so it wouldn't conflict with her schedule. Ledecky swam her best time at the Atlanta Classic in May, posting a 4:37.93 that makes her a top 8 threat if she swims it. If nothing else, Ledecky could be the most terrifying closer in the field based on her historic freestyle and endurance.
The 400 IM is an event that could be scary-fast in 2016 compared to past Olympic Trials. In both 2008 and 2012, the U.S. only had 4 swimmers break 4:40 at Trials. This season alone, we've already had 7 Americans under that mark. In 2012, a 4:38.6 earned Cammile Adams third place overall – one spot out of the Olympic ranks. In 2016, that might not even make the final, and Adams check in as our dark horse.
Women's 400 IM Predictions:
| | | | | |
| --- | --- | --- | --- | --- |
| Place | Name | Best Since London | Predicted Time | Training Base |
| 1 | Elizabeth Beisel | 4:31.69 | 4:31.6 | University of Florida, Gainesville |
| 2 | Maya Dirado | 4:31.71 | 4:32.0 | Stanford University, Palo Alto |
| 3 | Ella Eastin | 4:38.97 | 4:35.0 | Stanford University, Palo Alto |
| 4 | Caitlin Leverenz | 4:35.46 | 4:35.2 | University of California, Berkeley |
| 5 | Melanie Margalis | 4:37.84 | 4:36.5 | University of Georgia, Athens |
| 6 | Becca Mann | 4:37.04 | 4:37.0 | NBAC, Baltimore |
| 7 | Sarah Henry | 4:38.88 | 4:38.0 | Texas A&M, College Station |
| 8 | Hali Flickinger | 4:39.26 | 4:38.5 | University of Georgia, Athens |
Darkhorse: Cammile Adams was 3rd in the 400 IM at 2012 trials, clocking a 4:38.62. Since that summer, she hadn't been under 4:40 again until last weekend at Charlotte Pro Swim, where she swam a 4:38.97. Adams' focus has been primarily on the 200 fly, and event she's swam for Team USA at every major international competition since she qualified for the London Olympics. However, she looks to be getting back to form in this event and could potentially make the top 8 again.