2022 FINA WORLD AQUATICS CHAMPIONSHIPS
June 18-25, 2022 (pool swimming)
Budapest, Hungary
Duna Arena
LCM (50-meter format)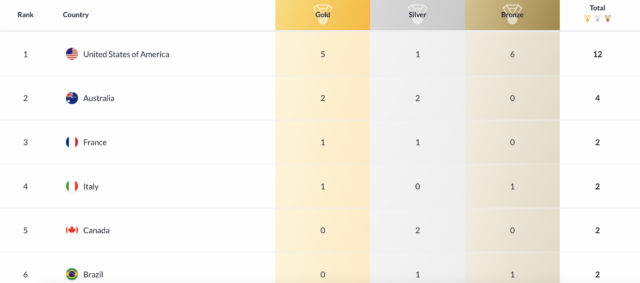 Day two of the 2022 FINA World Championships added several more nations into the mix of medals, with the Netherlands and China among them.
Breaststroking ace Arno Kamminga wrapped up 100m breaststroke silver for the Netherlands while China's Zhang Yufei earned bronze in the women's 100m fly.
The United States enjoyed a fruitful set of finals, with Nic Fink collecting bronze in the men's 100m breast, while Torri Huske nailed a new national record en route to winning the women's 100m fly. Caeleb Dressel and Michael Andrew went 1 & 3 in the men's 50m fly to inflict further damage on the medal table while Alex Walsh wrangled up 200m IM gold.
We'll see how the medal table standings continue to unfold as the meet progresses, however, right now, the stars n' stripes have three times the number of medals the next closest nation of Australia through two days of competition here in Budapest.