Toast, the simplest yet most versatile food. There are so many delicious toast combinations that will leave your mouth watering and appetite completely satisfied. Whether you are looking for a quick breakfast or a filling snack, these recipes will hopefully inspire you to think outside of the box and get creative!
Without further ado, here are my favorite ways to eat toast (2.0)!
Mediterranean Avocado Toast

Ingredients
       2 slices of whole grain bread
½ avocado
1 tsp lemon juice
   Few slices of cucumber
Sprinkle of Feta cheese
Salt & pepper to taste
Sprinkle of dill weed
1 fresh basil leaf
This combo is super light, refreshing and makes for a quick afternoon snack! In addition to being aesthetically pleasing, the thin cucumber slices add a nice crunch and the sprinkle of feta adds some creaminess, nicely complimenting the texture of the mashed avocado. While the bread is toasting, carefully slice open a ripe avocado. Whenever I am making avocado toast, I always divide ½ an avocado among 2 slices of bread. Once the bread is toasted, scoop out the avocado with a spoon onto the slices and mash with a fork. Season the mashed avocado with salt, pepper, dill weed, lemon juice and fresh basil. For the basil, I like to rip up one leaf and divide it among the 2 slices as evenly as possible. Slice up the cucumber and place a few slices on each piece of toast. Finish off with a light sprinkle of Feta cheese and enjoy!
Spicy Pumpkin Seed Avocado Toast

Ingredients
2 slices of whole grain bread
½ avocado
Salt & pepper to taste
1 tsp red pepper flakes
1 tsp smoked paprika
1 tsp olive oil
½ cup pumpkin seeds
Might sound very strange but don't knock it 'til you try it! While I do love nut butters and snacking on almonds, I like to mix it up with pumpkin seeds. As an alternate fat source, pumpkin seeds or pepitas, are nutrient dense. They contain antioxidants, zinc and magnesium, which helps maintain blood pressure levels and supports heart health. For this recipe, toast your bread like normal and mash ½ an avocado, dividing it evenly between the 2 slices. This part may be optional but you can roast your pumpkin seeds before sprinkling on top of the toast. Preheat your oven to 350F and in a bowl, combine the raw pumpkin seeds, olive oil, salt, pepper and smoked paprika. Spread out the oil coated, raw pumpkin seeds on a baking sheet and bake for 10-15 minutes. After roasting, let the seeds col for a few minutes before sprinkling on top of the mashed avocado. Finish off with some red pepper flakes for some added spice and enjoy!
Pesto Avocado Toast with Fried Eggs

Ingredients
                        2 slices of whole grain bread
                                       2 eggs
                                    ½ avocado
                                 1-2 tbsp pesto
                        Salt & pepper to taste
Now this isn't your average avocado toast. I love making this recipe for at home brunch or when you just want to do something special and treat yourself. And if you've never had eggs and pesto before,I am happy to take full credit for introducing you to this iconic combination! As with the previous recipes, toast your bread and mash your avocado. If you want to multitask, you can fry up two eggs while the bread is toasting – either sunny-side up or over easy. Season the mashed avocado with salt and pepper and drizzle on your pesto. Lastly, layer the eggs over the pesto covered avocado mash and enjoy!
Check out my page for more recipe inspiration and be sure to share your jazzed up toast with me @whatzoeeeats.
About Zoe Gregorace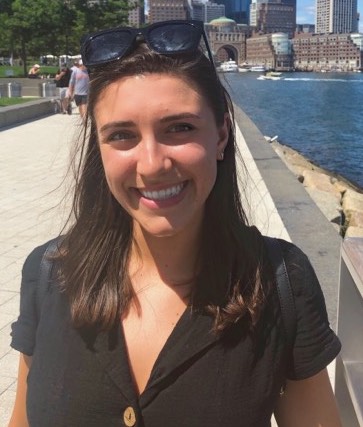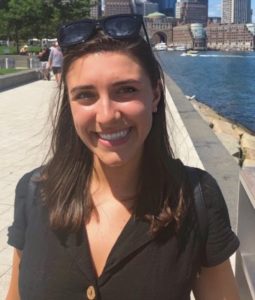 Zoe Gregorace is currently studying Nutrition Policy at the Tufts Friedman School of Nutrition Science and recently graduated from Tufts University, where she earned a Bachelor of Arts degree in Sociology and was a proud member of the Tufts Swimming and Diving team (Go Jumbos!). During her 16 year career as a competitive swimmer, she developed a passion for sports nutrition. She enjoys writing on the topic of nutrition, health and wellness and posts her meal creations on her Instagram page @whatzoeeeats. As a former college swimmer, she strives to share recipes and nutrition tips to promote balanced eating and optimize sports performance.