Courtesy of Ryan Gibbons
It's that time of year again.
The touchpads are back on the racks.
Tech suits have been folded (or, honestly, stuffed) back in their boxes.
The championship season is now again coming to a close, and with it, bringing in a brand new season, a new chance, a new beginning, and a new opportunity to improve.
However, the transition to a new season, and leaving the past in the past, can often be challenging for many swimmers, and can lead to some starting off the season on the wrong foot. These tips can help you escape the season-starting slump and make the best of the new season to come.
1) Bring some of the past with you, but leave most of it behind.
When starting out a new season, it is important that the past is not forgotten. Try to hold on to the best memories of past seasons, to the greatest swims, biggest drops, most challenging cuts that you achieved, and keep those with you when beginning the new season. However, leave behind all of the negative memories and disappointments behind. Learn your lessons from them, and then move on. It isn't worth it to keep those with you going forward – they'll only drag you down. On the other hand, don't hold too many good memories with you either. Don't obsess over past successes so much that you forget to work for the future. If you do, it can be difficult to remind yourself to keep training hard, and you'll start riding on the past instead of looking up to the future. It's like packing for a trip: take what you need, leave what you don't, but try not to pack too much of anything.
2) Emphasize your stroke training and technique.
In these first few weeks of the new season, try working on your stroke as much as possible. While it is important to be focusing on strength and endurance training as well, the best time to start new habits and improve your stroke is at the beginning of a season. The new season is like a blank canvas: you can either paint it ugly, by continuing with bad technique habits, or you can make a masterpiece and improve now before heavy training starts.
3) Start new mental habits, break old ones.
Just like how the new season is a great time to create new stroke techniques, it is also a great time to create new mental habits. With the fresh start, you can create any mental habits you want, whether they be working harder at practice, showing up on time more often, skipping less, or even being more optimistic towards practicing. You have a chance to get in these new habits, that will in turn benefit your training and outcomes for the rest of the season. In a few weeks, training will be heavy, and whatever new habits you've created will be hard to change or break, so make the most of these next few weeks and create whatever habits you will want for the rest of the season.
4) Look back at what you should have done differently.
Slow turns? Bad starts? Slowing down too much at the end of a long race? Look back at your swims, both good and bad, from the past season, and think about what you need to change. If some of your meets had video recordings, or someone took videos or pictures of your swim (such as a parent, teammate, or coach), ask to see these videos. If they didn't, look back at your splits, or ask you coaches what you should do differently. If you noticed something wrong with your technique, you can begin to fix that with the new season. If you were pacing races wrong, then you can start changing your pace or practicing certain aspects, like practicing finishing 200s, or being more consistent throughout a race. (This also works for IMs – for example, if you noticed that your breaststroke split was far below what it should be, or that you're going out too fast on your butterfly, work on pacing these parts better, or put extra emphasis on that rough stroke in practice.) Review the mistakes, learn from the lessons, but again, don't carry the mistakes with you in a negative way.
5) Keep an open mind, and be excited!
The new season is a brilliant opportunity to improve, both as a swimmer and a person. Look forward to it, be excited about it, and don't fear it. Going into the season prepared and optimistic will almost definitely result in a better outcome than going into it worried and upset. Have fun with the new season, and continue to put work into becoming a better swimmer. Enter the new season ready to go, and it will be one for the ages.
Ryan Gibbons' Bio: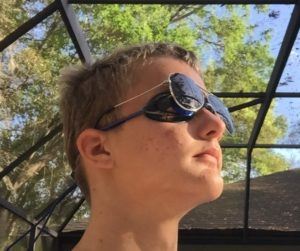 I am a competitive swimmer who has been pushing through the water for nearly seven years. To me, everything is about numbers – I know and plan my splits, know exactly what times I need to go and what times I need to push to get there, but despite all of that, I still can't count more than a 200. I've always swum with an incredible team out of central Florida, and am known for being the braniac on the team. Swimming is my life, and I wouldn't trade it for anything else, except maybe truly anit-fog goggles…