Swimming Gear News is courtesy of Speedo, a SwimSwam partner.
Need a little stability in your swim life? Speedo's new Bullet Head Snorkel is built for high speeds and perfect for sprinters looking for stability in the water during workouts.
Engineered with the most hydrodynamic features, the Bullet Head Snorkel's low profile, teardrop shape offers maximum vision and drag reduction. Its smaller tube opening helps improve lung capacity over time by reducing air flow and simulating high altitude training for maximum efficiency.
"I'm a huge fan of Speedo's new Bullet Head Snorkel and use it in training often," said 12-time Olympic medalist Natalie Coughlin.  "As I focus on my sprint events, it's a great tool to maximize my workout.  Like all of Speedo's gear, it's engineered to perform and helps promote proper breathing and head position as we train at high speeds."
With comfort in mind, the Bullet Head snorkel has a flexible TPR headband, which eliminates headaches and pinching as well as a premium silicone head strap for stability and comfort. It is also easy to clean with a removable silicone mouthpiece, ideal for those times it has been left in an equipment bag a little too long. And not only is the snorkel completely reinvented and redesigned, it comes in bright and fun colors like Shocking Lime and Pop Pink.
"A center snorkel is a really important piece of equipment that's always in my training bag," said Olympic medalist

Cullen Jones

. "Speedo's new Bullet Head Snorkel is super comfortable, with a low profile, stable design that is designed especially for us sprinters.  Not only is it functional, but the bright colors are fun – I've been rocking the pink one in practice"
"The Bullet Head Snorkel is great to use during pull sets," said Jersey Wahoos Head Coach John Carroll. "It really helps shape freestyle pull and enables our swimmers to create a better body roll during the set."
Over the years, swimmer's snorkels have helped athletes perfect their body position, which is crucial to in the sport. With its updated and innovative design, the Bullet Head snorkel is a great tool for swimmers of all skill levels and ability.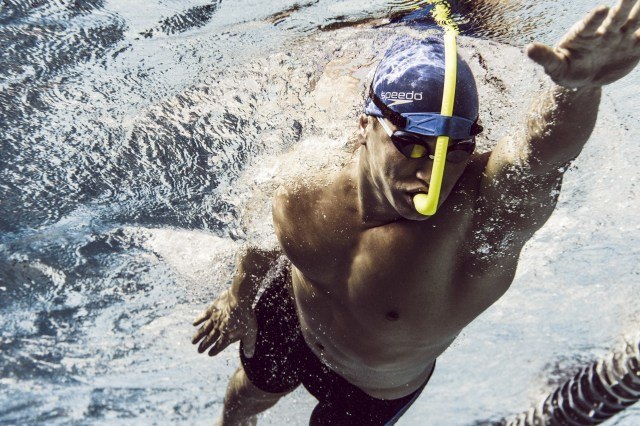 Swimming Gear News is courtesy of Speedo USA, a SwimSwam partner.