After years of fundraising and lobbying for a new pool, construction on a new swimming and diving complex is set to begin at Division III Occidental College this summer.
Built in 1930 with six lanes and a maximum depth of 10.5 feet – Oxy's current pool is one of the oldest outdoor college pools in the nation. The new De Mandel Aquatic Center is designed to include eight competitive lanes, 15 practice lanes, and a 13.3 foot deep diving well with two 1-meter and two 3-meter diving boards. In addition, the complex will feature an attached recreational pool and a 316 seat grandstand.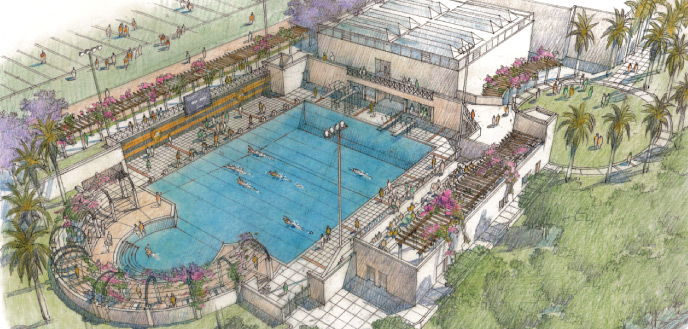 "This has been a long time coming," said associate vice president and director of athletics Jaime Hoffman in an interview with Occidental. "We've been talking about bringing our athletes home. Now that's finally going to happen."
Water polo head coach Jack Stabenfeldt stated that the new pool will provide Occidental's water polo teams with a new style of play. "We lack the ability to plan for and execute certain tactics. When we get into bigger water, we're not used to have to physically take up that space or having to swim as far," said Stabenfeldt.
The new pool will allow the swim team to no longer having to schedule practice in shifts, with as many as six or seven athletes swimming in each lane, said Occidental Swimming head coach Steve Webb. Further, it will also allow Occidental to revive their diving program.