Great Britain can look forward to 2017 with enthusiasm after their established and emerging swimming stars finished 2016 with strong performances. We take a look at four swimmers, sponsored by Aussie swimwear brand Funkita, that can feel very satisfied with their achievements in 2016.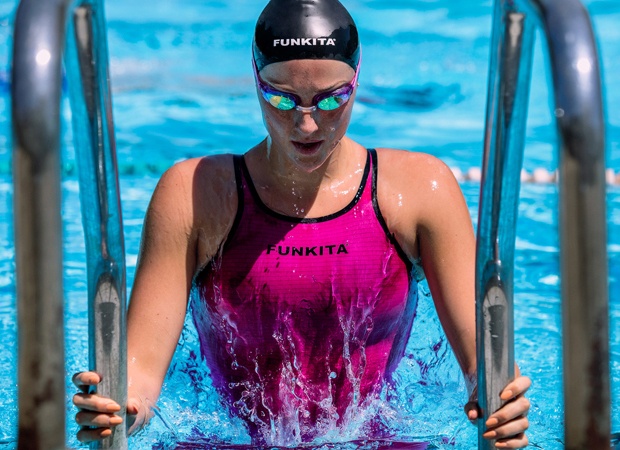 Molly Renshaw finished 2016 as a World Champion and with another British Record to her name, after a successful post-Rio return to the pool.
After her sixth place in the final of the 200m breaststroke, 20-year-old Renshaw swam an impressive 2:18.51 in Canada to become the first English gold medallist at a World Short Course Championships since 2008 when Rebecca Adlington and Liam Tancock topped the podium in Manchester.
"I went into Worlds not expecting too much. I had a long and well needed break after the Olympics and have taken a different approach to training since I've been back. My training has been a lot more gym focused. I've also placed more emphasis on just staying happy which my coach and I believe helps me to perform well," Renshaw said.
Renshaw revealed that she even shocked herself with her gold medal feat.
"To walk away with a gold medal was a little bit of a surprise and more than I could have dreamed for. It's my first World medal so it will always be very special to me."

Renshaw returned home in time for the ASA National Winter Meet where she won the 100m and 200m breaststroke as well as the 200m IM. Her 2:17.98 performance in her pet event the 200m breaststroke was her first sub -2:18 and broke her own British record. Despite an incredible year, Renshaw believes there is room for improvement in 2017.
"My aim for 2017 is to qualify for the World Long Course Championships. I've started off my season better than I could have asked for and I'm hoping to take that momentum into 2017. I've been working on a lot on the technical points of my race strategy including my starts and turns in the hope the little things will add up and help me drop some time."

15-year-old freestyle sprinter Freya Anderson officially established herself in the rising stars bracket of the swimming world having smashed three British Junior records in two months.
In November, Anderson set a new British Junior Short Course Record of 54.26 in the 100m freestyle at the Stockport Metro Open meet, breaking Jessica Lloyd's 6-year-old record of 55.29.
"I was aiming to break the record after missing it by 0.01 last year. I knew what I had to do and just swam my race," she says.
At the Ontario Junior Invitational Meet Anderson broke the British Junior Short Course Record for the 100m free as well – setting a new time of 53.13 and winning gold. She also set a new 400m free British Junior Short Course Record of 4:05.69 and finished second overall.
This brings Anderson's British Junior Record tally to four. She also holds the 100m breaststroke (SCM) record with her 1:08.36 swim in December 2015 and the 100m freestyle record (LCM) with 54.72 set in July 2016.
Her exploits saw her being awarded the 2016 Emerging Swimmer of the Year at the British Swimming awards. Next up for Anderson is the 2017 World Junior Swimming Championships which will be held in August in Indianapolis.

15-year-old Emily Large made major waves with a string of impressive performances in 2016.
Since her 200m butterfly bronze medal in the British Championships, Large has continued to improve, dropping her long course personal best time from 2:09.47 to 2:08.87 in a matter of months when she became the European Junior Champion. Her time broke the previous 15-years British Junior Record that had stood since 2006.
"This was one of my favourite moments of 2016 because I was the youngest age grouper there swimming against many older swimmers. Rebecca Adlington achieved this when she was my age and went on to do many extraordinary things so I hope the same will come for me."
Large raced at the Ontario Junior Invitational Meet where she broke two British Junior Short Course records, as well as coming away with a gold and a bronze medal. Large set a new 200m butterfly record of 2:07.00 as well as a new 400m IM record of 4:37.65.
On Large's radar for 2017 is the World Long Course Championships where she is looking to improve on her 2016 results.

Breaststroker Imogen Clark left the Ontario Junior Invitational with a two gold medal haul and a new British Senior Short Course Record to her name.
The 17-year-old broke her 2015 50m breaststroke record of 30.02 in Ontario when she swam 29.67 to win gold. She also came first in the 100m with a time of 1:05.12.
Clark is aiming to qualify for the Team GB squad heading to the World Long Course Championships as well.
Follow Funkita on social media to keep up with the news!
Swimming news is courtesy of Funkita, a SwimSwam partner.
AB