by Helen Gorman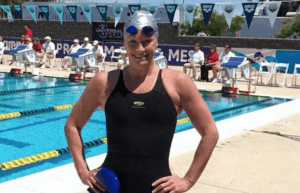 Back in February 2015 we featured the amazing Erika Braun, who was attempting to qualify for the Olympic Trials at the age of 44. As the qualification period came to a close, the 50m freestyle sprinter unfortunately came up just a little short, but her journey is inspiring and her message to younger swimmers should resonate around the sport.
In 2012 Braun set a life time best of 26.32 to qualify for the Trials at the age of 40, beating her previous best of 26.60 set as a 16 year-old. This time around, she was chasing a time of 26.19 to qualify.
Here's a short interview conducted by one of her sponsors, blueseventy:
What were your fastest times of the qualifying period?
I had the opportunity to train full-time during a sabbatical last year from Feb. – Aug. 2015 with my employer Golden Corral Corporation as the Director of Human Resources. In August 2015, I swam my fastest time for this effort at U.S. Masters Nationals with a time of 26.53. After returning to work, I was able to swim 26.58 during the MN Arena Pro Series meet in November 2015.
How do these times compare with the previous few years?
With a more concerted training effort, I was able to get a bit faster recently than in the years immediately following 2012 Olympic Trials.
How did you find the experience of taking secondment from work?
I was so fortunate that Golden Corral allowed me to take time off last year. It went by so quickly and before I knew it, I was back at work full-time. During this time, I was able to increase my strength training and enjoy more recovery in between workouts. The recovery time was very important as it allowed me to work harder during training.
In addition to training with my USA-S team Marlins of Raleigh and my Masters team, Raleigh Area Masters, I also had an opportunity to train with NC State's sprint group and Assistant Head Coach Todd DeSorbo. Their specific focus on speed and power in addition to sprint specific drills was great! Since their workouts were midday, I would not have been able to train with them while working full-time.
What key things did you learn?
I have made a concerted effort to continue eating better nutrition and fuelling my body before and after workouts. During a busy workday, it's easier to run through a drive-thru for fast food. To avoid this I have to plan ahead and pack healthy lunches and stock protein bars in my desk.
On occasion, I would do separate sprint workouts on my own after work with parachutes and a tempo trainer to keep up the sprint workouts. This helped retain some of my speed work from the summer training. Our Masters coaches also attended an NC State sprint clinic in Dec. 2015 and incorporated sprint workouts into our Masters practices.
What were the highlights of your qualification campaign?
The highlight was definitely the support and encouragement I received. I was really overwhelmed by complete strangers approaching me to congratulate and encourage me for my efforts. Last weekend, one of the swim parents, who was also a meet official said she had been watching me compete all weekend and I inspired her to consider joining her local Masters swim team. Although my focus was on this singular goal and I fell short, it really made me feel good for the response from others I received.
I was disappointed to miss out on the trip back to Omaha, but it was great to have this goal to work toward and the journey that it led me on. I really loved competing and was so fortunate to be able to compete at this level with kids more than half my age. I'm very grateful to Coach Paul Silver for letting me train with his kids since 2011 and be a part of his team. My Masters community, friends and coaches were all so supportive as well. My husband, Eric, was incredible to encourage me and travel with me all over the country to meets chasing 26.19.
What's next for you?
Most likely, my focus will now be on Masters swimming and competing with swimmers my own age. Our North Carolina team have a tremendous amount of fun going after FINA Masters World relay records, so we'll probably try to tackle a few more of these this summer. We are very excited to move into a home we designed and are building later this summer. It is a modern home that is completely accessible for Eric to help overcome some of the challenges he faces with his MS.
What is your advice to young swimmers who maybe missed the cut?
We had a few swimmers on Marlins of Raleigh who narrowly missed their Trials cut and my heart went out to them because they train so incredibly hard. However, they were so positive and continued to cheer for their teammates. Although our sport can be very individual, goals are never achieved alone. It teaches swimmers the meaning of teamwork, hard work and goal setting to prepare them for future success. My advice would be to remind them that the first step to success is often failure, and it's just part of the journey.
Can you tell us a few words about why you wear blueseventy?
blueseventy has been so incredibly supportive over the past few years as a sponsor. Their Nero suits provide incredible compression and fit my body type best. The top cut is snug and does not allow water or create gaps and I can actually get the suit on fairly easily. The Nero14 has a great fit with light material that allows me to ride high in the water.
Aptly named to suggest 70% of the earth is covered in water, blueseventy is the world leader in the pool, triathlon and open water wetsuits and swimskins. Since 1993, we design, test, refine and craft products using superior materials and revolutionary details that equate to comfort, freedom from restriction and ultimately a competitive advantage in the water. blueseventy products have instilled confidence in beginners as well as carried world-class athletes to countless Olympic and World victories.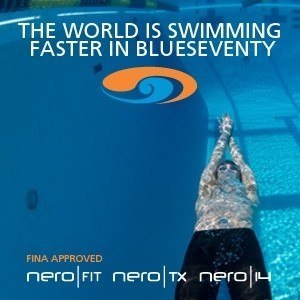 For the latest news and blogs from blueseventy visit www.blueseventy.com.
Twitter: @blueseventy 
Facebook: facebook.com/blueseventy
 Blueseventy is a SwimSwam partner.