Miles Simon, the 2023 NEC Most Outstanding Swimmer, has entered the transfer portal as a graduate transfer with one season of eligibility remaining.

Jasmine Nocentini, the fastest swimmer in the Big Ten in the 50 free this season, has entered the NCAA transfer portal as a graduate transfer.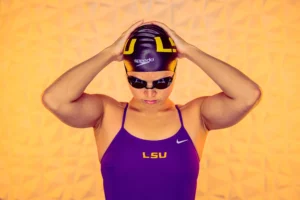 Maggie MacNeil was the biggest name to transfer schools ahead of the 2022-2023 season. A new batch of swimmers will be eligible to enter the transfer portal on Thursday.

Cal's Alicia Wilson announced Monday morning that she will use her final year of collegiate eligibility at the University of Texas next season.
More Transfers

17
Lily Gardner came out of high school as a 22.8/49.5 sprinter, but didn't go any best times in just-over a season with the Bulldogs.

34
The move marks a return home for Isabel Ivey, who grew up in Gainesville and was SwimSwam's No. 1 recruit in the class of 2019 at Buchholtz High School.

19
Sophie Housey announced a transfer to Texas A&M in the offseason, but she will instead return to the University of Michigan to continue her academic career.

2
Rateb Hussein of Florida Atlantic will finish this season with the Owls, but plans to use his final season of eligibility at a Power 5 program as a graduate transfer.

3
First-Team All-American Laticia Transom, who finished 7th in the 200 free at NCAAs last year, popped up in a Hawaii cap at last weekend's USC Invite.

10
NCAA All-American and senior at the University of Michigan Kaitlynn Sims has announced she will be joining the UCLA Bruins for the winter semester.

1
Quaglieri plans on swimming for the Seminoles in the 2022-23 season, and entered the portal to explore her options for her fifth year.

12
Homans told SwimSwam that he was planning to swim at USC for the 2022-23 season, graduate in spring 2023, and then explore his options for grad school.
Widget
Copy and paste the code below into your web editor to embed this category's top swimming stories into your website.
Here's how the widget will display on your site:
Transfers Swimming News by SwimSwam