The only world record performance at the British Gas Masters Championships in Swansea over the weekend (13-16 June) was Kirstin Cameron's 40-44 age group 1500m freestyle. However, the time of 17:49.26 recorded by the remarkable British-based Kiwi was omitted from the event report. 
The new time eclipsed the previous record of 17:56.52 held by Karlyn Pipes-Neilsen (USA). As well as breaking the record in the 1500m, Cameron edged closer to Janet Evan's world records on the 200m and 400m freestyle with long course times of 2:10.76 and 4:30.33.
She holds the world short course records (40-44) on the 800m (8:56.23) and 1500m freestyle (17:04.16) despite only having taken up swimming when she was 30. She's also part of an English Channel relay world record attempt this summer where she is the only female member of the team.
Although Cameron swims for a British club (East Leeds), trains, lives and works in Leeds, she isn't a citizen of the UK and therefore the times don't count as British records. They do count as European records but she plans to represent her Australian club at future meets, despite long term plans to stay in Britain with her partner.
Blueseventy caught up with Kirsten to find out what got her into swimming as a 30 year old and why chasing Janet Evan's world masters records is her ultimate dream…
What were your aims at British a Masters?
My aim was to do a 1500m close to my PB of 17.20 (swum in an age group meet). I was a little off that which was annoying!
How did your performances compare with expectations?
My 200 and 400 I was happy with, my 1500 not so much. Sometimes things just don't go according to plan for whatever reason, and when doing a 1500m it's very easy to fall off the pace and a small error becomes a big margin.
How much training do you do at the moment?
I swim six times a week. This is a drop from what I did in NZ due to the constraints around pool space in this country, but given my age I was due to drop a couple of sessions.
How come you only got into swimming when you were 30?
I had always been good at swimming as a kid but there was never any talent identification in NZ and swimming was a summer sport. So in my twenties I kept swimming once or twice a week because I liked it. It wasn't until I met my first husband (an Australian) that he said he had never seen anyone swim like me, and he thought I should do something about it. So I joined a Masters Club and joined a gym with a coach and by the end of the year I had qualified for the NZ Open Nationals in the 800m Free. That first coach was Englishman, Cliff Threadgold, who still coaches me now.
Do you have your eye on Janet Evans' records?
It's my ultimate dream. As I didn't swim when I was younger I didn't really know swimmers. However, I remember Janet Evans and often dreamed I might have been like her. And now to be in her age group and second to her is amazing. Imagine breaking a record of hers! How cool would that be!
Anything else you want to add?
The way that UK clubs have both Masters and kids under the same umbrella is great. Masters swimming here is so much more competitive than even Australia. There is a great pathway for kids so that they never have to stop, they can move seamlessly through the ranks from age group to seniors to Masters – wonderful.
Kirsten will be swimming the English Channel in August as part of the EC6 team with fellow masters swimming record holders Andrew Chaimberlain, Bernie Zeruhn, Kirstof Wandratsch, David Warren and Steve West.
blueseventy has supplied Kirsten with nero14 racing suits for future record breaking attempts in the pool.
For the latest news and blogs from blueseventy visit www.blueseventy.com. Instagram: @blue_seventy, Twitter: @blueseventy, Facebook: facebook.com/blueseventy.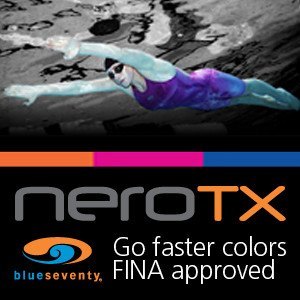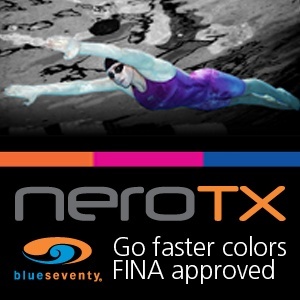 If you spent a day with us at blueseventy you would learn a couple things; that we're a small team committed to open water swimming, that we don't cover our suits in gimmicks and we certainly don't believe in the pseudo-science that other companies push out from so called official studies. We'd rather go off real info, like which suits are chosen by swimmers and professional athletes that test them.
We've spent 20 years developing and constantly tweaking our patterns to get a fit that works with the swimmer. Not against them. It's that superior fit that leads to better performance and comfort in the water so our pro athletes emerge first from the water at every iconic race in the world including the Olympics and World Championships over every distance. That's our measuring stick. And for this reason we are chosen by more swimmers than any other brand.
Swimming News courtesy of blueseventy, a SwimSwam partner.