Loyola University of Maryland is a private Jesuit liberal arts college in in Baltimore, Maryland. Under longtime head coach Brian Loeffler, the Greyhounds swim team has had a worldwide impact far beyond what one might typically expect from a mid-major team.
Loeffler is a Loyola alumnus who arrived on campus in 1987 as a freshman and hasn't really left since then. He was a member of the varsity swim team, and when he graduated in 1991, he held school records in multiple relay events. Not willing to give up the sport at that point, he jumped straight out of the pool and on to the deck, becoming an assistant coach for the 1991-1992 season. It didn't take long for Loeffler to move up to become the head coach, and he's been in Baltimore ever since.
The Greyhounds immediately flourished under Loeffler's watch, as the women won four-straight Metro Atlantic Athletic Conference titles from 1993 to 1996, and the men added more from 1995 to 2011.
Although a relatively small school – Loyola only has about 6,000 students – the Greyhounds' swim team is rich on coaching talent. Seven-time NCAA Division III Coach of the Year George Kennedy initially retired from coaching in 2016 after serving as the head coach of Johns Hopkins University for two decades, but joined the Greyhounds staff as an assistant after a one year break.
The team also has a unique connection with the Paralympic movement, thanks to Loeffler's longtime involvement. He helped coach Brad Snyder, who swam at the United States Naval Academy, now one of Loyola's conference rivals, to five Paralympic Games medals after Snyder lost his eyesight in an IED attack in Afghanistan in 2011. A number of Greyhounds have been members of the US Paralympic National team, including Alyssa Gialamas, McKenzie Coan, and ESPY Winner and world record holder Becca Meyers.
Last season, the Greyhounds placed firmly in the middle of the pack of an increasingly-competitive Patriot League championship, with the men finishing 5th overall and the women 6th. The men were led by senior Ben Cono, who swept the breaststroke events with in the 100 breast (52.21, a school record) and the 200 breast (1:55.69). Cono went on to the NCAA Division I Championship, where he came within a whisker of becoming an Honorable Mention All-American in both events.
The highest individual finisher on the women's side at last year's Patriot League championships was freshman Emma Schouten, who took 3rd in the 200 breast (2:14.49). Schouten returns to lead the Greyhound women, and they're currently projected to repeat their 6th-place finish at the Patriot League championships next week at Bucknell University.
While the men took a little more of a hit with Cono graduating, they're also projected to hold their place in the conference, thanks to two freshmen who have made an immediate impact.  Sung Lee has been on fire this season, setting a new school record in the 200 fly with a 1:48.84 effort at the H2ounds Invitational last December. Fellow freshman Reid Hussey ranks 4th in the Patriot League in the 400 IM this season, and has been an instrumental part of most of the Greyhounds relays as well, all of which rank in top three in the conference heading into the championships.
With one of the most experienced coaching staffs in college swimming and a young crop of talented swimmers, the Greyhounds should continue to make waves in the pool, both in Baltimore and around the world.
ABOUT BSN SPORTS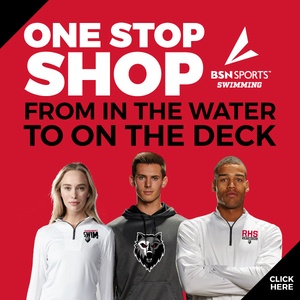 Founded in 1972 as a factory-direct equipment company, today BSN SPORTS is the largest distributor of team sports apparel and equipment in the United States, with over 3,000 employees across 80 regional offices. At BSN SPORTS we believe that sports have the power to change lives. At the heart of what makes sports happen are the coaches, teachers and mentors who work with young and old alike to build meaningful lifelong experiences. That's why our mission is simple. The more time we save coaches with everything they do off the deck, the more time they can spend changing lives. And that's the real final score.
Get your swimmers in custom team gear with your team's logo. My Team shop provides a one-stop-shop solution to custom apparel, suits, footwear, equipment and accessories. It's simple to setup and the My Team Shop platform can even serve as a fundraising solution to earn dollars for your program. To set one up today email us at [email protected] or call 1-877-217-9027.
To learn more about BSN sports visit us at www.bsnsports.com/ib/swimming.
BSN SPORTS SWIMMING ON Instagram – @bsn_swimming
BSN Sports is a SwimSwam partner.