Harvard University may be known primarily as the oldest institution of higher learning in the United States — not to mention one of the most esteemed universities in the entire world — but the Harvard men's swim team has been making quite a splash in the swimming world as of late.
Rising senior Dean Farris burst onto the swimming scene his freshman year with some very impressive performances at the 2017 Ivy League Championships. He's steadily improved since then, with that improvement culminating in an American Record in the 200 yard freestyle leading off Harvard's 4×200 free relay at this year's NCAAs, along with some of the the top swims of all time in the 100 back and 100 free style.
The rest of the men's team kicked it up a notch this year as well, as the Crimson scored 132 points and surged to an 8th-place finish at NCAAs, putting them ahead of perennial powers like Michigan, Stanford, and USC.
Kevin Tyrrell has served as Harvard's head coach since 2013. Under his watch, the Harvard men have continually improved, culminating in this year's 8th-place finish marking the team's best NCAA  finish since the 1960-61 season. They also became the first Ivy League to team to place in the top ten at NCAAs in over 50 years. In addition to their NCAA success this season, the Crimson also won their 3rd-straight Ivy League Championships.
BSN Sports Team Ambassador Jessica Hardy spoke with Tyrrell to get his take on how his approach to coaching has helped the Harvard men thrive over the past few seasons.
Tyrrell described his one-sentence coaching philosophy simply as, "Excellence in all areas of life," just as you would expect from someone who coaches at one of the most selective schools on the planet.
But while Harvard's men may pursue excellence, Tyrrell makes sure that they keep the emphasis on more than just personal pursuits. One reason the team's chemistry has been so strong over the past few seasons, according to Tyrrelll, is that "our men care more about their teammates than themselves."
Tyrrell explained that his biggest struggle in coaching is simply having enough time to cover all the responsibilities required of a NCAA Division I coach. "Planning is key, especially on making time for individual season plans for each swimmer."
Harvard has been turning out leaders since the 17th century, and Tyrrell is pleased to be part of this long tradition of seeing students, especially student-leaders, become leaders in whatever field they find themselves after graduation.
Communication is the key. The greater number of conversations a swimmer has with their coaches and teammates, the better they learn how to think about life and take action on what they are passionate about. Everyone can make a positive impact in this world. I also encourage swimmers to embrace failure. Failure can be a great teacher to foster growth.
Harvard draws from among the brightest and best student-athletes in the nation, but Tyrrell still loves good old fashioned hard work, as evidenced by what he picked as his favorite coaching memory.
Jacob Luna's 200 fly at Ivy Championships several years ago. The kid worked hard every day and he won the Ivy Championship from lane 1 in his last race of his career.
Only one of Harvard's individual scorers from this year's NCAAs is graduating, so with a solid core returning and an experienced coach in Tyrrell, the Harvard Crimson should continue to keep making waves for the foreseeable future.
ABOUT BSN SPORTS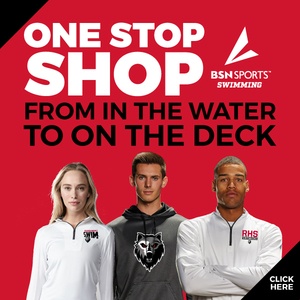 Founded in 1972 as a factory-direct equipment company, today BSN SPORTS is the largest distributor of team sports apparel and equipment in the United States, with over 3,000 employees across 80 regional offices. At BSN SPORTS we believe that sports have the power to change lives. At the heart of what makes sports happen are the coaches, teachers and mentors who work with young and old alike to build meaningful lifelong experiences. That's why our mission is simple. The more time we save coaches with everything they do off the deck, the more time they can spend changing lives. And that's the real final score.
Get your swimmers in custom team gear with your team's logo. My Team shop provides a one-stop-shop solution to custom apparel, suits, footwear, equipment and accessories. It's simple to setup and the My Team Shop platform can even serve as a fundraising solution to earn dollars for your program. To set one up today email us at [email protected] or call 1-877-217-9027.
To learn more about BSN sports visit us at www.bsnsports.com/ib/swimming.
BSN SPORTS SWIMMING ON Instagram – @bsn_swimming