While swimming around the world still looks a lot different than normal due to the effects of COVID-19, we're still highlighting and celebrating swim teams from across the country. This month, we're taking a closer at the Santa Barbara Swim Club, a year-round USA Swimming club team out of Santa Barbara, California.
The Santa Barbara Swim Club has decades have history under its belt, having been launched back in 1964. Over the decades, the team has produced Olympians, World Champions, NCAA Champions, National Records, Southern California Record, CIF Champions, and Channel League Champions. The team currently swims in Los Banos Pool, right on the Pacific Ocean, but has previously used other pools, like the one at the University of California Santa Barbara and currently has about 170 swimmers on its roster.
Head Coach Mike Bechtholdt is new to the Santa Barbara Swim Club, but has plenty of experience coaching, having spent over two decades on deck coaching, mostly in the Southern California area. We spoke with Bechtold to get his take on what makes SBSC special, as well as some of his thoughts on coaching in general.
Bechtholdt's personal motto regarding my coaching philosophy is simply "Happy swimmers are fast and fast swimmers are happy." Bechtholdt elaborated, that "It basically means that a coach has to get to know what motivates each swimmer and will drive them to individual fulfillment."
In Bechtholdt's view, the great team chemistry at SBSC isn't unique to that team, in the sense that its forged through the adversity, but also unity, that is found on many swim teams, although there's certainly been some unique opportunities for growth over the last year or so.
The

team

chemistry at Santa Barbara is not unique.  It's rooted in shared goals, experiences, struggles, and triumphs. Over the past few years, the swimmers at SBSC have lost valuable training time because of the Thomas Fire, Montecito Mudslides, school lockdowns, and now Covid-19.  When they come to practice, they see other kids who have had to deal with those things too and still be dedicated to themselves, their

team

, and the sport. If I were to describe in a few words the chemistry that all of the swimmers share it would be resilience and perseverance.  Another thing that makes our

team

chemistry so special is our coaching staff.  We have very caring, knowledgeable coaches on staff which has been anchored by Coach JJ Jones who has been with the

team

for 17 years. When a lot of our swimmers think of swimming at Santa Barbara they think of him.
Most teams have a few iconic or repeated sets that the swimmers come to know and love, or dread, or both. Here's a few of the sets the SBSC swimmers mentioned (mostly LCM):
1 x 1000 IM for time (400IM, 300IM, 200IM, 100IM)
 8x

2 x 100 Swim Free @ 1:30
1 x 100 Kick @ 1:30 (Goal is to work your hardest on the kick and then use the swims to catch-up if you miss)

10 x 100 Best average freestyle Test Set @ 2:00
While every job has its challenges, Bechtholdt keeps focused on the positive side of coaching, even in the middle of what has been a particularly challenging year due to Covid-19.
I truly love what I do so there aren't too many things that I would consider a struggle.  My mantra is always "Don't worry about what you don't have (whether it be athletes, facilities, time, etc..,) and concentrate on what's right in front you." Even though we're still only allowed to practice with only 1 swimmer allowed per lane while our competitors can practice with as many as 4 per lane, we're finding ways to make it work.  Our kids are coming to practice motivated, ready to learn and to work hard. We've got some meets in the planning which I think will help motivate them even more.
Finally, with over 20 years on deck, Bechtholdt has plenty of great coaching memories.
I've been coaching for over 35 so there's been a lot.  I was coaching at Canyons Aquatic Club. I guess it would be a meet from almost 10 years ago where I had multiple swimmers getting their first Junior National times. It was a June Age Group Championship meet in Ventura. The kids were performing so well I couldn't keep track of all the new time standard they were achieving.  We had Nikole Popov (Tenn), Mik Ranslem (Ariz), Tanner Olsen (Tex A&M), Sophie Morici (Utah), and a bunch of others who are also swimming or done swimming collegiately in that group. PLEASE FORGIVE ME IF I LEFT SOMEONE OUT!
Santa Barbara Swim Club is one of 3,000 swim clubs in the United States. How can we grow that number and promote the sport? 
ABOUT BSN SPORTS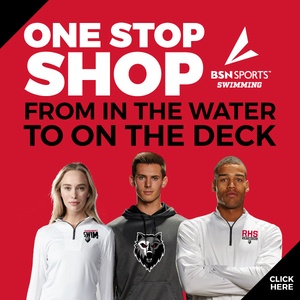 Founded in 1972 as a factory-direct equipment company, today BSN SPORTS is the largest distributor of team sports apparel and equipment in the United States, with over 3,000 employees across 80 regional offices. At BSN SPORTS we believe that sports have the power to change lives. At the heart of what makes sports happen are the coaches, teachers and mentors who work with young and old alike to build meaningful lifelong experiences. That's why our mission is simple. The more time we save coaches with everything they do off the deck, the more time they can spend changing lives. And that's the real final score.