While swimming around the world still looks a lot different than normal due to the effects of COVID-19, we're still highlighting and celebrating swim teams from across the country. This week's BSN Sports Swim Team of the week is the Sandpipers of Nevada. Having been founded in 1968, they have a history of success dating back decades, representing thousands of swimmers who have done everything from simply having fun swimming to representing Team USA in the Olympics.
Head coach Ron Aitken has been with the team since 1994, and over that time he's seen the Sandpipers a number USA Swimming Gold Medal Club Excellence Awards and Silver Medal Excellence Awards. More recently, the Sandpipers had an incredibly successful USA Swimming Olympic Trials meet. Katie Grimes, Bella Sims, and Erica Sullivan, all of whom currently train with the Sandpipers, made the team, along with Bowe Becker and Blake Pieroni, who represented the Sandpipers at Trials.
We spoke with Aitken to get his take on what makes the Sandpiper so special, as well as some of his thoughts on coaching in general.
Aitken described his coaching philosophy as simply…
Everyone has potential. I want each swimmer to know that competitive swimming isn't just about being the best; it's about being the best you can be.
The Sandpipers are a large team spread across several locations and consisting of swimmers ranging from brand new to the sport to national-level, but that have a special team chemistry nonetheless.
The Sandpipers team has a collection of talented swimmers and when we all come together, the swimmers recognize the diversity in each group and how the combination of each swimmer's ability, effort and attitude creates high performance. It's great to witness the friendships and support the swimmers give to each other. Our younger swimmers interact with our Junior and National groups and our National group swimmers know that they have a prominent role in leadership for the team. They take on the responsibility for leading behaviors and functions that have become our team's norms – encouraging participation, promoting positive relationships, providing direction, and supporting all swimmers regardless of their competitive level. When there is a level of cohesiveness within and among our team groups, unbeatable team chemistry develops. That's what makes the Sandpipers' chemistry special.
Yet despite the size and the dispersed natured, Aitken and the rest of the coaching staff consistently stress accountability and see that as a way that they can help develop future leaders.
As the Head Coach, I know that I have to demonstrate integrity, be positive, manage conflicts, and lead my team and staff. I am held accountable by my swimmers and staff. In turn, I ask the same of my athletes. Within each training group, accountability, both in the pool and away from it, is a major emphasis. As our athletes progress through the program, that accountability is shifted from the coaches holding the athletes accountable, to the athletes holding each other accountable. As coaches, naturally there is a limit to how much we can do. By allowing our training groups to bond, believe in each other and our team, and learn to depend on each other, the accountability falls on the athletes. Their care and passion for their craft, and the team, empowers them to hold each other to our standard.
While Aitken's decades of experience certainly helps, it doesn't mean that being the head coach of a large and successful team is without its struggles.
Talent alone doesn't make a great swimmer or team. My biggest struggle as a coach is instilling a relentless work ethic in addition to tapping into every swimmer's natural talent and abilities. It is essential our athletes know our success didn't just happen. The early generations of Sandpipers fought and outworked the competition every day, for years, before getting the results we are now seeing. We overcome that as a team by asking all of our athletes to give their absolute best daily – by asking them to take risks, to fail over and over again, to get back up and keep working toward their goals. We have to ask them to not be afraid because we know it's imperative that they understand talent alone won't work unless they do.
When asked about his favorite coaching memory, Aitken responded by emphasizing how each memory is unique.
My favorite memory is all of my happy memories. Each accomplishment of our team, athletes and coaches are favorite memories. Each one has special place for all of us and enjoying each one like it was the first or last is the same and should always be celebrated and acknowledged. To have just one favorite memory is not possible and I would have to list too many.
The Sandpipers of Nevada is one of 3,000 swim clubs in the United States. How can we grow that number and promote the sport? 
ABOUT BSN SPORTS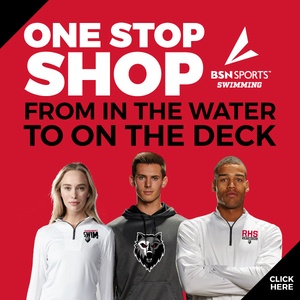 Founded in 1972 as a factory-direct equipment company, today BSN SPORTS is the largest distributor of team sports apparel and equipment in the United States, with over 3,000 employees across 80 regional offices. At BSN SPORTS we believe that sports have the power to change lives. At the heart of what makes sports happen are the coaches, teachers and mentors who work with young and old alike to build meaningful lifelong experiences. That's why our mission is simple. The more time we save coaches with everything they do off the deck, the more time they can spend changing lives. And that's the real final score.