Courtesy of Eric Knight / Paddock Evacuator, a SwimSwam partner.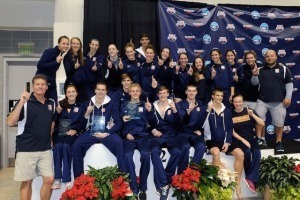 2014 Summer Nationals is over, and SwimMAC has won a few more national titles. It's a familiar story in swimming, but have you ever wondered what sets SwimMAC apart? How is it that they are consistently good, all season long, from top to bottom? National Championships and records are not handed out easily, yet SwimMAC Carolina grabs them like it's an open buffet. Sure, the presence of Team Elite is the main reason for their ability to win Senior National titles, but it does not account for the Junior National titles and dozens of NAG records SwimMAC continues to break.
Beyond just hard training, SwimMAC's success can be attributed to a few traits that are unknown to many other teams. These traits set them apart, and allow them to win championships and break records. For example, geographically, SwimMAC has the entire metropolitan area of Charlotte to draw from, and that is a large, dense area. But they are not simply drawing in kids, they're drawing in some of the best young athletes in Charlotte—athletes who are choosing to swim over more popular sports. If you think SwimMAC is good in 2014, just wait until you see what the youngsters have in store in the next 10-15 years and beyond. This club is just now starting to see its first young wave of thoroughbreds.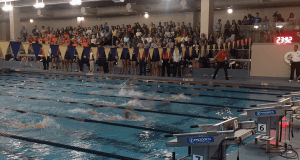 The other factors include owning their own indoor 50 meter pool (with plans to build another one ), and having an incredible coaching staff who all teach from the same coaching philosophy of David Marsh. In other words, getting kids to buy in to what their coach is telling them is a non-issue at SwimMAC.
But there is one thing SwimMAC invested in years ago that very few club teams in America have in their pools: Fresh Air.
In fact, SwimMAC's Team Elite trains exclusively in pools with The Paddock Evacuator system. Queens University, their main training site, has The Evacuator built into their Paddock gutter system, and an air system designed to match it. It is no coincidence that the Queens Swimming program, which was started in 2010, is fast ascending to the top ranks in Division II swimming. While The Evacuator cannot take credit for the success of Team Elite or Queens, it is certainly doing its job by not allowing bad air quality to slow anyone down.
Queens Head Coach, Jeff Dugdale, loves the air quality, and promotes it as a valuable asset in recruiting athletes.
"It's such an advantage," says Dugdale. "We don't worry about athletes needing inhalers or having interruptions from coughing fits anymore. Recruits and their parents take comfort in the fact that the swimmers won't be coughing during swim practice, and their respiratory health during their time here at Queens is a priority. We are blessed that the University listened to our needs and supported the installation of the Paddock Evacuator gutter in our pool."
There is an abundance of research on how indoor pool air quality affects health and performance, and you can find a good summary of it here . Notable Team Elite and Queens athletes had asthma symptoms prior to training in Charlotte, but with The Evacuator, those symptoms have virtually disappeared. Beyond the performance benefits of having fresh air to breathe, the long term health effects of bad air can cause permanent lung scarring  in swimmers and coaches.
Coach Dugdale went on to add, "However, there is one disadvantage our swimmers have. We are so used to clean, fresh air that when we travel to other pools with bad air, our team struggles with breathing and coughing fits. It's like we're an outdoor team who is extra sensitive to chloramines…we are not used to it. Even at Queens, the slightest changes in air quality are really noticeable to us. For example, there was a morning where we walked in the door, and immediately everyone knew something was wrong. So I called Paddock, and the first question they asked me was 'is the Evacuator on?' Evidently there was a storm the night before that knocked out the power breaker for the Evacuator fan, and it was off. So we turned it on, and the air cleared up within minutes. It made us appreciate just how effective The Evacuator system truly is."
Not to be mistaken, The Evacuator alone is not the reason for how good the air quality is at Queens. Coach Dugdale and his staff enforce pre-swim showers of all their athletes, and enforce a strict no-shoes-on-deck policy. This keeps the introduction of organics in the water at a minimum. They also have a UV system for secondary disinfection, and have recently employed the use of Orenda Enzymes to further purify the water and handle waterborne contaminants. The result is a very clean pool with very clean air.
While Air Quality is not the only thing that separates SwimMAC and Queens from most other teams, it is certainly a big factor. Cleaner air may not make them swim faster, but does allow them to train and race without the brakes on. As a swimmer, one cannot ask for much more than that.


We are swimmers and swammers, just like you, who have suffered through bad air quality for countless years. We know how miserable an indoor pool can be during swim practice or a meet, because we've lived it. It is personal to us, and we have devoted our careers to not only educating the swimming community about air quality, but actually solving the problem. Our mission is to make the indoor pool a healthy, desirable place to be—not just a tolerated amenity. More at www.paddockevacuator.com.
Learn more and like Paddock Evacuator on Facebook here.