Courtesy of A3 Performance, a SwimSwam partner
A tech suit is a tech suit…right? We're all pressured into spending our (parents') hard-earned money on an expensive, uncomfortable swim suit that is only going to last for something like five swims. If we're going to spend a pretty penny on a tech suit, we want it to be fast and we want it to fit well. There are a number of competitive swimwear brands that invest far more resources in marketing rather than research and development. Marketing is an important part of any business, there's no doubt about that, but would you rather pay for marketing or innovation?
It doesn't have to be this way! In fact, the most innovative technical racing suit on the market right now is also the least expensive. What new tech suit could we possibly be talking about? The new A3 Performance VICI Technical Racing Suit.
VICI took nearly three years to bring to the market, as every detail of this tech suit was carefully designed to be intentional and impactful. Let's start by looking at the fabric.
Tech suit development starts with the fabric. There are so many performance fabrics already in existence, so it's very easy to find a decent fabric that can be functional in a technical racing suit. However, many of these fabrics are created for different purposes or different sports. When A3 Performance started developing VICI, a pre-made fabric simply wasn't good enough. A3 collaborated with a fabric specialist to take one of the fastest fabrics and make it even better by incorporating BODIMAX Technology. VICI's fabric was created specifically for competitive swimming and no other racing suit in the world has this technology.
BODIMAX Technology is proven to support muscle recovery by improving oxygen flow and decreasing lactic acid buildup in the muscles. The BODIMAX Technology in VICI's fabric improves athlete circulation which further prolongs the onset of lactic acid buildup and facilitates a speedier recovery for athletes. This technology can have a significant impact on athletes as they prepare to race. In fact, according to a scientific study done by Dr. Genadijus Sokolovas and Global Sport Technology, Inc., swimmers who trained with the BODIMAX Sleeves improved 1.5 seconds more over 200 yards. Imagine the sort of impact that technology has when it covers a majority of the body!
The fabric itself is already one of the fastest in the water, but A3 Performance makes it even faster with their Fastwater Surface Treatment. Fastwater is a patented polymer (which is a fancy word for scientific compound) that induces water flow and reduces resistance across the surface of the suit.
Equally as impactful as the surface is what's underneath the surface, VICI's Core Compression System. The Core Compression System is structured to compress the three main areas of resistance: chest, core, and hips/legs. The internal structure compresses the core muscles while also allowing for more natural movement and reducing resistance.
In addition to these features already listed, A3 Performance has made multiple other advancements in order to make every swimmer's VICI racing experience an awesome one. The Pro Flex Straps relieve tension on the shoulders and provide a secure, comfortable fit. The Female Powerback was improved to provide greater compression across the core and lats and to fit more ladies better. The Male Jammer has a higher waistline in the back of the suit to fully compress those big muscles in the back. Last, but certainly not least, A3 uses a special, one-way stretch fabric down the back of the suit to create a compressive fit that allows for stretch and a maximum range of motion on starts, turns, and every stroke in between.
Do you want to know more about VICI? Call A3 Performance and ask them about it. A3's dedicated staff, including the owner and founder Dan Meinholz, are itching to tell more people about the most innovative technical racing suit in the water!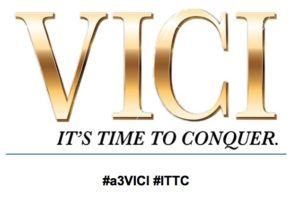 Swimming coverage of the 2018 Women's NCAA DI Swimming and Diving Champions is presented by A3 Performance, a SwimSwam partner.