Courtesy of Claire Forrest
Maturing as a swimmer is great. As you get older, you figure out your best events, make your best friends in the sport, develop your race strategies, and discover which type of coaching style works best for you. But that doesn't mean you won't ever feel wistful for your days as an age group swimmer. Yes, those kids can swim 25s in meets, which is awesome and jealousy inducing. Plus age groupers seem to be genuinely excited about swimming.  I'm a firm believer that you can learn anything at any age from anybody of any age. Here are six things you can learn from an age group swimmer:
1)   You are never too old or too experienced a swimmer to miss your heat.
Swimming: the only sport where you write your heat and lane information on your forearm in Sharpie. We've all had a parent or coach write on our arms when we were young swimmers. The ink would still be there at school on Monday, a badge of honor that you spent your weekend at a swim meet. As you grow older, you think you're too good to miss your heat. But we have all seen one too many a grown swimmer run to the starting block and fumble with their goggles before the official blows long whistle. No, you don't have to write on your arm anymore, but don't ever think you'll never have a close call or miss your heat. You're human.
2)   Make new friends through swimming.
The rule for age groupers on my club team was that you weren't allowed to swim in a lane with anyone you went to school with. We hated it at the time, but now I'm happy it existed. Through swimming, I met so many people from other walks of life that I would have never been introduced to before. As a grown swimmer, it's easy to have cliques within your team. Branch out. Talk to new people. You won't regret it.
3)   It's not about the fast suit.
Fast suits are high tech and amazing. And yes, they really can help. Partly, they help because they give you the mental edge, convincing you that you'll swim fast because you're wearing the fast suit. Age groupers have energy and they give their races all they've got, with or without a good racing suit. You should try to do the same.
4)   Paying attention in practice does matter.
A swimmer who is eight years old has the attention span of, well, an eight year-old. We've all heard coaches say that their young swimmers could improve so much if they focused a bit more. Capitalize on that as an older swimmer. Listen to your coach. Know what the set is and why it's important to do it correctly. It pays off.
5)   Try new events.
When you're an age group swimmer, every meet you swim includes an event you've never swum before.  As you get in to high school and college swimming, you have your short list of best events. It can be easy to forget you ever swam anything else. I swam the 500 free for the first time because my high school coach said I had to try it. I thought I'd do it once, but it ended up becoming my best and favorite event. Don't complain when your coaches give you new events to try. You get a chance to switch it up, and if it doesn't work out, any time you get in a new event is an automatic best time!
6)   Have fun!
When I was reaching the end of my career, my club coach would pull me aside before every race and say, "Remember, this is supposed to be your enjoyable activity in life." I'm so happy he said that, because it's easy to forget. It doesn't occur to an age group swimmer to mope after a bad race or say they're too tired to swim well. It's always onwards and upwards for them! Inside every adult swimmer is a little kid who fell madly in love with the sport. Remember that person, and swim for them. This is your enjoyable activity. Have fun with it.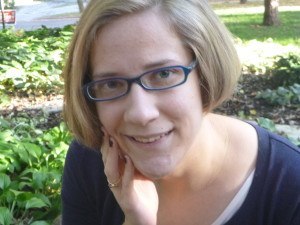 Claire Forrest is a recent graduate of Grinnell College with a degree in English. She is currently based in Minneapolis, Minnesota as a freelance writer. The only competitive swimmer in her family, Claire went to her first swim meet at the age of eleven on a whim without even knowing what a swim cap was. She fell in love with the sport and never looked back. A S6 classified disabled swimmer for US Paralympics, Claire specialized in mid-distance freestyle and backstroke and made national and world rankings throughout her career. She was a 2008 and 2012 Paralympic Trials participant. Claire is passionate about integrating disability swimming into the larger swim community, having swam for able-bodied club teams and her college's DIII team. She enjoyed both Paralympic and prominent integrated able-bodied meets equally for the many commonalities they share. Over 13 years after her first meet, she's happy to report she now owns more swim caps than she can count.