In its continued effort to help make swim lessons accessible for every child across the country, the USA Swimming Foundation, the philanthropic arm of the National Governing Body for the sport of swimming in the United States, distributed $702,819 to 151 Make a Splash Local Partners. The money, which marks the largest single-year distribution since Make a Splash's inception in 2007, will help fund free or reduced cost swim lessons in underserved communities around the country.
The 2018 funds are comprised of $434,515 distributed to 77 learn-to-swim programs in March, $32,050 shared with eight programs during the Make a Splash Tour presented by Phillips 66 and the Phillips 66 National Championships, and $236,254 dispersed to 66 swim-lesson providers in August to close out the summer. Through the USA Swimming Foundation funding, and its partnership with national Make a Splash Local Partners, 27,239 children in underserved communities will be provided with the opportunity to receive free or reduced cost swim lessons throughout 2018.
"We are absolutely thrilled to be able to distribute community-changing grant donations to swim-lesson providers across the country this year, marking the largest distribution in the history of the USA Swimming Foundation," USA Swimming Foundation Executive Director Debbie Hesse said. "Formal swim lessons help reduce the risk of drowning by almost 88 percent and is a life-saving skill that all children should have access to, regardless of race, gender or financial circumstance. Thanks to our partners and donors, we can continue to support free and reduced cost swim lessons to underserved areas around the country."
The $702,819 distributed in 2018 is a near $200,000 increase from the funding distributed in 2017, when $503,000 was awarded to 128 Local Partners.
Over the last 11 years, more than 170,000 children have received formalized swim instruction through $5.7 million in grants distributed to the USA Swimming Foundation's Make a Splash Local Partner network.
The USA Swimming Foundation awards grant funding to swim-lesson providers in its Local Partner network every year through a competitive application and review process. In total, the USA Swimming Foundation boasts a Local Partner network that spans 850 verified swim-lesson providers in all 50 states. Make a Splash Local Partners promote water safety education in their communities and provide scholarships for children to participate in their swim lesson programs. Over 6.35 million children have learned to swim through the Make a Splash Local Partner network in total.
The newly-awarded additional 2018 grant recipients are:
Angels of America's Fallen (Colorado Springs, Colo.)
AnT Swim School, LLC (Santa Clara, Calif.)
AquatiKids (Atlanta, Ga.)
Bedford Parks Department (Bedford, Ind.)
Boys & Girls Club of Deep East Texas (Nacogdoches, Texas)
Boys & Girls Club of Paterson & Passaic (Paterson, N.J.)
Bridgeport YMCA (Bridgeport, Conn.)
Brigantine Aquatic Center (Brigantine, N.J.)
Brooklyn Center Community Center Aquatics (Brooklyn Center, Minn.)
Burlingame Aquatic Club (Burlingame, Calif.)
Catch Swim Schools-SafeSplash (Cypress, Texas)
City of Bakersfield Recreation and Parks (Bakersfield, Calif.)
City of El Cajon-Fletcher Hills Center (El Cajon, Calif.)
City of Gunnison Aquatic Center (Gunnison, Colo.)
City of Peoria Aquatics (Peoria, Ariz.)
City of South Miami Parks and Recreation (Miami, Fla.)
Cook County Community YMCA (Grand Marais, Minn.)
Copley Price Family YMCA (San Diego, Calif.)
Dolphins of the Desert Swimming Academy, LLC (Tucson, Ariz.)
Dorchester County Family YMCA (Cambridge, Md.)
Dragon Swim School (Moorhead, Minn.)
Easter Seals South Florida (Miami, Fla.)
Easton Family YMCA (Easton, Md.)
Family YMCA of Marion & Polk Counties (Salem, Ore.)
Frontline Outreach Sport Center (Orlando, Fla.)
Genesee County YMCA (Batavia, N.Y.)
Greater Holyoke YMCA (Holyoke, Mass.)
Greater Milford Boys & Girls Club (Milford, Del.)
Greater Richmond Aquatics Partnership (Swim RVA) (Richmond, Va.)
Gwinnett Aquatics (Atlanta, Ga.)
Hardee County Learn to Swim (Wauchula, Fla.)
High Ridge YMCA – YMCA of Metropolitan Chicago (Chicago, Ill.)
Hillsborough Aquatic Club (Hillsborough, N.C.)
Indian River County Recreation Dolphins (Vero Beach, Fla.)
Jersey City Department of Recreation (Jersey City, N.J.)
Johnston YMCA (Charlotte, N.C.)
Kenosha YMCA (Kenosha, Wisc.)
Kidz Aquatic, LLC (Canoga Park, Calif.)
Madison Area YMCA (Madison, N.J.)
Manitou Pool & Fitness Center (Manitou Springs, Colo.)
Northern TRIBS Swimming, Inc. (Massena, N.Y.)
Pacific Coast Marlins Learn to Swim (San Rafael, Calif.)
PWCS Aquatics Center (Manassas, Va.)
Raritan Valley YMCA (East Brunswick, N.J.)
Richard A. Henson Family YMCA (Salisbury, Md.)
S.E.E.K. (Woodway, Texas)
SafeSplash Colorado Springs (Colorado Springs, Colo.)
SafeSplash Katy (Katy, Texas)
School District 622 Community Education (St. Paul, Minn.)
SEASTARS Aquatics, Inc. (Pensacola, Fla.)
South Side YMCA – YMCA of Metropolitan Chicago (Chicago, Ill.)
St. Bernard Swim Club (Meraux, La.)
Swim Gym (Miami, Fla.)
Swim Strong Foundation, Inc. (East Elmhurst, N.Y.)
SwimAmerica Sonoma – Valley of the Moon Aquatics (Sonoma, Calif.)
SwimMAC Carolina (Charlotte, N.C.)
Swimtastic Cape Coral (Cape Coral, Fla.)
Swimtastic Fort Myers (Fort Myers, Fla.)
Swimtastic Swim School Naples (Naples, Fla.)
The HUB Recreation Center (Marion, Ill.)
Treasure Valley Family YMCA (Boise, Idaho)
Upper Valley Aquatic Center, (White River Junction, Vt.)
YMCA of Garfield (Garfield, N.J.)
YMCA of Paterson (Paterson, N.J.)
YWCA Evanston/North Shore (Evanston, Ill.)
YWCA of Asheville & WNC, Inc. (Asheville, N.C.)
About USA Swimming Foundation
The USA Swimming Foundation serves as the philanthropic arm of USA Swimming. Established in 2004, the Foundation works to strengthen the sport by saving lives and building champions. Whether we're equipping our children with the life-saving skill of learn-to-swim, or providing financial support to our heroes on the U.S. National Team, the USA Swimming Foundation aims to provide the wonderful experience of swimming to kids at all levels across the country. The Foundation also serves as the home for our National and Olympic Team Alumni reunions and regional events. The development efforts of the USA Swimming Foundation aim to establish an endowment to strengthen the future of USA Swimming's programs and services. To learn more, visit www.swimfoundation.org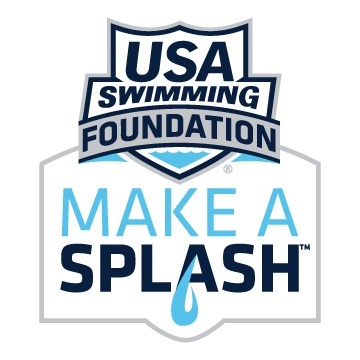 Swimming news is courtesy of USA Swimming.