It's that time of year again. All of you college swimmers are in the thick of the semester; staying on top of your class assignments, continuing to slay daily practice and spending hours on coach buses travelling to meets. Before you know it, you'll be zipping up your suitcase and heading to a (hopefully) warm location for your training trip!
As a student athlete, you want to maintain your energy levels throughout the day in order to crush a grueling workout and apply yourself in the classroom. Being a former college swimmer myself, I remember the struggle of balancing it all. I can admit that in my years as an underclassman, I failed to prioritize my nutrition and was not fueling myself properly. However, I soon learned the importance of eating right, staying hydrated and getting adequate rest. I discovered which foods worked best for me as well as the timeline of my meals. As I developed a meal routine and stuck with it, I noticed that my energy levels improved and I had this feeling of mental clarity. Because of this, I was able to crush a morning workout and continue through the day with enough energy to focus on my academic responsibilities.
Feeling both nostalgic and sympathetic toward fellow student athletes during this chaotic time of the season, I dug into the archives to show you what my typical day of eating looked like as a college swimmer. This day of eating is by no means perfect however, it can provide you with some direction if you are feeling lost in navigating the dining hall and are looking for some meal inspiration. Since these meals are simple to make and don't require many ingredients, you should be able to recreate them in any dining hall or in your kitchen at home.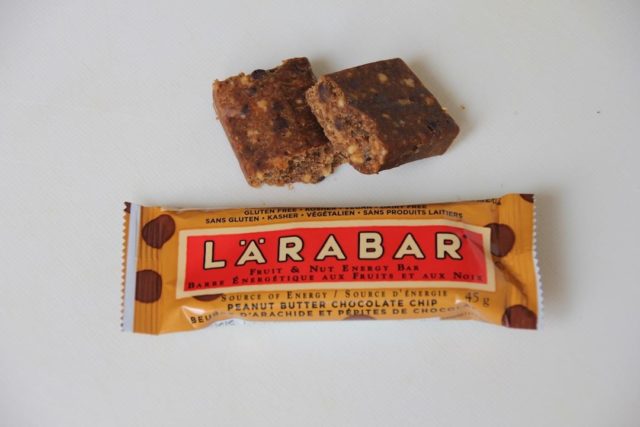 7:45 Pre-Morning Practice Fuel: 
I've always had difficulty getting in a big meal before a morning workout. While I could (sometimes) get away with swimming on an empty stomach, I typically reached for a quick bar or a banana with a spoonful of nut butter. My favorite brands were Kind, Clif and Larabars.  I highly recommend the Peanut Butter Chocolate Chip Larabar as a pre-practice snack.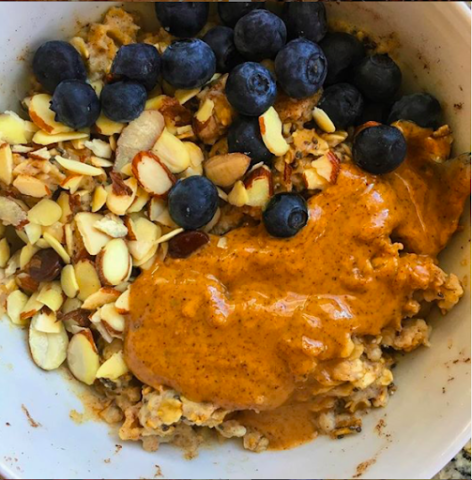 10:30 Post Practice Breakfast:
My go to, dining hall breakfast after a 2 hour pool workout was oatmeal. Oatmeal is a great option; not only does it contain necessary carbohydrates for refueling, but because there are so many possible topping combinations. Oatmeal doesn't have to be boring! I may be biased because I have a nut butter obsession, but I love topping my oats with either peanut butter or almond butter and fruit. With the sweetness from the fruit, I never add sugar to my oatmeal. I also avoid pre-sweetened, flavored oatmeal packs because of the absurd amount of added sugar. If possible, choose an unsweetened oatmeal option in your dining hall or bring a packet of unsweetened oatmeal with you! For this bowl, I added a handful of blueberries, a dollop of almond butter and a sprinkle of sliced almonds for some added texture. On the side, I also had 2 hard boiled eggs. Based on your own dietary preference, this is completely optional however, I find that some additional protein keeps me full throughout the morning. In addition to my breakfast, I drank 32 oz of water from my water bottle (I carried a Hydro Flask with me at all times!) and had 2 cups of coffee with a splash of almond milk.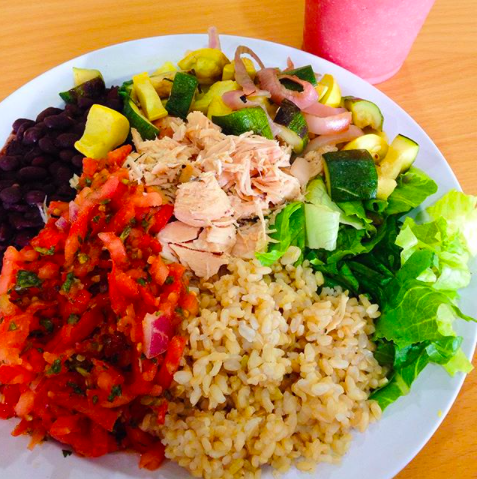 1:30 Lunch 
For lunch, I typically went for a big plate full of vegetables, lean protein and whole grains. I loved recreating my typical burrito bowl order. First, start with a base of greens, add some roasted veggies, I went with zucchini and squash, a scoop of brown rice, black beans, chicken and pico de gallo salsa. Whether you are vegan or vegetarian, you can sub the chicken for tofu or just include the beans. I like having a balanced lunch because it keeps me feeling fueled and satiated well into the afternoon. Just as with breakfast, I continued to drink from my water bottle with this meal.
Pro tip: Add a dollop of fat free Greek yogurt instead of sour cream!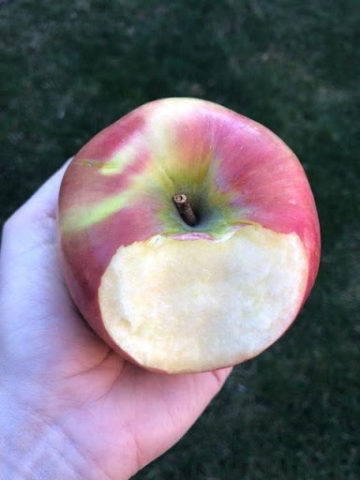 4:00 Snack: In between lunch and dinner, I'd usually have a small snack in between classes or while I was doing work in the library. I usually grabbed a piece of fruit. My favorites were honey crisp apples, oranges or pears.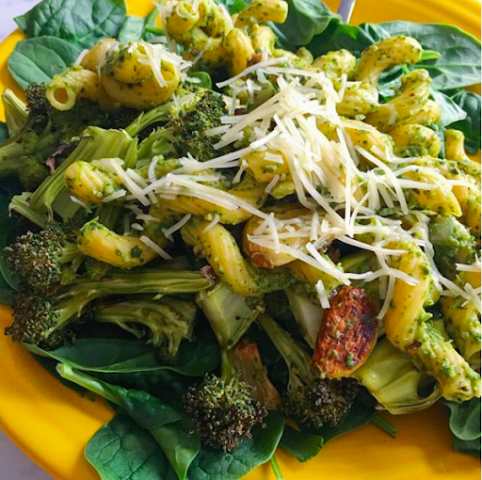 6:30 Dinner: I am definitely a creature of habit, so most likely, my dinner consisted of a meal very similar to my lunch: a bowl or plate of veggies and some lean protein. For this meal, I had pesto chickpea pasta with roasted broccoli and garlic over a bed of spinach. You could also add some chicken or fish for additional protein. If you wish to recreate this meal in a dining hall, start by filling half a bowl or plate with greens, add in a scoop of whole wheat pasta and load up on whatever vegetables are available. If there aren't any roasted or cooked vegetable options, you can take a microwave safe bowl, add veggies from the salad bar and a tiny bit of water then microwave for up to a minute to steam the veggies. As for a drink, I would have water or flavored seltzer.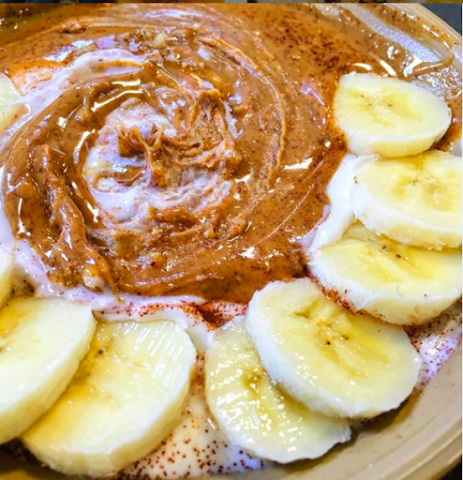 8:00 Dessert: Some nights, I needed something to power me through an evening in the library or just work at home. My go to sweet (but smart) dessert was greek yogurt, fruit and sometimes, nut butter. For this bowl, I used plain, fat-free greek yogurt, stirred in some cinnamon, added sliced banana and a spoonful of almond butter (I love this stuff if you can't tell!). You guessed it, I'm still sipping on my water bottle. Throughout the day, I would probably have over 100 oz of water, refilling my Hydro Flask anywhere from 3-5 times a day. I cannot stress how important hydration is, especially as a student athlete!
Check out my page for more recipe inspiration and be sure to share your student athl-eats with me @whatzoeeeats.
About Zoe Gregorace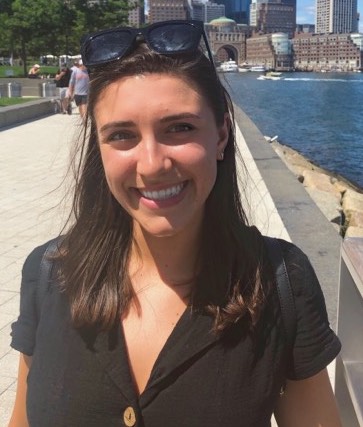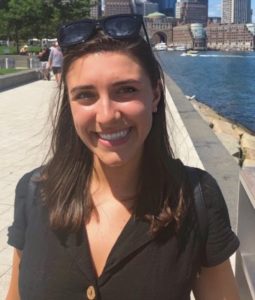 Zoe Gregorace is currently studying Nutrition Policy at the Tufts Friedman School of Nutrition Science and recently graduated from Tufts University, where she earned a Bachelor of Arts degree in Sociology and was a proud member of the Tufts Swimming and Diving team (Go Jumbos!). During her 16 year career as a competitive swimmer, she developed a passion for sports nutrition. She enjoys writing on the topic of nutrition, health and wellness and posts her meal creations on her Instagram page @whatzoeeeats. As a former college swimmer, she strives to share recipes and nutrition tips to promote balanced eating and optimize sports performance.