SwimSwam welcomes reader submissions about all topics aquatic, and if it's well-written and well-thought, we might just post it under our "Shouts from the Stands" series. We don't necessarily endorse the content of the Shouts from the Stands posts, and the opinions remain those of their authors. If you have thoughts to share, please send [email protected]
This "Shouts from the Stands" submission comes from Regan Nolan, a junior transfer student at Catawba College.
I recently read a something that stated "we are making this generation weak by allowing athletes to transfer and not stick it out and earn their spot"
Which inspired me to tell my story –
In May of 2016 I graduated high school and had the anxious jitters of what was to come as I ventured into a new chapter of my life: college swimming. I was leaving behind the comfort of club swimming, including best friends and coaches I've known my whole life for the complete unknown. This also fulfilling a ten year dream of a little girl who once wore a yellow YMCA cap and wrote "eat my bubbles" on her shoulder at the age of 8. I had a standard set for college swimming in my mind from those I've looked up to before – unbreakable bonds with teammates, tropical training trips and the raw intensity of conference championships.
Unfortunately, my first year of college swimming did not reach most to any of those standards . It was filled with tears, let down and a program that would eventually be cut from the university. I felt a whole new darkness for the sport, one that spiraled into thinking this could be the end of my career.
The word "transfer" is a scary one though, right? It's almost kind of a negative in the sports world. And a word that definitely never even crosses your mind as a new eager college freshmen. How does one leave behind 9 months of familiarity and home to have to up and restart, again?
I can remember the whole spring of making the decision to officially use the "t" word. I fought myself on it, guilting my brain into trying to stay at a school that made me miserable because doing IT all over again seemed unimaginable.
But I did it. And it was the BEST decision I could have ever made.
I sit now as a junior reflecting as a whole on the year after being a transfer and I feel very at peace. The year was not all easy though and it took me a few months to feel the happiness refill my heart.
I write this because as I saw that statement I wanted athletes to know it's okay to transfer. It's okay the decision you made did not work out as you planned and a new one is upon you. This is your journey, and your athletic career. Honestly, a transfer is one of the hardest things to be in athletics so let's not discourage those going through the process. Transferring does not mean one did not work hard to earn a spot, or fought with a coach, it's such a misconception. It's a person wanting to find the passion they once had for being a college athlete. Its already hard enough to leave everything you know but then to have someone criticize you when they do not know your story or the emotional stress you went through.
My last words to that college athlete struggle is always follow your heart. That little girl or boy is in there trying to find the passion that once lit up your face at your first meet. It's okay to be sad but know that new people and friends can always be found but love for the sport cannot.
Good luck on your journey,
A fellow transfer.
About Regan Nolan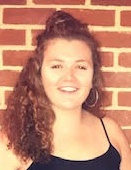 I grew up in Columbus, OH swimming competitively there for 12 years until heading to Wheeling Jesuit University for college swimming. After spending a year there, I transferred to Catawba College in North Carolina where I am now currently a junior studying Business Communications and swim mid-distance freestyle.