Watch nine of the world records and daily highlight videos from the 2022 Short Course World Championships in Melbourne.

Despite short course meters becoming more and more prominent in the sport, USA Swimming continues to look the other way.

Kyle Chalmers celebrated his success at last week's Short Course World Championships with two new tattoos courtesy of Matt Temple and Adam Peaty.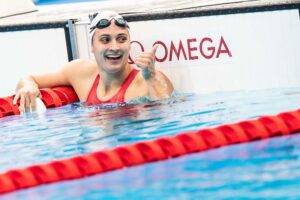 Since breaking onto the scene at the 2015 World University Games, Masse has won an individual at 12 straight major championship meets.
More Short Course World Championships

34
The country that produced the most accurate relay exchanges at the Short Course World Championships might surprise you.

12
Curzan's incredibly busy schedule in Melbourne resulted in her winning seven medals after averaging more than three swims per day at Short Course Worlds.

4
This is your LIVEBARN Race of the Week because of the multiple comebacks that took place during the final length of the pool alone.

21
Despite being arguably the top swimmer of 2022, David Popovici had to overcome self-doubt to succeed at the Short Course World Championships.

At just 16 years old, Maria Ramos Najji became the first Spanish woman under 30 seconds in the 50 breaststroke during last week's Spanish Championships. 

28
Ryan Murphy became the first swimmer to sweep the men's backstroke events at SC Worlds since the 50 was introduced in 1999, and also won three relay medals.

3
Zhang, one of the medal favorites in the women's 100 fly, injured her elbow midway through SC Worlds and was forced to withdraw.

25
In this article, SwimSwam gives out awards for the some of the best swimmers and performances on the women's side of short course worlds.