Today is Josh Davis' 44th birthday.
In honor of his 44th birthday Josh Davis swam an easy 300 warm up and then 44 x 50's short course meters on the 1:00 and averaged :29.0 for all 44. According to the SwimSwam converter :29.0 short course meters is :26.1 short course yards.
Josh said: "I held mostly :28.8's but a few were :29.2's. I normally just do 30. So to hold 44 at my 500 pace felt good. I've been so inspired since Rio about technique and commitment lately. When I pretend I'm Katie Ledecky I always go a little faster. My little dream is to race her someday in a charity match race in the 500yd free and we both go under her American Record of 4:26."
For his birthday Josh would like everyone to check out the list of Mutual of Omaha Breakout Swim Clinics that have some of the best Olympian instructors and ambassadors around.
If you would like to race Josh or any of the other Gold Medal Team Members and have them visit your team just give us a call or email us at http://www.breakoutswimclinic.com/
List of Mutual of Omaha BREAKout! clinics for Sept and Oct.
Sept 10 Jason Lezak and Kelsi Worrell in Spring, TX
Sept 10 Elizabeth Beisel and Allison Schmitt in Pittsburgh, PA
Sept 10 Ian Crocker in Houston, TX
Sept 11 Jason Lezak at St. Joseph's College in NY
Sept 11 Elizabeth Beisel and Allison Schmitt in Charlston, WV
Sept 17 Dana Vollmer and Jake Taylor in Provo, UT
Sept 17 Ian Crocker and Kim Vandenberg in League City, TX
Sept 18 Breeja Larson and Michael Andrew in Grand Rapids, MI
Sept 24 Jason Lezak in Nantucket, MA
Sept 25 Josh Davis in San Marcos, TX
Oct 1-2 Jason Lezak, Kelsi Worrell, Jessica Hardy at Eastern States Clinic
Oct 1 Matt Grevers in Orange Beach, AL
Oct 1 Misty Hyman in Lincoln City, OR
Oct 8 Caitlin Leverenz in Kansas City, MO
Oct 15 Amanda Beard in NJ
Oct 15 Josh Davis in CT
Oct 21-22 Conor Dwyer and Josh Davis in Monmouth, NJ
Oct 23 Conor Dwyer and Josh Davis in NY
Oct 24 Conor Dwyer in NY
Oct 22 Aaron Peirsol in Omaha, NE
Oct 22 Matt Grevers in Missoula, MO
Oct 29 Jimmy Feigen in Dallas, TX
Oct 29 Jason Lezak and Caitlin Leverenz in San Diego
Nov 12 Josh Davis in Green Bay, WI
List of Clinicians and Olympians that want to come to your team:
Amanda Beard
Byron Davis
Rowdy Gaines
Molly Hannis
Kathleen Hersey
Misty Hyman
Madison Kennnedy
Kristy Kowal
Ariana Kukors

Breeja Larson

Caitlin Leverenz
Jason Lezak
Aaron Peirsol
David Plummer
Josh Prenot
Stephanie Rice
Allison Schmitt
Josh Schneider
Scott Spann
Darien Townsend
Kim Vandenberg
Amanda Weir
Kate Ziegler
Garrett Weber-Gale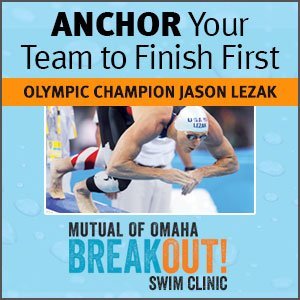 About Mutual of Omaha BREAKOUT Swim Clinic
Josh and Shantel Davis operate the Mutual of Omaha BREAKOUT! Swim Clinic and work closely with each client to ensure everyone has the experience of a lifetime. In the swim clinic business since 1995, they have a keen awareness of how to tailor clinics to meet clubs' needs and exceed their expectations.
As living proof that with hard work, dreams do come true, Josh and Shantel, along with Mutual of Omaha, believe every child has the potential for greatness. They and their staff look forward to working with your swimmers to get them closer to reaching their dreams.
This is courtesy of Josh Davis and BREAKOUT Swim Clinic, a SwimSwam Partner.