Courtesy of AthleticFoodie, a sports performance company that helps athletes unlock their potential
Written by Cristina Caldwell and Garrett Weber-Gale
Glycogen is another name for carbohydrates. It is really just stored carbohydrates in the liver, and in your muscles. Your body only has a set amount of glycogen in storage, and when it's depleted, you'll feel like you've "hit the wall." I'm sure you've had that feeling, you're in the main part of your workout, and all of a sudden your body has no more power. It's as if you just don't have any energy left. This is your body telling you it needs to be refueled. Just as a car needs gas, your body needs glycogen.
Types of Carbohydrates:
Simple:  Simple sugars are found in fruits, dairy products, and products like sports drinks, granola, and energy bars. Some simple sugars are natural, while others, like sports drinks, have added sugars.
Simple sugars are great to have within 60 minutes before a workout, during a workout, and in the 60 minutes following a workout.
These sugars provide fast acting energy that your muscles will use to fuel your training and racing.
Post workout or race, your muscles will be re-fueled quickly and you'll be ready to go for your next race, or training session.
It's important to watch our food intake of added sugars when we're not pre, during or post-workout. Eating fruit and dairy throughout the day is fine, as these simple sugars are natural, and contain other important nutrients.
Complex: Complex carbohydrates are starches like whole grains, beans, vegetables and peas.
Focus on having complex carbohydrates for every meal other than pre, during and post workout. You can have a mixture of simple and complex carbohydrates for your everyday meals, but the emphasis should be on complex carbohydrates.
Complex carbohydrates provide long-term fuel for energy, fiber, and will help your body's metabolism stay steady.
Complex carbohydrates contain fiber, which takes longer to breakdown, and can leave you feeling full, causing some athletes to experience stomach discomfort during workouts.
Examples: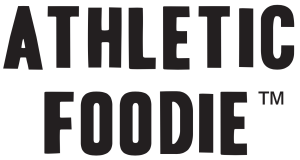 Simple carbohydrates:
1.      AthleticFoodieTM granola
2.      Banana
3.      Sports drink
4.      AthleticFoodieTM energy chews
5.      Bagel
6.      Applesauce
7.      Fruit smoothie
Complex carbohydrates:
1.      Whole grain bread
2.      Brown Rice
3.      Quinoa
4.      Black beans, Pinto Beans, Kidney Beans
5.      Peas
6.      Broccoli
7.      Lentils
Take Away:  It's important to eat a mixture of simple and complex carbohydrates.
When you're close to a race or workout, aim to consume simple sugars.
These are fast acting and gives your body the quick fuel it needs.
When you are outside of your practice or meet window, focus on a combination of natural simple sugars (fruit and dairy) and complex carbohydrates, as these will provide long lasting energy and fiber to keep you feeling full.
At AthleticFoodieTM, we believe food is the key to unlocking your performance, which is why we make snacks specifically designed to help you swim fast. For more information, visit www.athleticfoodie.com.
Author Cristina Caldwell
Cristina Caldwell works with AthleticFoodie to create useful nutrition information for athletes and parents. Cristina is a former Div. 1 swimmer at Miami University, is a Certified Sports Nutritionist, and is the founder of Fueled and Focused. She works one on one with youth and adult athletes, and has a customized meal plan service designed to provide athletes with fueling guidelines for peak performance. To learn more about her services or to sign up for a customized meal plan, go to www.fueledandfocused.com.
About Garret Weber-Gale, the AthleticFoodie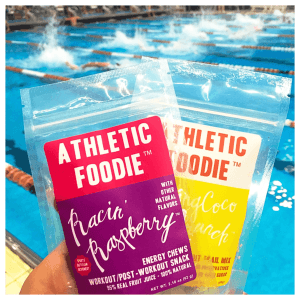 In 2005, Garrett was diagnosed with dangerously high blood pressure, and was almost forced to give up his Olympic dream. Luckily, a small dose of medication, and a total revamp in his diet saved his dream and put the Olympics back in sight. Garrett began to see the direct connection between what he put into his body, and what he could get out of it.
After his diagnosis with high blood pressure, Garrett made it his mission to learn how to make healthy food taste great. He's traveled the world working in famous restaurant kitchens in Italy, France, Copenhagen, Spain, and New York City. Garrett has taken his knowledge and experience from all over the world, and shared it with others through speeches at the White House, to schools, sports teams, TEDx, universities, TV and radio appearance, cooking classes, authored articles and AthleticFoodie Events.