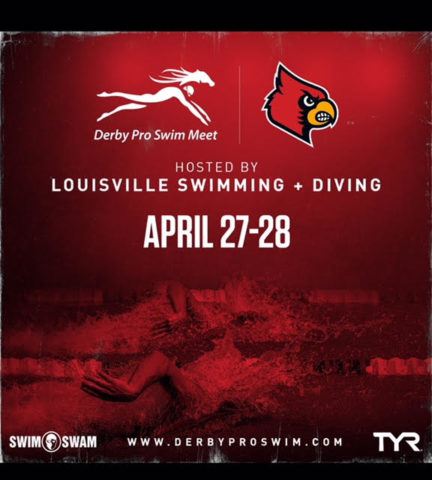 The first 12 participants for the 2018 TYR Derby Pro meet have been confirmed, with 7 of the 8 men's spots and 5 of the 8 women's spots confirmed. 2018 will be the 3rd edition of the meet, hosted at the University of Louisville, that pits some of the best sprinters in the world against each other for cash and prizes.
The meet will employ a "shootout" format: the same one that has taken on a new focus in American swimming after its inclusion in the TYR Pro Swim Series. All 8 swimmers will race in the opening round. The top 4 will advance, then the top 2 will move on to a head-to-head final.
Once again, the Derby meet has drawn a heavyweight international list of competitors. On the men's side, that includes the 2017 World Championship silver medalist in the 50 free Bruno Fratus; the Asian Record holder in the event Shinri Shioura; 2014 NCAA 50 yard free champion Kristian Gkolomeev; and World Junior Record holder and 2017 World Junior Champion in the 50 free Michael Andrew. There's still 1 open spot on the men's side.
The women's field still has 3 spots remaining, but has already attracted a field that includes two-time Olympian Lia Neal, Dutch National Record holder Kira Toussaint; the 6th-fastest performer in history in the 50 free Farida Osman; and butterfly specialist Kelsi Worrell. Neal and Worrell finished 3rd and 4th, respectively, in the 50 free at the 2017 U.S. Trials for the World Championships.
Gkolomeev won last year's men's title in 22.03, while Dutch superstar and World Record holder Ranomi Kromowidjojo won the women's meet in 24.58.
Men: 1 spot left
Kristian Golomev
Michael Chadwick
Andrii Govorov
Joao DeLucca
Michael Andrew
Women: 3 spots left
See latest updates for the Derby Pro Swim here derbyproswim.com.