The third night of the 2013 USA Swimming World Championship Trials is in the books, and it was by far the most exciting night of the meet yet. There was a lot of young, new blood making names for themselves, and almost every single race of the session saw what most would deem an upset.
As a reminder, all of the info you need to follow this weekend's trials is available here.
Women's 400 IM – FINALS
The third night of the US World Championship Trials opened up with an incredible race between Maya Dirado and Elizabeth Beisel in the 400 IM. At the 200 meter mark heading into the breaststroke Dirado took a small lead of three tenths of a second over Beisel, she extended her lead in the first 50 of the breaststroke, but Beisel made up that ground in the second 50 heading into the final 100 meters with only four tenths of a second separating the two.

Not much changed in the freestyle leg, Dirado tried to pull away, but Beisel battled to stay in striking distance. In the end Dirado edged out Beisel winning the event in a time of 4:34.34 16 one-hundredths of a second ahead of Beisel who finished in a time of 4:34.50. Those times rank Dirado third in the world and Beisel fourth.
Dirado's splits:
29.92/1:03.80 (33.88)/1:38.74 (34.94)/2:12.84 (34.10)/2:51.56 (38.72)/3:31.36 (39.80)/4:03.18 (31.80)/4:34.50 (31.16)
Beisel's splits:
29.74/1:03.55 (33.81)/1:38.57 (35.02)/2:13.14 (34.57)/2:52.22 (39.08)/3:31.79 (39.57)/4:03.59 (31.80)/4:34.50 (30.91)
Dirado has already made the team in the 200 butterfly and as a member of the 200 freestyle relay, so the 400 IM will make her that much busier in Spain. For Beisel this earns her a ticket to Barcelona.
Caitlin Leverenz finished third in a time of 4:40.47. She was only able to make up about a second on the field in the breaststroke leg, which is not enough for her to win this race.
Rebecca Mann finished fourth (4:42.46), Cammile Adams was fifth (4:42.70), Andie Taylor was sixth (4:44.64), Hayley Anderson was seventh (4:45.36) and Amber McDermott was eighth (4:50.06). Aside from the top two, the entire A-final was slower than their best time.
Men's 400 IM – FINALS
In the men's 400 IM Tyler Clary looked to be determined not to find himself as the silver medalist for the third time on the weekend, having finished as the bridesmaid in both 200 backstroke and 200 butterfly earlier in the competition. He built a substaintial lead of over two seconds by the end of the first 200 turning in a time of 1:58.72.
That lead was quickly erased by Chase Kalisz who narrowed the gap in the first 50 of the breaststroke and overtook Clary in the second 50 heading into the freestyle with a lead of over a second and a half. Kalisz continued to extend that lead in the final 100 meters winning his first national championship in a time of 4:11.83, a season's best by two one-hundredths of a second.
Clary was second posting a time of 4:14.62 to stamp his ticket to Worlds, as the men officially earned enough doubles in this race to ensure that all Olympic-event runners-up would qualify for Barcelona. Clary stil has some work to do, though, as he was a whole lot better en route to a third-place finish at the Olympic Trials last year. With his schedule now loaded-up on the 200 fly, 200 back, and 400 IM, we'll have to see what he goes after in the 200 IM.
He was followed by Wisconsin's Michael Weiss who finished third finishing in a time of 4:15.75. Weiss is already a qualifier for the World University Games team, and his last best chance at Worlds will come in the 400 free on Friday.
Josh Prenot finished fourth (4:16.42), Stephen Schmuhl was fifth (4:16.55), Carlos Omana was sixth (4:18.59), Adam Hinshaw was seventh (4:19.41) and Kyle Witaker was eighth (4:19.56).
Women's 100 Fly – FINALS
Dana Vollmer can now breath a little easier knowing that she will have a seat reserved for her on the flight to Barcelona. Vollmer took the 100 butterfly in a season's best time of 57.53 to qualify for her first event at the World Championships.
Vollmer's time is the third fastest time done in the world this year. Even though she scratched the 50 fly earlier in the meet, this win gives her the option to swim that race as a second event at Worlds, which she'll likely accept.
Claire Donahue turned at the half way mark nine one-hundredths of a second ahead of Vollmer in a time of 26.63, but she could not stay with the Olympic champion who made an incredible surge in the last 25 meters. Donahue finished second posting a time of 58.32, earning her way to Spain. Those two are the fastest first-50 swimmers in the U.S., and two of the best in the world, so don't be surprised to see them sitting 1-2 at the turn in Barcelona.
She was followed by Stanford's Felicia Lee who finished third in a time of 59.21.
As we've seen throughout the meet, Auburn's NCAA Champion Olivia Scott took advantage of a scratch bumping her into finals by flying all the way up to 4th in 59.21.
Christine Magnuson, winner of the 50 fly, was 5th in 59.30, followed closely by Caroline McElhany (59.33) and a tie for 7th between Kendyl Stewart and Erika Erndl at 59.52.
Men's 100 Fly – FINALS
Ryan Lochte bypassed the 400 IM to put more focus on the 100 butterfly and although he finished in a season's best time of 51.71, which ranks him sixth in the world, he did not have enough to out swim Eugene Godsoe who took the event in a time of 51.66 which is the fourth fastest time in the world this year.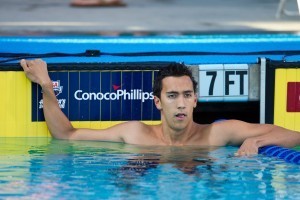 Godsoe's preliminary time of 52.13 was a lifetime best; having the ability to drop another half second to win the final was very impressive.
He's part of a relatively new postgrad training group at Stanford that is being coached by a combination of Stanford men's collegiate coaches Ted Knapp and Scott Armstrong and Palo Alto-Stanfor Aquatics' Tony Batis. This is a group that's unlikely to grow as large as the one down the coast at USC, but after the successes of Godsoe and training partner BJ Johnson, they could have some folks knocking on their doors in the near future.
Tim Phillips, who led at the 50, finished third in a time of 51.86. He's back at SwimMAC training for the summer, much as he did in the run-up to the Olympic Trials last year.
The defending champion Tyler McGill recovered from a strange poolside post-prelims funk, but was unable to make the team this year and defend his Worlds bronze medal from 2011. This was his last opportunity to make the team.
Tom Shields was 5th in 52.32, followed by SwimMAC's Matthew Josa (52.91), Arizona's Giles Smith (52.94), and future Texas Longhorn Jack Conger (53.07).
There was significant action in the B final of the men's 100 butterfly where Justin Lynch posted a time of 52.75, 24 one-hundredths of a second faster than his morning swim and 23 one-hundreths of a second better that Michael Phelps 15-16 NAG record of 52.98 which was set in 2001.
Women's 100 Breaststroke – FINALS
Jessica Hardy took full advantage of having the opportunity to swim the 50 breaststroke for the first time at a trials meet in the US. The current world record holder won the event in a season's best time of 30.24, which places her second in the world behind Ruta Meilutyte who posted a 29.96 earlier this month.

Breeja Larson, who also swam a season's best time, finished second posting a time of 30.40, which ranks her third in the world this year. She's been really working on her 50 meter race, according to folks in the A&M camp. Though this swim doesn't get her a spot in the event at Worlds, there's not much to indicate that the qualifiers in the 100 breaststroke will be anybody aside from her and Hardy, which means Larson will likely be offered a crack in this race in Barcelona.
2000 Olympic gold medalist in the 100 breaststroke Megan Jendrick finished third recording a time 0f 30.98 followed by Kasey Carlson and Ashley Wanland.
Men's 50 Breaststroke – FINALS
Arizona Wildcat teammates Kevin Steel and Kevin Cordes were 2-1 in the 100 yard breaststroke at the NCAA Championships. This morning, they qualified for the 50 breaststroke in the first and second positions, with Steel setting a new US Open record. At the end of final this evening nothing had changed Steel and Cordes went one two in the event and Steel set another US Open record winning the event in a time of 27.26, with Cordes finished second posting a time of 27.38.
Steel's time ranks third in the world. That swim for Cordes was .01 seconds better than he was this morning, and so on its own would have been shy of Gangloff's record that Steel broke in the morning session.
Mike Alexandrov finished third in a time of 27.53. That's a strong swim for him, and close enough that he and Steel should be in a dogfight for a spot in the 100 breastsroke at the World Championships, as Alexandrov probably gets a little bit more of an advantage in his favor as the distance extends.
Women's 50 Backstroke – FINALS
After this morning's prelims it look quite like Hayley McGregory's 2008 American and US Open record of 27.80 in the 50 backstroke was ripe for the picking and Rachel Bootsma showed that it was. After missing the record by only two one-hundredths of a second in the morning posting a 27.80, Bootsma came back in the finals and had an incredible race winning the event in a new record time of 27.68. (See more about the record-breaking performance here).
Bootsma's time currently ranks third in the world, and would have won the World Championship in 2011.
Missy Franklin who also recorded a season's best time of 27.98 finished second followed by Sarah Denninghoff who finished third in a time of 28.40.
Men's 50 Backstroke – FINALS
David Plummer won the 50 backstroke in 24.52 and set the third U.S. Open Record of the evening, surpassing Ben Hesen's 2008 50 backstroke mark of 24.71. Plummer's time is the top time done in the world so far this year, and he was followed by Matt Grevers in 24.77 (also under the old Meet Record).
Grevers' last chance at ensuring himself a spot on the World Championships will come in the 100 backstroke on Friday. With Plummer winning the 50 though, and Eugene Godsoe having the meet-of-his-life so far, Grevers will really have to press through that final to feel comfortable. Keep in mind that his 6th-place finish in the 100 free as a relay alternate, though at the moment it looks pretty good, is last in the pecking order as the Americans fill up their 26-man roster.
Shane Ryan finished third in a time of 24.89. He, along with his teammate Nate Savoy who finished 10th overall, are the two biggest weapons on the men's team for the new Penn State coaching staff that will take over next year.
Randall Bal at 32-years old shows that he's still one of the best in his specialty the 50 back; he took 4th place in 24.97 and was followed by Bolles' Ryan Murphy in 25.07.