Double British champion, Chris Walker Hebborn, believes a good start, awesome underwater kicking, and finishing every race strong are the three key elements to a great backstroke race.
The 23 year-old is Britain's top ranked backstroker following his wins in the 50m and 100m at last months British Championships, where he caught attention for his tattoos as well as his swimming.
Chris beat world record holder Liam Tancock and produced the 8th and 9th fastest times in the world this year ahead of the Commonwealth Games this summer, where he promises there is more to come.
From my experience there are three key things that backstrokers need to do to really excel at in order to win races – nail the start, utilise the underwaters, and hold on to that stroke rate at the back end of the swim. Here's why I think they are so crucial, and how I have trained to improve them:
This sets the tone of the race. Losing ground from the start can be impossible to make up over especially over 50m or 100m.
There are lots of different styles, but ultimately you want your entire body to curve over the surface of the water, minimizing the drag from your legs and feet as you leave the wall. You can play around with the position of your feet, I prefer for mine to be quite high and ensure my body is lifted from the water when the starter says 'take your marks'. Make sure that on the gun you don't throw your head too far back because your body is a chain and where your head is directed your body will follow, so try not to over extend.
Backstroke is an underwater dominated event. Over a 100m backstroke, 30% of it is underwater and if done correctly, can have a huge positive effect on your result.
If I'm not hitting 15m off every turn, be that in 100m or 200m, I feel I'm at a disadvantage to the rest of the backstrokers in the world. Over the past few years I've done a lot of work to find the perfect kick rate, maximise my power output to ensure I'm not wasting valuable energy under the water. It has taken a few years to get right and I'm still improving. Maintaining a tight streamline is also a huge factor. Ensuring your core stability is up to scratch so that even when you are fatigued, you still maintain good posture under the water. Also try playing around with you kick rates.
So many sprinters' stroke rates fall off dramatically, so I always aim to maintain a high stroke rate throughout the race.
Being able to maintain your stroke at the back end of a 100 is crucial for me. Not being as big as some of the other guys out there, I don't have the same sort of power. So I try to utilize this aspect of my race, because this is where their wheels may fall off! Focusing on this in training and making it a normal part of your swim session makes it easier to achieve on race day without having to think about it.
One training technique I use is building the stroke rate through the effort. So I start at the normal rate and try to increase to above normal rate through the set. That way when it comes to race day, it will be automatic to increase your rate when you are fatiguing and you'll have the energy to do it.
Motivation is a final key area for all swimmers. Chris is a self confessed tattoo addict, and has permanent reminders of his goals on his body…and plans for more in the future.
I love tattoos. I feel it's a great way to express myself, and I like to stand out from the crowd. I think this has helped me in my training, lots of my tattoos are motivational and inspirational for me. Most of them have hidden meanings that have helped me through my career and sometimes life. Everyone has their own drive and motivation, once you find it, use it!
Chris is a blueseventy ambassador and Commonwealth Games hopeful for TeamEngland.
For the latest news and blogs from blueseventy visit www.blueseventy.com.
Instagram: @blue_seventy
Twitter: @blueseventy
Facebook: facebook.com/blueseventy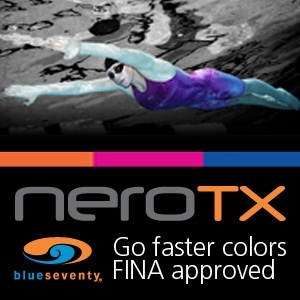 If you spent a day with us at blueseventy you would learn a couple things; that we're a small team committed to open water swimming, that we don't cover our suits in gimmicks and we certainly don't believe in the pseudo-science that other companies push out from so called official studies. We'd rather go off real info, like which suits are chosen by swimmers and professional athletes that test them.
We've spent 20 years developing and constantly tweaking our patterns to get a fit that works with the swimmer. Not against them. It's that superior fit that leads to better performance and comfort in the water so our pro athletes emerge first from the water at every iconic race in the world including the Olympics and World Championships over every distance. That's our measuring stick. And for this reason we are chosen by more swimmers than any other brand.