This week's BSN Sports Team of the Week, Team Charlotte Swimming (TEAM), in Charlotte, North Carolina, is a year-round competitive USA Swimming program that's served the Charlotte swimming community for more than 40 years. TEAM offers "a dynamic yet challenging learning environment that emphasizes hard work and great technique, along with an energetic culture where coaches, swimmers, parents, and volunteers are passionate about the sport of competitive swimming."
BSN Sports Team Ambassador Jessica Hardy spoke with Matthew Johnson, the Uptown site Head Coach, and Scott Olson, the Matthews site Head Coach, to get their take on what makes TEAM special, as well as some thoughts on coaching in general.
Asked to describe their respective coaching philosophies in one sentence, Johnson described his as "Strive to be better tomorrow, absorb the moments of today, and learn from the choices you made yesterday," while Olson said "Bring your best efforts each and every day."
Olson said TEAM's chemistry is special because "Our swimmers and coaches love what they do and care for each other." As part of that chemistry, the coaching staff makes sure that they are helping empower athletes to be future leaders by "Constantly teaching values to the athletes, demonstrating how important those values are by living up to them daily, understand that mistakes and undesirable situations are constant in life, and the power of forgiveness."
Johnson elaborated…
Our team's chemistry has made us successful because the respect we show each other through our openness allows us to train with a strong internal support system. When we go to competitions, our athletes, regardless of groups, motivate and encourage others because they understand that it takes a village to get better.
Both Olson and Johnson had previous collegiate coaching experience, with Olson coaching at the College of Charleston, the University of Tennessee, and Southern Illinois University and Johnson working at the University of Michigan and Queens University of Charlotte. For Johnson, his experience at the college level helped him overcome what he described as his biggest struggle as a coach.
My biggest struggle as a coach was being patient in my growth of where I was as at a younger age. I have wanted to be a coach since middle school and used to get in trouble for writing workouts in class. By the time I was old enough to be a full-fledged coach after college, I had already spent 8 years thinking through and studying all types of training and stroke philosophies. I wasn't patient in understanding that my time to work with high level athletes would come and go. It wasn't until I worked with Jim Richardson post-college that I realized that coaching really will be an ebb and flow. I thought, here is this fantastic coach (Richardson) who put up more Big Ten Championship than years I had on the deck, and he is traveling the country from team to team to team to help age group swimmers. I overcame that itch of trying to be at the top by dedicating myself to the athletes I have in front of me. I don't stop learning and preparing, but I am more at ease with the different stages of my life because of it.
Both Johnson and Olson have been on deck for years, so they had plenty of favorite coaching memories to look back on, but the one each chose as their favorite memory really encapsulates what it means to be a coach.
Johnson: "My favorite coaching memory was coming back after winning Men's and Women's NCAA's (with Queens University of Charlotte) when I was helping with Team Elite in their preparation for Rio. I walked into the pool deck, exhausted from a very long meet, and David Marsh walked over to congratulate me on a great meet. He shook my hand and looked me straight in the eye. I felt respected by the man who was chosen to be the Women's Head Olympic coach, the biggest honor for a USA swimming coach. It reminded me that in my coaching career, no matter what career changes I make or what level of growth I go through, respect should always be shown towards those who are striving to be better. It was a lesson in showing respect to all coaches that are in this job to help athletes grow."

Olson: "There are many stories – not one is more important than another.  However, back when I first started coaching in the late 90s, I was giving swimming lessons at the YMCA in Janesville, WI to two young girls. The sisters (one 7 years old, the other 8) were taken away from their biological parents due to drug problems and adopted by another couple.  They were deathly afraid of the water and struggled at first.  However, by the end of August, they loved to swim and were excited to join the YMCA's swim team.  Both of them really enjoyed the sport of competitive swimming.  I remember the adopted parents telling me how the girls would have their swim bags packed and ready to go each morning before they left for school.  By the end of the short course season that following year, both girls achieved times to attend the YMCA Wisconsin State Championships, with the eight-year-old getting third in the 25 breaststroke. In the ten-month span, three lives (including mine) were changed forever.  We learned how the transformation from fear to success is not only doable but necessary in order to have the quality of life one desires. To me, that is what swimming is all about."
ABOUT BSN SPORTS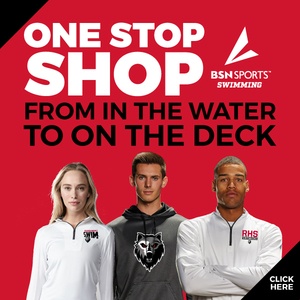 Founded in 1972 as a factory-direct equipment company, today BSN SPORTS is the largest distributor of team sports apparel and equipment in the United States, with over 3,000 employees across 80 regional offices. At BSN SPORTS we believe that sports have the power to change lives. At the heart of what makes sports happen are the coaches, teachers and mentors who work with young and old alike to build meaningful lifelong experiences. That's why our mission is simple. The more time we save coaches with everything they do off the deck, the more time they can spend changing lives. And that's the real final score.
Get your swimmers in custom team gear with your team's logo. My Team shop provides a one-stop-shop solution to custom apparel, suits, footwear, equipment and accessories. It's simple to setup and the My Team Shop platform can even serve as a fundraising solution to earn dollars for your program. To set one up today email us at [email protected] or call 1-877-217-9027.
To learn more about BSN sports visit us at www.bsnsports.com/ib/swimming.
BSN SPORTS SWIMMING ON Instagram – @bsn_swimming