Swimming news is courtesy of A3 Performance.
It's an exciting time in the world of swimming as collegiate swim programs are popping up all over the place, especially in the Midwest. One of the newest programs on the collegiate swimming scene is the University of Sioux Falls Women's Swimming led by Head Coach Jon Maccoll.
After being named USF's first-ever head coach in August 2015, Maccoll sought out to recruit a team. Maccoll's vision was not only to fill a roster, but to recruit driven young ladies who share his ambition for success in the pool, in the classroom, and in the community.
There are many challenges that come with starting a new program, but Maccoll's experience in and passion for the sport of swimming have helped USF achieve great success early in the season. With only a handful of meets under their belt, the USF's team of 11 ladies has been hitting in-season bests by sizeable margins! Better yet, several women already swam times that put them in the top 25 in the nation for Division II. It's safe to say that these ladies will be a force to be reckoned with at the end of the season at the NSIC and NCAA Championships. In addition to their success in the pool, Maccoll is thrilled by the achievements his women's team are enjoying in the classroom and in the weight room.
It's amazing to see a brand new program having so much success right out of the gates. There are numerous obstacles for a new program to overcome, the most significant being the unknown. Recruiting swimmers with no program, no hosts, and no team can be challenging for coaches and scary for swimmers. However, Sioux Fall's greatest challenge has also proved to be their greatest advantage,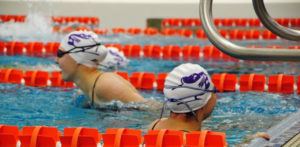 "Because of the unknown of a new program, we have recruited women who are risk-takers, go-getters, and visionaries. Our girls aren't afraid of being a new team, but they are excited about it and the long term of the program," said Head Coach Jon Maccoll.
The University of Sioux Falls has ambitious, short-term goals to win events at conference and NCAAs at the end of the season. Long term, the goal is to win a national title, "We don't apologize for dreaming big" said Maccoll.
Winning a national title is the big goal for most college head coaches. What makes Maccoll's program especially unique, though, is his coaching philosophy…
"My self and Rita (Koryukova, Assistant) aim to focus on the individual person. We treat everyone as an individual based on goals, academics, and training. We can work with anyone who is motivated and wants to be great. Greatness isn't made by coming down on them when mistakes are made; Rita and I are creating a culture where it is okay to make mistakes. We are all learning in this process."
Maccoll's philosophy stems a lot from what he learned from his mentor Jeff Dugdale. Maccoll previously coached under Dugdale at Queen's University of Charlotte when it was a brand new program. Coaching a new program together, Maccoll was encouraged to try new things. During that time, he learned that it is okay to fail, it is okay to stumble, but always keep pushing forward, "We struck out on a lot of recruits, but the 11 we have here [at USF] are absolutely amazing!" said Maccoll.
The University of Sioux Falls ladies, Head Coach Maccoll, and Assistant Coach Koryukova are an inspiring team and everyone can expect this group to make quite the splash in December and at the end of the season.
A3 Performance is proud to partner with the University of Sioux Falls Women's Swimming.
About A3 Performance
A3 Performance was founded in 2004 and is based in Wisconsin. A3 Performance was founded on the ideals that great products could be made and offered at great prices. Innovation and purpose is the focus of all product development. The swimmer is the focus of everything we do.
News courtesy of A3 Performance, SwimSwam partner. 
AB