Courtesy of The Mutual of Omaha BREAKout! Swim Clinic, a SwimSwam Partner.
If you're a swimmer going to Trials with your family, you are in for the most inspirational meet you will ever see. But the biggest concern of you (and your coach) is where are you going to train while enjoying this amazing week with your family? Thanks to Mutual of Omaha and Josh Davis you don't have to skip practice during the middle of your season.
Convenient and affordable, the 3rd Quadrennial Mutual of Omaha BREAKOUT Trials Training Camp will be held from June 26-July 3 2016 at the Brownell-Talbot School Pool and the Kroc Center in Omaha, NE. Swimmers in town for the Trials can pick from 21 different sessions to train with Olympians Jason Lezak, Ian Crocker, Kristy Kowal and Josh Davis. Founder of the BREAKout! Swim Clinic Tour and the BREAKout! Trials Training Camp Josh Davis explains the importance of this unique training camp…
"Thousands of swimmers will be in town to watch their heroes, siblings, and friends race at the Century Link Center but skipping practice for 3, 4 or more days in the middle of their season is not good. We believe the greatest service we can provide our fellow swimmers in Omaha that week is a technique based, challenging, age-appropriate workout lead by Olympic Legends Jason Lezak, Kristy Kowal and Ian Crocker. People will be blown away by the stadium, the races, and the Aquazone but the BREAKout! Training Camp is the only event at Trials that will keep you in shape for your season and complete the Ultimate Trials experience. And thanks to Mutual of Omaha this Trials Training Camp is only $30 per session. Swimmers can train with the Olympians, stay in shape for a great season and then cheer guilt free as they watch the most exciting swim meet in the world. If you want to have the vacation of a lifetime, come train with Ian, Kristy, Jason and Josh and then head to the stadium to watch the GOAT – Michael Phelps race in the US one last time!"
Alumni of the Mutual of Omaha BREAKout! Training Camp from 2008 and 2012 ranges from young ones to elite age groupers. Some alumni include include USA National Team member Karlee Bispo's sister, Olympians Haley and Alyssa Anderson's sister, Olympian Dave Wharton's kids and the Kalisz siblings. Chase Kalisz stayed in shape at our 2008 camp and is now on the verge of making the team in 2016!
Who knows maybe this 2016 Trials Training Camp will help you BREAKout! to the next level not just for this season but your future USA career.
To register head to www.breakoutswimclinic.com
About the 2016 Mutual of Omaha Trials Training Camp:
There are 16 training sessions to choose from at the Brownell-Talbot Pool from 7:30-9am and 2-3:30pm for all 8 days There are 5 sessions to choose from at the Kroc Center from 2-3:30pm on Monday thru Friday of the Trials.
Each workout is a 90 minute, age appropriate workout that can accomodate distance or sprint needs. Workouts will be themed according to the events of finals that day. Sloppy technique and streamlines will be fixed immediately and not tolerated!
About the Mutual of Omaha BREAKout! Training Camp Coaches:
Kristy Kowal – With an incredible career at the University of Georgia under Olympic coach Jack Baurle, and being named NCAA female swimmer of the year in 1999 and 2000, Kristy has numerous national titles in breaststroke and was world champion in 1998 in the 100m breaststroke. She was the first U.S. woman to break a minute in the 100yd breaststroke and was a 2000 Olympic silver medalist in the 200m breaststroke. An elementary school teacher in her hometown for over 14 years now, she is a master motivator and technique specialist.
Ian Crocker – The shy tall kid from Portland, ME with no Olympic size pool to train in, shocked the swimming world when he made the 2000 Sydney Olympics at 18 years old in the 100m butterfly. He went on to establish a great rivalry with Michael Phelps and held the world record in the 100m fly for 6 years from 2003 to 2009. His 2005 time of :50.40 in a textile suit is still considered one of the great swims of all time. Ian won the 100yd fly all 4 years at the University of Texas and won a gold medal at all 3 of his Olympics 2000, 2004 and 2008.
Jason Lezak – Jason "The Anchor" Lezak has been to 4 Olympic Games, was team captain of the last two in 2008 and 2012 and has anchored more Team USA relays than anyone in history. The most famous of all being the 2008 Beijing 4×100 free relay where he swam the fastest split of all time with a :46.0. Even more amazing is he trained himself for 3 years leading up to that moment. Jason is a proud husband and father of 3 kids and loves to inspire the next generation of swimmers that hard work does pay off and to never give up!

Josh Davis – After coming home from the 1996 Atlanta Olympics with 3 gold medals, Josh began teaching and speaking around the country. He helped establish an Olympian swim clinic tour in 1997 that in 2007 became the Mutual of Omaha BREAKout! Swim Clinic Tour. This is now Josh's 20th year of teaching swimmers to smile, streamline and commit to excellence. His amazing wife Shantel is expecting their 6th child, a girl, the same week Phelps' baby boy is due. Josh practices what he preaches as he recently set Master's American records in the 40+ age group in the 50, 100, 200 and 500 free. He will race any kid, any time, any place.
About Mutual of Omaha:
Mutual of Omaha has been a major sponsor of USA Swimming since 2001. Mutual of Omaha is proud of the numerous events it has helped support in the world of swimming, namely the 8 Duel in the Pool's, 3 Pan Pacs, and over 700 Olympian clinics across the USA. Mutual of Omaha is proud to support Team USA and all the swimmers in America to help them reach their potential.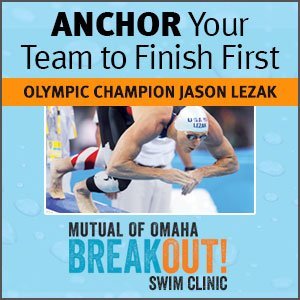 About the Mutual of Omaha BREAKout! Swim Clinic
In 2007, Mutual of Omaha partnered with Master Clinician and 2x Olympian Josh Davis, to create a swim clinic that was educational, exciting and affordable. Now over 700 clinics later, Josh and his Gold Medal Teammate Clinicians have inspired kids all across the country to dream big, never give up, commit to excellence, and BREAKout! The Mutual of Omaha BREAKout! Swim Clinic is the longest running swim clinic company in the USA that provides high impact clinics with great prices by the biggest stars in swimming.
Any questions can be sent thru www.breakoutswimclinic.com or [email protected]