Big Blue Swim School knows that scheduling a child's activities is no easy feat, which is why the brand has always promoted its prized class scheduling feature, Lesson Buddy.
This proprietary software is just as vital to the brand's success as its exceptional swimming facilities, top-notch amenities and the strong marketing and real estate support the brand provides to its franchise partners.
"Big Blue Swim School started with the desire to create an unparalleled experience for both parents and kids," said Big Blue Swim School Chief Development Officer Scott Thompson. "Early in the brand's history, we wanted to make sure that parents wouldn't have to spend 30 minutes on the phone whenever they needed to update their child's schedule, and that our franchisees didn't need to hire an extra employee to manage these requests."
Thanks to Lesson Buddy, the brand's swim facilities run more efficiently. General managers and swim instructors, for example, can make sure kids are learning effectively and progressing through the levels versus focusing on payroll or tracking hours. The system does all of that for the franchisees and opens a time slot when the demand is there.
"Lesson Buddy saves the general manager 25-plus hours of administrative work per week on tasks such as running payroll and coordinating schedules for swim instructors, which we call our child engagement specialists," Thompson said.
Lesson Buddy also allows the brand to help parents celebrate their child's swimming milestones. Thompson noted that unlike other swim schools, Big Blue Swim School tracks student progress by distance.
"If a child levels up and learns a new skill, we celebrate those moments and push those notifications through the app," Thompson said. "Third-party, off-the-shelf software was focused on dance studios and fitness classes. When you have those types of scheduled systems, it's not as imperative to understand what level someone is at and the system is usually not even asking for that information. With Big Blue Swim School, it's very important to understand the student's age and what skill they're learning. We have 17 different levels and 400 different skills that need to be learned, and we want to make sure we track that information accurately."
The scheduling system also helps franchisees make sure they are maximizing pool use – and revenue potential. Not only can parents schedule their children's swimming lessons through Lesson Buddy, but they can also use it to pay for those classes, saving franchisees time chasing down payment, as well.
In addition to Lesson Buddy, Big Blue Swim School also has other tech features that make for a seamless swimming lesson experience. Thanks to a kid-friendly online check-in system, there is a distinct absence of on-the-ground chaos. Kids check into their swimming class with a staff member on an iPad at the far end of the pool. The iPad tells them which lane to go to, and they sit on the ground at the end of that lane until class begins.
In addition to the ease of operations for the franchisee, Big Blue Swim School's customers are definitely appreciative of the ease of use Lesson Buddy provides.
"From customers we hear all the time the awesomeness of being able to configure schedules for both kids," Thompson said. "We have parents with four kids and they are all able to have their swimming classes at the same time. Our competitors can't do that. It just doesn't work that way."
The system also makes it easy for parents to schedule their billing, change their credit card numbers and provide instructor feedback, Thompson said.
Big Blue Swim School prides itself on providing convenient scheduling options for busy families. Thanks to Lesson Buddy, plus other systems and processes that support both customers and franchisees, the brand is positioning itself as a solid franchise partner and customer-friendly option in the communities it serves.
Multi-unit opportunities are available for qualified candidates looking for their next big opportunity, and veterans can receive a 10 percent discount on the $50,000 franchise fee. The total investment for one Big Blue Swim School ranges from $1,825,500 to $3,687,000. To learn more or inquire about Big Blue Swim School, visit https://diveinwithbigblue.com/.
ABOUT BIG BLUE SWIM SCHOOL
Big Blue Swim School was founded in 2009 by competitive swimmer Chris DeJong. The first location opened in Wilmette, Illinois, followed by Niles, Buffalo Grove and Hoffman Estates. In 2017, Level 5 Capital Partners acquired a majority stake in the brand, and is rolling out an aggressive strategy to grow through franchising to 150 locations by 2020. Big Blue Swim School's real estate footprint, proprietary technology Lesson Buddy, coupled with its practice of employing full-time child engagement specialists that teach based on a proprietary distance-based swimming methodology sets Big Blue up for long-term success. To learn more about franchise opportunities with Big Blue Swim School, visit http://YourBigMomentStartsHere.com.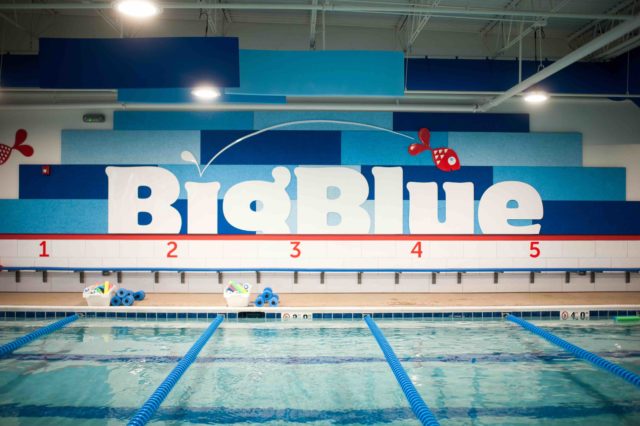 Big Blue Swim School is a SwimSwam Partner.