The 24-hour news cycle can be disheartening for those who feel powerless to make a difference. The world's problems can feel overwhelming for a singular actor. One day, though, sixteen-year-old David Gormley and fifteen-year-old Nicholas Shinghal wanted to change that pattern of thinking and sought to use their passion for helping others to make an impact on the world. 
When David Gormley was in eighth grade, he noticed the news reportings about Hurricane Maria, the category five hurricane that devastated much of Puerto Rico in 2017. At first, like many people, Gormley turned a blind eye to the reportings, but the news of the hurricane stuck with him, "It was so easy to look away and pretend nothing was going on three thousand miles away. I was just a kid. What was I going to do about it? I decided to found an organization, and now we have raised over fifty-eight thousand dollars." Thus HERO Swim was born.
Nicholas Shinghal worked alongside Gormley to help found HERO Swim, "HERO is an outlet to make change on big issues. The purpose of HERO Swim is to empower the youth in the community to make a difference when we see things like this happening."
In their first year, HERO Swim sought to help those affected by Hurricane Maria. They began with seventy-five participants, and raised twenty thousand dollars for hurricane relief. The following year, their beneficiary was the Boys and Girls Club in Puerto Rico, seeking to help increase local graduation rates, "The Boys and Girls Club helped raise the local graduation rates from 50% to about 90%. That year we raised thirty thousand dollars. In the end, we got a thank-you video message from a leading member of the Boys and Girls club, who was also a teenager. It struck me that kids are helping kids, and that's a pretty special thing."
The HERO Swim-a-thons take place at the University Club of Palo Alto pool. Those who partake in the events sign up on the HERO Swim website and receive pledges that go towards the beneficiaries of choice. This year, the beneficiary is the Coral Reef Alliance, an organization that supports the preservation of the world's coral reefs, "We've met with all our organizational members to figure out the best way we can help our environment and the people in it… This year, our cause is the Coral Reef Alliance… we really support what they are doing, and we believe that with them, we can really make a lasting impact on the environment."
Gormley and Shinghal are not yet satisfied with their success. They hope to develop a run-a-thon to encourage more people in their community to make a difference. Participants would collect donations per mile rather than donations per lap, and the boys hope to reach more people by expanding beyond the pool. 
Additionally, a long term goal of Gormley and Shinghal's is to develop a website through which people can create organizations of their own. The website would provide tools for people to create their own campaigns in order to raise money through events such as run-a-thons, swim-a-thons, or dance marathons, "It would give [people]… what they need to make a difference in whatever they feel passionate about… Any way they want to make an impact, this website will take them to where they want to be."
HERO Swim's impact reaches beyond those who receive monetary support, "We have our actual impact: where the money is going, but we also have an impact here at home: encouraging the youth of our community to make a difference… The most heartwarming thing we have seen is people dedicating themselves to something they care about and using all the resources available to them."
Being a hero is not always about wearing a cape and saving the world. Being a HERO, however, is about wearing a swimsuit and changing the world one lap at a time.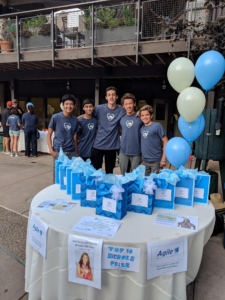 Those who wish to become HEROES and donate can do so at https://runsignup.com/Race/Donate/CA/PaloAlto/HEROSwim.