Courtesy of Claire Forrest. Featured image Olympic Champion Ryan Lochte.
The pre-meet warm up routine is very important to a successful race. And like anything important, it doesn't come without its trials and tribulations. Here are 25 thoughts you've probably had while warming up at a swim meet:
1)  I don't have to warm up yet. Let me find my coach. That will take at least five minutes.
2)  Okay, okay! I'm getting in the pool!
3)   What part of 'sit and slide entry only' do you not understand?
4)   There are way too many people in this lane.
5)   Oh, there is no way that person is going to swim breaststroke when there are this many people in the lane. Wait…yep, they're swimming breaststroke.
6)   I don't think my suit is tight enough.
7)   Ugh, my suit is totally digging into my skin with the intensity of a thousand burning suns.
8)   Oh, no, it's totally fine. By all means, please float at the wall and chat while I'm trying to flip turn.
9)   Anyone who says I don't live on the edge has never seen me swim backstroke in a crowded warm up lane.
10)  Alert! Alert! There is a hoard of age group swimmers approaching my lane!
11)   I'm pretty sure the same mixed CD of songs has played during warm up at every meet for the past decade.
12)   Yes, finally! A mostly empty warm up lane! Oh, no, the official just announced this as a start lane.
13)   There are how manyheats of the 500? Is this a joke?
14)   Does that person blowing ring bubbles at the bottom of the pool really think we can't see him?
15)   I'm not cooling down after my race.
16)   I'm so ready for my race. I wish I could swim it right now.
17)   Ouch! Anyone who says swimming is a non-contact sport has never gotten scratched or bruised by a super aggressive swimmer during meet warm ups.
18)  Whoa! This is warm up, buddy. Not the actual race. Stop tapping my feet and pass me.
19)  Should I scratch the 50? You know, to prepare for my longer events? No, my coach will never let me.
20)  Did I hear the words, 'We're looking for an anchor for the 800 free relay?' Sorry, I can't! It's right before the 50, and I totally have to focus on that.
21)  That other team has an awesome swim cap. I wonder if they would trade with me.
22)  Wait, only ten minutes before they close the pool for warm ups? I'm not ready!
23)  I nailed that sprint just now. I am ready.
24)  I'm shaved, tapered, and feeling fast! This is the moment I've been working for.
25)  Let's go! Time to give it all I've got. Let's have some fun.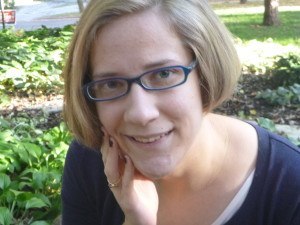 Claire Forrest is a recent graduate of Grinnell College with a degree in English. She is currently based in Minneapolis, Minnesota as a freelance writer. The only competitive swimmer in her family, Claire went to her first swim meet at the age of eleven on a whim without even knowing what a swim cap was. She fell in love with the sport and never looked back. A S6 classified disabled swimmer for US Paralympics, Claire specialized in mid-distance freestyle and backstroke and made national and world rankings throughout her career. She was a 2008 and 2012 Paralympic Trials participant. Claire is passionate about integrating disability swimming into the larger swim community, having swam for able-bodied club teams and her college's DIII team. She enjoyed both Paralympic and prominent integrated able-bodied meets equally for the many commonalities they share. Over 13 years after her first meet, she's happy to report she now owns more swim caps than she can count.