The Aggie Swim Camp is open on a first-come, first serve basis to any individual who satisfies the age, grade level, and/or gender requirements set forth in the registration materials.
Male and female swimmers (ages 8-18) of any ability level are welcome to attend.  It is highly recommended, but not required, that swimmers have competitive experience prior to attending.
REGISTRATION PROCEDURE
You may register online by clicking HERE.
Upon registering online and committing your $150 non-refundable deposit per session, an e-mail will be sent confirming your registration.
There are several forms you will need to complete and agree to during the registration process.
The balance of camp fees are due by May 1, 2023.  Camp fees not paid in full by May 1, 2023 risk cancellation of camp dates.  Any fees received after May 1, 2023 will be charged a $25 late fee.  Registrations received after May 1st must be submitted with all fees, made payable by credit card, and are accepted only if space is available. Camp space is available on a first-come-first served basis.
NOTE: Each session is limited to 175 campers and sessions are filled on a first-come-first served basis. If your first session preference is closed, you may select a second choice or you may select to be waitlisted for your preferred session.  If you elect to be waitlisted we will notify you when/if a spot becomes available in your preferred session.
Registrations and payments will NOT be taken over the phone.  Once your camper is registered you may click the "HERE" button to log into your account and make payments or update camper information at any time.
PLEASE DO NOT E-MAIL REGISTRATION FORMS or credit card numbers – it is not secure and is against TAMU's Security Policy. These e-mails will not be accepted and will be deleted upon receipt. You will be notified and asked to register online and make all payments using our online registration site.
THE $150 DEPOSIT IS NON-REFUNDABLE FOR ANY REASON AND AT ANY TIME IF YOU ARE ACCEPTED INTO A SESSION OF CAMP!
CAMP FEES
Fees for the 2023 Texas A&M Swim Camp are:
Technique Sessions 1 and 4 – $825.00 per session for resident campers and $775.00 per session for day campers.
Full Sessions 2 and 3 – $1100.00 per session for resident campers and $1050.00 per session for day campers.
Resident camper fees include facility use, room and board, coaching, supervision, and a camp t-shirt.  Day camper fees includes facility use, coaching, supervision, a camp t-shirt and lunch and dinner throughout the week.
At the time of registration you may pay in full or you may elect to pay only the non-refundable $150 deposit.  At any time between registration and May1, 2023 you may log back into your account to make payments on your account balance.  The full balance of camp fees are due by May 1, 2023. After May 1st a $25 late fee will be charged. Camp fees not received in full by May 1st risk forfeiture of camp space. ALL camp fees must be paid and all forms must be submitted prior to arrival at camp.
PARENTAL CONSENT AND EMERGENCIES
Please inform us in writing during check-in if someone other than the parent will be picking up or visiting your child during or at the end of camp. Please provide a way to contact you immediately in case of emergency. If you have not already given us your cell phone numbers or other numbers where you may be reached during camp please send those to us or give them to us at check-in.  After check-in, visitors are only allowed in the lobby area of the dorms.  Campers may not be checked out during camp.
SPECIAL NEEDS
We want your child to have a great camp experience. Please let us know if there is a special need or if there is anything that will help us in working with your child.
ABOUT THE CAMP
The Aggie Swim Camp is known as a premiere technique-based camp where our philosophy is "INDIVIDUAL ATTENTION".  We do one-on-one analysis and detailed stroke work with EVERY camper, EVERY day. The Aggie Swim Camp is known for being the first major collegiate swim camp to do individual filming of each camper, included in the cost of camp. The film is a great reference tool that can be used all year long. Extensive filming includes above water, below water, starts and turns, as well as one-on-one video analysis with camp coaches daily.  Also included on the film are demonstrations of stroke drills utilized by our coaches with their own teams throughout the year.
Our coaches have a wealth of experience in coaching and developing age group to world-class swimmers including Olympians, Pan-American and NCAA champions. These coaches are on the deck working with the campers EVERY day.
FACILITIES
All pool sessions are held at the Texas A&M University Recreation Center Natatorium.  The natatorium is recognized as one of the finest and fastest in the country and has recently undergone a massive renovation which was unveiled in September, 2014.  The facility has been host to numerous collegiate, national and international level swimming meets, including the 2013 SEC Championships, women's NCAA Swimming and Diving Championships in both 2009 and 2004 and men's NCAA Swimming and Diving Championships in 2001, 1998 FINA World Cup and 1998 U.S. Open.  At the 2001 Men's NCAA Championships 25 NCAA, American and U.S. Open records were broken here. And in December of 1998 at the U.S. Open and World Cup Meets 67 records including American and World records fell. This spectacular $12.5 million state-of-the-art natatorium is our camp home.
There are no lockers available at the TAMU Rec Center for campers to utilize while at the pool. Because of this we recommend that campers do not bring valuables to the pool facility. Backpacks and equipment are recommended to be brought onto the pool deck and left in the stands during all practices.

PRACTICES AND CAMP GROUPS
Upon check-in all campers will receive a letter outlining their camp group, room and roommate/suitemate assignments and additional necessary information for their camp stay.
During technique camps all in-water practices will focus on technique, drills and stroke enhancement.  During full camp sessions technique is always our underlying focus, even during the morning conditioning practices.
All practices will take place in either the 50 meter indoor pool set up as either short course yards or long course meters, our indoor diving well set up as short course meters, or our outdoor pool set up as short course yards.
While in the pool, our coach to swimmer ratio is approximately 1:6.  Every camper receives 1:1 attention during our filming and review session every day.
Outside of the pool our campers are placed in camp groups of approximately 15-18 campers according to age.  These camp groups are supervised by a minimum of 2 adult counselors who are with the campers during all times outside of the pool.
CAMPER'S DAILY SCHEDULE
The camper's daily schedule for sessions one and four (technique camps) is 
HERE
The camper's daily schedule for sessions two and three (full camps) is
HERE
During our technique camps there is no morning conditioning practice.  All of our in-water practices are focused on drills, technique and stroke enhancement.  During full camps our first morning practice is a conditioning session where campers are separated in the pool by the coaches according to their times and abilities.
TRANSPORTATION
Prior to the start of camp we provide round-trip ground transportation to and from the College Station airport at no charge. If your camper will be flying into College Station please be sure to let us know in advance by sending in the 
airport pickup request form
 to us at 
[email protected]
 .
During camp all campers are transported to and from the dorms and practice facilities and activities via Texas A&M campus charter busses.  (The dorms are approximately 2 miles from the Texas A&M practice facility and any activities). Campers are transported in their designated camp groups and are supervised at all times by their group counselors.
Campers who drive themselves to/from camp are required to turn over their car keys to the Camp Director upon check-in for the duration of camp and are not allowed to drive for any reason during the camp session.
SUPERVISION
The safety of your children is our top priority. Experienced and mature male and female coaches/counselors provide 24-hour supervision for all swimmers, including weekends for campers staying more than one session. Counselors live at the dorm facility on the same floors as the campers and are available 24 hours per day. All employees have passed a background check and extensive screening and training conducted by the Texas A&M University Human Resources Department prior to working with any campers.
Roll calls are conducted by our counselors anytime campers move from a location or activity to ensure all campers are safely enjoying all aspects of camp.
Our Camp Director as well as a certified athletic trainer also live in the dorms during all camps and are available to dispense medication and provide medical assistance when necessary 24 hours a day.  Campers with specific medical needs are requested to talk with our athletic trainer during our camp check-in.
EXTRACURRICULAR ACTIVITIES
Planned recreational activities are available daily during scheduled activity time from 12noon-1:30pm and after the evening stroke session. For multiple session campers, weekend activities are planned.
Campers select their daily activity each morning before their first pool session.  Examples of our daytime activities include shopping at the Texas A&M Memorial Student Center, recreational diving off of the 1 meter, 3 meter and/or 5 meter diving boards at the Texas A&M Rec Center, swimming at the outdoor splash pool and lazy river at the Texas A&M Rec Center, rock climbing at the Texas A&M Rec Center rockwall or relaxing at the dorms.  Evening activities include movie night, scavenger hunt, t-shirt designing, an ice cream social, and many more!!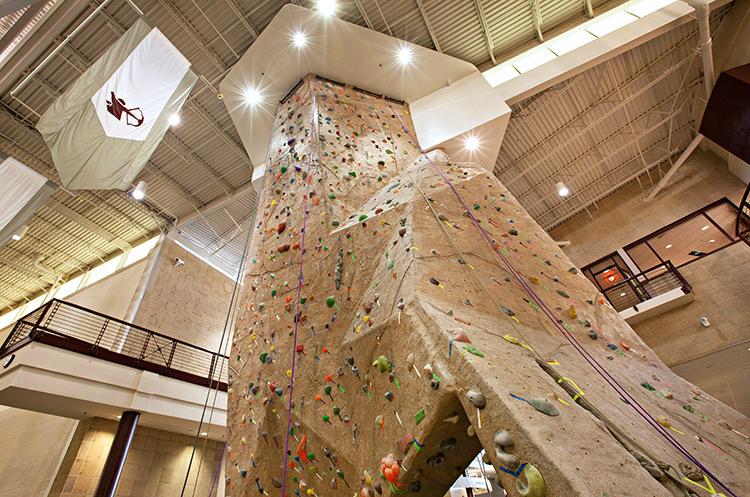 CHECKING IN
Check-in for all campers – both DAY and RESIDENT – occurs AT THE DORMS on the first day of each camp.  Check-in times start at 2:00pm and will continue until 4:00pm.
Campers traveling by air should plan to arrive in College Station between 12:00noon and 3:00pm on check-in day.
CHECKING OUT
For sessions 1 and 4:
All campers will check out and must be picked up AT THE DORMS by 3:00pm.  Air departures should be made between between 2:00pm and 4:00pm.
Campers will be supervised until their departure.
For sessions 2 and 3:
All campers will check out and must be picked up AT THE DORMS by 11:00am.  Air departures should be made between between 10:00am and 12:00noon.
Campers will be supervised until their departure.
DAY CAMPERS
Check-in is on the first day of camp from 2:00pm-4:00pm at The Cambridge in College Station.  During check-in your camper will receive a letter and nametag showing which camp group he/she is in, who the counselors for that group are, and where the group's roll call meeting spot is.  At 4:00pm your camper will go to his/her first roll call to meet the counselors and the rest of the camp group and will be given the rules and instructions for the week.
Day campers will enjoy all the benefits of swim camp but will not stay overnight in the dorms.  Day campers should be checked in with their counselor at the front door of The Cambridge dorm by 7:30am for breakfast each day.  After breakfast day campers will do everything all other campers will do during the day.  All meals will take place in The Cambridge café.  Day campers will attend activities during the afternoon just as the resident campers do.  During down time at the dorm day campers can enjoy time in the dorm's game room, lobby, or in other campers' rooms.
Day campers should be picked up at the end of each day in the dorm lobby between 8pm-10pm before lights out.  Day campers are invited to participate in all activities in the evening – the ice cream social, movie night, scavenger hunt or just hanging out in the game room or other campers' rooms.  Please feel free to discuss your day camper's schedule with his/her counselor during the first roll call on check-in day.  Please do not pick up your camper unless he/she is checked out by a counselor.
Aggie Swim Camps is a SwimSwam partner.