The 19th edition of the FINA World Men's Junior Water Polo Championships is taking place in Belgrade, Serbia, from August 5-20, 2017, gathering 20 teams from the five continents, an increase of two teams since the previous edition two years ago in Almaty (KAZ), where 18 teams battled it out for the crown.
Contested by athletes of 20 years old and younger, the four group's composition unfolds as follows:
GROUP A: USA, Russia, Greece, Puerto Rico, Iran
GROUP B: Netherlands, Montenegro, Spain, Japan, Croatia
GROUP C: New Zealand, Australia, Argentina, Serbia, China
GROUP D: Italy, Hungary, Egypt, Canada, South Africa
The competition schedule is presented as follows: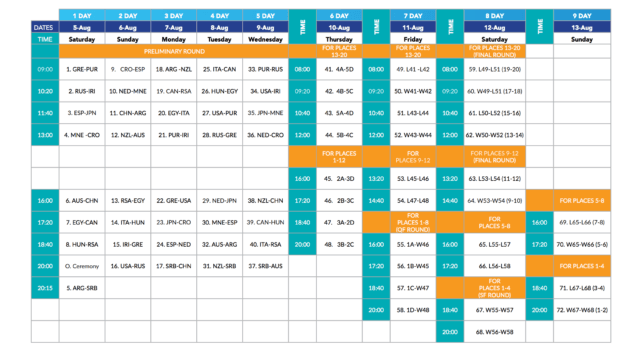 Serbia's Junior team is the title holder, after clinching gold in Almaty (KAZ) two years ago, while Italy took silver and Hungary bronze.
Before that, in 2013, the three squads on the podium were: USA (gold), Spain (silver) and Greece (bronze).
Daily game reports will be available on FINA website here.
Fédération Internationale de Natation (FINA)
The Fédération Internationale de Natation, founded in 1908, is the governing body for aquatics worldwide. FINA's five discipline Swimming, Open Water Swimming, Diving, Water Polo and Synchronised Swimming – are all included in the Olympic programme. High Diving made its first appearance in FINA events at the 2013 FINA World Championships. FINA counts 208 affiliated National Federations on the five continents and has its headquarters in Lausanne (SUI).