TOKYO 2020 SUMMER OLYMPICS – DIVING
July 25-August 7, 2021
Olympic Aquatics Center, Tokyo, Japan
China continued its romp through the diving competition at the Tokyo 2020 Olympics on Wednesday, as Chen Yuxi and Quan Hongchan qualified 1-2 out of the women's 10m platform preliminaries.
Chen, just 15 years of age, led from the get-go and ultimately qualified first by over 26 points with a score of 390.70.
Chen is the reigning world champion in this event, having topped the podium at the 2019 Worlds in Gwangju when she was only 13, and has already won Olympic gold here in Tokyo in the women's 10m synchronized platform diving competition.
Quan, 14, is the youngest Chinese competitor in any sport at the Games, having won this event at the 2020 Chinese National Championships at 13.
Quan managed to rebound from a rare miss on her third dive (scoring 47.85, which tied for 25th in the field in that particular round) with two strong scores to close out the prelims, edging out American Delaney Schnell for second with 364.45 points.
Schnell, who competes collegiately at the University of Arizona, already has one medal under her belt at the Games, taking silver with partner Jessica Parratto on the synchronized 10m platform. Schnell also won bronze in this event at the 2019 World Championships.
The second U.S. entrant, 29-year-old Katrina Young, qualified 17th (top 18 advance) into the semi-finals.
WOMEN'S 10M PLATFORM RESULTS – PRELIMS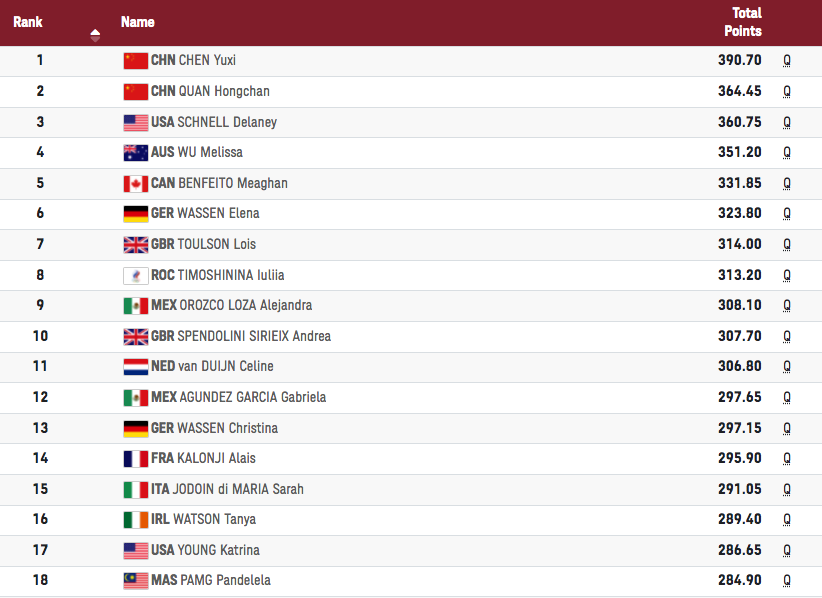 The only returning medalist from Rio, Canada's Meaghan Benfeito, qualified fifth overall, while Australia's Melissa Wu, fifth at the 2016 Games, sits fourth.
Benfeito won bronze five years behind the Chinese duo of Ren Qian and Si Yajie.
Both the semis (10:00 am local time) and the final (3:00 pm) of this event will take place on Thursday.