6TH UNIPODIUM TROPHY SWIMMING – CARPI (MO)
October 28th
Carpi (MO)
short bath 25 meters
Start List
World Champion Italian swimmer Gabriele Detti will return to racing on Sunday at a one-day, timed finals, short course meters meet in Carpi, SwimSwam Italia's Giusy Cisale reports. At the 6th Trofeo Unipodium Nuoto, Detti will swim his first races since April of 2018, and the meet will be just his 3rd in the last 12 months as he works his way back from a shoulder injury that has plagued him all year.
Detti won a pair of bronze medals in the 400 and 1500 freestyles at the 2016 Olympic Games, and upgraded to World Championship gold in the 800 free at the 2017 World Championships. He's never won a medal at the World Short Course Championships. In 2016, his best finish was 8th place in the 1500 free; he didn't even final in the 400.
Detti is the Italian Record holder in the 400 (3:43.36) and 800 (7:40.77) meter freestyles in long course. Also competing at the meet will be Gregorio Paltrinieri, his former training partner and fellow distance freestyle World Champion; Ilaria Cusinato, Domenico Acerenza, and Mattia Zuin.
While the meet is a relatively-minor meet on the Italian schedule, it is crucial because of the Italian system for qualifying to December's Short Course World Championships in Hangzhou, China. The team is being chosen from among the best times done at any official electronically-timed meets from October 1st through November 18th. Athletes who medaled at the long course European Championships (where Detti didn't swim) are automatically qualified, while the country's remaining spots will be allocated based on the top 2 (or 1 if only 1 spot is available) swimmers who meet the following criteria: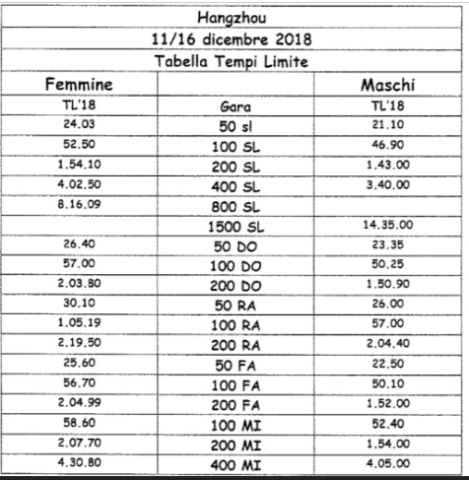 Besides Detti, a number of other Italian stars who did participate in the record-setting European Championship run will be racing for spots this weekend at the Citta di Rosa Trophy. That includdes Ilaria Bianchi, Thomas Ceccon, Martina Carraro, Fabio Scozzoli, Giorgi Biondani, and Alice Mizzau.
HALLOWEEN MEETING – CITTÀ DI ROSA TROPHY
Rosà (VI)

27/28 October 2018

short course