The first WISCA (Wisconsin Interscholastic Swim Coaches Association) poll of the boys season has been released ranking Madison West the top team in Division 1 and Elkhorn Area the top team in Division 2.
The final poll of last year's 2017-18 season left Madison West and Monona Grove on top of their respective divisional rankings.
Division 1 
Madison West is starting off the season in first place with 669 points followed by Verona Area-Mount Horeb with 448 and Sun Prairie with 442. Just behind Sun Prairie is Beloit Memorial with 433 and Hudson with 406.
Last season, Madison West was ranked first followed by Waukesha South-Catholic Memorial, Madison Memorial, Arrowhead, and Brookfield Central-Brookfield.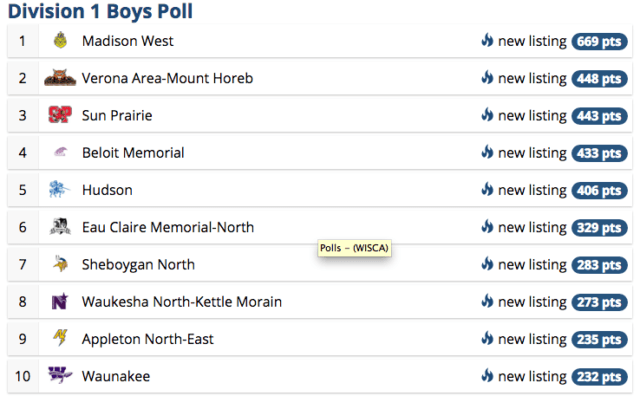 Division 2 
Elkhorn Area starts of this season ranked number one with 769 points followed by last year's winners Monona Grove in 649. In Third is Madison Edgewood with 492 points followed by Deforest with 426 and Nicolet with 332.
Last season Monona Grove was followed by Madison Egdewood, Lakeland, Baraboo, and Elkhorn Area.
RANKINGS METHODOLOGY
The weekly WISCA polls are computer generated and based on the WISCA Top Times database.
The polls are generated at midnight each Sunday. Individuals are scored in their top two scoring events only.
Points are awarded as follows:
Individuals: 1st Place – 30 points – 30th Place – 1 point (1 point increments)
Relays: 1st Place – 60 points – 30th Place – 2 points (2 point increments)