Courtesy: Big Blue Swim School, a SwimSwam partner. 
Fearing for our children when it comes to water is perfectly natural. After birth defects, drowning is the #1 cause of death for children ages 1 – 4, according to the American Academy of Pediatrics. Some swim lessons programs make promises that they can make your child "drown-proof" or "pool-safe," but the truth is that no child can ever truly be 100% safe around water. However, the "water-safe" myth is muddying the waters and is actually adding to the risk of child drownings.
As concerned parents it is easy to think that we are doing what's best for our children by enrolling them in programs that claim to eliminate the threat of drowning. The value of these kinds of programs should definitely be evaluated with a healthy amount of skepticism to say the least.
Programs that simulate drowning can cause long-term, negative psychological effects on children and are widely regarded as ineffective at best and can in fact be incredibly harmful. The worst thing about these programs is that parents are lured into a false sense of security. Of all preschoolers who drown, 70% are in the care of one or both parents at the time and 75% are missing from sight for 5 minutes or less.
While no one can make kids truly "water-safe" we can make kids "water-safer." Here are some smart measures that can make your child safer around water:
Get swim lessons! Children who have had swim lessons have an 88% decreased risk of drowning according to the National Institute of Health, and the American Academy of Pediatrics recommends swim lessons as a layer of protection against drowning that can begin for many children starting at age 1.
Supervise constantly. Children should never spend any amount of time unsupervised around water. Instead, assign an adult "water watcher" whose job is to watch all children swimming or playing in or NEAR water―such as on a backyard swing set―even if they know how to swim.
Place barriers around pools. Make sure there are gates around a home pool or spa which are locked and can not be opened by children. Placing an alarm on the pool area is a great idea.
Know how to respond in emergencies. Parents, caregivers, and pool owners should know CPR.  If a child is missing, always look for him or her in the pool or spa first.
Share what you know.  42% of drownings occur away from the home.  Share this information with family, friends, and neighbors so they also know how to keep kids safe in the water.
At Big Blue, we feel it is our job to help children not just survive around water but to thrive. Safety is a top priority for us because how can you thrive when you're afraid? That's why we encourage you to share what you know because 27% of preschooler drownings occur at the homes of friends, neighbors, or relatives.
ABOUT BIG BLUE SWIM SCHOOL
Big Blue Swim School was founded in 2009 by competitive swimmer Chris DeJong. The first location opened in Wilmette, Illinois, followed by Niles, Buffalo Grove and Hoffman Estates. In 2017, Level 5 Capital Partners acquired a majority stake in the brand, and is rolling out an aggressive strategy to grow through franchising to 150 locations by 2020. Big Blue Swim School's real estate footprint, proprietary technology Lesson Buddy, coupled with its practice of employing full-time child engagement specialists that teach based on a proprietary distance-based swimming methodology sets Big Blue up for long-term success. To learn more about franchise opportunities with Big Blue Swim School, visit http://YourBigMomentStartsHere.com.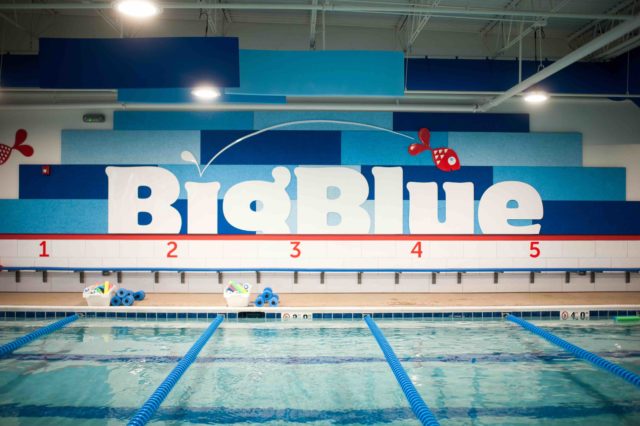 Big Blue Swim School is a SwimSwam Partner.