Plant-based diets have become very popular recently. Despite the overload of vitamins and minerals prevalent in this diet, there are many concerns of specific nutrient gaps. When compared to a primarily omnivorous diet, the major elephant in the room is protein. There is a huge misconception about plant-based diets and a lack of protein however, it is possible to get an adequate amount of your daily protein from these foods. Some protein-packed, plant-based options include tofu, legumes, beans, nuts, seeds and even dark, leafy greens. Surprisingly enough, ½ cup of tofu contains 10g of protein and ½ cup of cooked quinoa has just over 8g. Whether you have adopted this style of eating or are curious about the hype, eating mostly plants is extremely nutritious and doesn't have to be boring. Here are some flavorful plant-based recipes you can prep for lunch or have as a satisfying dinner!
Roasted Broccoli & Chickpea Bowl

Ingredients
Kale

Olive Oil + Apple Cider Vinegar

Roasted Sliced Mushrooms

Bean Sprouts

Roasted Broccoli

½ cup Roasted Chickpeas 

Salt & Pepper

Garlic Powder

Turmeric

Nutritional Yeast 
If you feel that your kitchen skills are inadequate or the idea of creating delicious meals is overwhelming, the recipe for success is actually incredibly simple. The least stressful way to put a meal together is to choose a base and load on some veggies and toppings. For this delicious and nutritious bowl, I started out with a generous handful (or a few) of kale as the base. Since this bowl includes a lot of veggies, I rarely measure them out and just eye-ball them. For the kale, it is essential to thoroughly massage with olive oil and apple cider vinegar to enhance the flavor and also soften the raw leaves. Again, I eye-ball the oil and vinegar but measuring out 2 capfuls of oil and one of vinegar is a great reference point. Before roasting the veggies, I drizzle olive oil on the mushrooms and broccoli and sprinkle them with salt, pepper and garlic. I sprinkled the same spices on the chickpeas but also added some turmeric. With this spice, a little goes a long way so only use a pinchful. I roasted them on a parchment lined baking sheet at 400 F degrees for about 30-35 minutes or until the broccoli has a slight char and the chickpeas are a little crunchy. Once they are done, top the kale with the warm veggies and add in the crisp bean sprouts. Lastly, sprinkle on some nutritional yeast for a little cheesy flavor. I love this stuff because it is a dairy free option that is rich in B vitamins and has 2 grams of protein per tablespoon.
Seared Tofu & Lentil Bowl

Ingredients 
Kale

Sweet Potato

Sliced Red Bell Pepper

1 cup Lentil Blend (I used 365 Everyday Value 7 Grain & Lentil Blend from Whole Foods)

⅓ block of Extra Firm Tofu

3 tbsp Liquid Aminos
Essentially, this bowl uses the same recipe criteria as the meal above. I used 1 cup of the lentil blend as the base and topped it off with sauteed veggies and juicy seared tofu. Using microwavable packets of grains is the ultimate hack that will save you a lot of time while meal prepping. For the tofu, I divided the entire container of tofu into 3 then cut little cubes from that portion. Start by spraying a pan with cooking spray over medium heat. Carefully place tofu cubes on the pan and coat each cube with some liquid aminos. You should hear them sizzling. Cook for equal amounts of time on each side of the cube until they are golden brown. Next, remove tofu from the pan and start to saute the kale, shaved sweet potato and sliced bell pepper. I used a peeler to shave off thin pieces of sweet potato because they would cook faster than if you prepared slices of sweet potato. Once the veggies have wilted, it's time to assemble the bowl. This step is super easy, all you have to do is layer the warm veggies and tofu over the lentil blend. There you go! A delicious, nutritious and colorful bowl full of plant-based protein!
Creamy Vanilla Vegan Protein Shake

Ingredients
1 scoop of plant-based protein powder (I used LivWell Wild Vanilla Bean protein)

Handful of Spinach

Handful of Ice Cubes 

1 cup Vanilla Unsweetened Almond Milk

½ – 1 Frozen Banana

1 tbsp Almond Butter 

2 tbsp Chia Seeds 

Sprinkle of Cinnamon
Protein powder is not a substitute for real, whole foods however, it is an easy and efficient way to supplement your protein intake. I personally prefer plant-based protein powder such as pea protein. The brand LivWell has an awesome line of protein powders made from a unique blend of sprouted brown rice and pea protein. I mostly use chocolate and vanilla flavored powder because these flavors are super versatile. It's fun to experiment with different flavor combinations and discover innovative ways to sneak in nutrient dense superfoods. For this recipe, I used vanilla flavored protein powder which has 17g of complete protein. Start by adding a handful of ice, a handful of spinach and 1 scoop of protein powder to the base of your blender. Then, measure out 1 cup of liquid, I used vanilla unsweetened almond milk. Next, add in the nut butter, I used almond butter but peanut butter is also a great option, chia seeds, banana and cinnamon. Blend until smooth. If the shake appears too chunky, add in more liquid and continue to blend. This shake is a great on-the-go breakfast option during a hectic morning or even as a post workout recovery snack in between meals. 
Check out my page for more recipe inspiration and be sure to share your plant-based, protein-filled creations with me @whatzoeeeats.
About Zoe Gregorace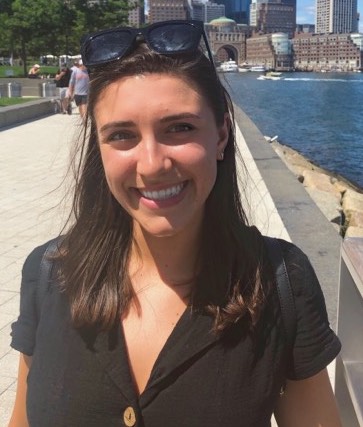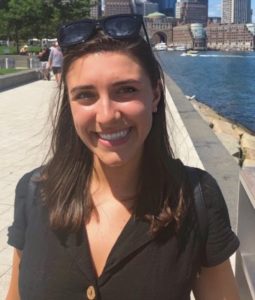 Zoe Gregorace is currently studying Nutrition Policy at the Tufts Friedman School of Nutrition Science and recently graduated from Tufts University, where she earned a Bachelor of Arts degree in Sociology and was a proud member of the Tufts Swimming and Diving team (Go Jumbos!). During her 16 year career as a competitive swimmer, she developed a passion for sports nutrition. She enjoys writing on the topic of nutrition, health and wellness and posts her meal creations on her Instagram page @whatzoeeeats. As a former college swimmer, she strives to share recipes and nutrition tips to promote balanced eating and optimize sports performance.