Last week, Team Greenville accomplished something they haven't done in 14 years. In their first summer under Head Coach Karl Kozicki, they dominated the South Carolina Long Course State Championships. The girls were nearly 100 points ahead of any other team, while the boys were almost 200 points ahead. In the combined team rankings, they earned the title by 242.5 points.
The team had several swimmers come out on top of the individual points rankings in their age groups: Lilly Abdella (10 and under girls), Devin Council (11-12 boys). Jack Mezzogori (13-14 boys), and Audra McSharry (girls senior age group). Abdella had quite a showing in the breaststroke and freestyles, winning the 50 breast, 100 breast, 200 free, and 400 free. She also won the 200 IM to boot. McSharry was a top 3 finisher in several  events, showing off her versatility in the 800 free (2nd), 1500 free (2nd), 200 free (3rd), 400 free (2nd), 200 fly (2nd), and 400 IM (2nd).
Council was a force to be reckoned with in the freestyles, racking up wins in the 100 free, 200 free, 400 free, 800 free, and 1500 free. He also showed off his butterfly skill to win the 100 and 200 fly, and picked up a win in the 200 IM to cap it off. That's 8 event wins in the 11-12 age group. Similarly, Mezzogori was the standout freestyler in his age group as he won the 200 free, 400 free, 800 free, and 1500 free. He also won the 200 fly, 200 IM, and 400 IM, giving him 7 wins in the 13-14 age group.
Check out some photo highlights of the meet below, courtesy of Steve DePiero, one of the team parents.
The team shared a lot of cheers and fun moments throughout the meet: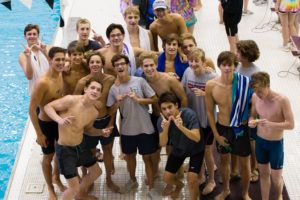 Jack Mezzogori earned the individual high point award for the 13-14 boys: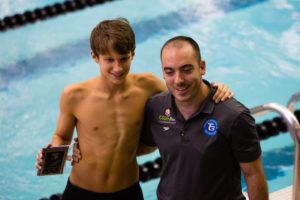 Coach Karl swims fly in his clothes, ball cap, and tennis shoes. That's hardcore: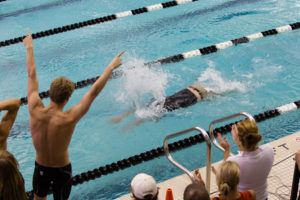 Coaches Karl Kozicki, Chico Rego, Johnny Thonn, and Danyelle Parker: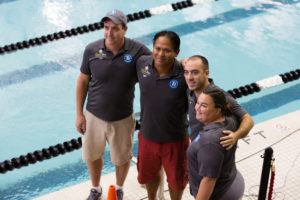 You can find the full results for the state meet here or on Meet Mobile under "2018 SCLSC Long Course State Championships." Team Greenville has 4 swimmers competing at the Speedo Junior Nationals in Irvine, California this week. Their highest seeded swimmer is Anna Havens Rice, who enters the meet as the 9th seed in the 200 IM. They also have Liam Walker, Riley Parker, and Bruce Bannister on their roster after making their Juniors cuts at states.
Rice, who had already qualified for Juniors prior to this meet and saved her taper for Irvine, was in the top 3 of the 50 free (2nd) and 100 breast (3rd) at states. Bannister broke 1:06 in the 100 breast for the first time, qualifying for Juniors as he took 2nd in 1:05.64. Walker dropped over a second in his 100 fly to qualify for Juniors with his 56.24 in prelims. He later finished 3rd in the final, just ahead of teammate Nathan DePiero (57.44). Parker had a big swim in the 200 free. She dropped almost 2 seconds in that event, winning the individual 200 free with a Juniors cut and swimming her best time with a 2:03.86 relay leadoff.