Since Saturday, December 7th, a lot of elite swimmers have been tweeting and posting cryptic messages to Facebook, teasing that something is coming soon. That something is out, the Swim A Like Champion Video Series courtesy of the Fitter and Faster Tour presented by SwimOutlet.com.
We've seen a lot of instructional series the over years, but never quite like this. Hosted by eight Olympians in a causal, unscripted setting, the instruction comes across in a much more personal way. The Olympians are low-key and open about what they've learned to help them become the best in the world. They don't talk at you. They share insights with you. It's intimate, like having a conversation with an Olympian on deck at your pool. It's works!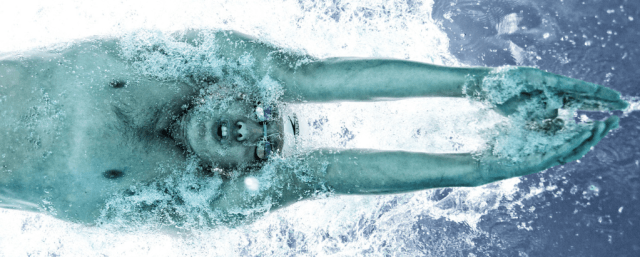 The production quality, which is always an issue for me, is exceptional in this series, the best I've ever seen. This is where Swim Like A Champion set themselves apart from other instructional videos. I don't know about you, but I've always been a visual learner. Coaches could explain stroke mechanics all day long, but until I saw it demonstrated, the information did not hit home. Swim Like A Champion includes 360 coverage of every stroke – including underwater and overhead – all in full high definition video. You see every angle you need to mentally map how you can improve your stroke.
The athletes, the elites, are perfectly suited for the production. They've all experienced failure, and their wins have been hard fought. That comes through in the series. More importantly, you learn from their experience that becoming better, often times, is simply about focusing on the tiny nuances. It's about baby steps. If you put enough of them together, you'll be the best, most efficient swimmer and reach your fullest potential.
The series out! It went live Saturday. From what we've learned at SwimSwam, the idea was to test how much of a desire was out there for a new instructional swimming series. A mere four days later, the DVD Box Set was temporarily out of stock on SwimOutlet.com because of the tremendous demand, but now it's back in stock as of  4:02pm today.   I don't think you'll be surprised the DVD Box set sold-out so quickly when you see the quality of this video series. It's certainly worth a look, and a great gift for the holidays.
The Swim Like A Champion hosts:
About the Fitter and Faster Swim Tour Presented by SwimOutlet.com

The Fitter & Faster Swim Tour Presented by SwimOutlet.com produces swim clinics featuring elite stars of the sport and the most innovative teaching platforms. FFT Swim Clinics can be customized to meet age and skill level of every team and community. Call 786-837-6881 or visit http://www.fitterandfaster.com/ to learn more.
The Fitter & Faster Swim Tour's mission is to connect the grassroots of swimming with the elite stars of the sport and be the most well respected and successful professional swimming organization in the world.
Gold Mel Stewart is a 3-time Olympic medalist. He was a clinic host at two Fitter and Faster Swim Tour events in 2011.